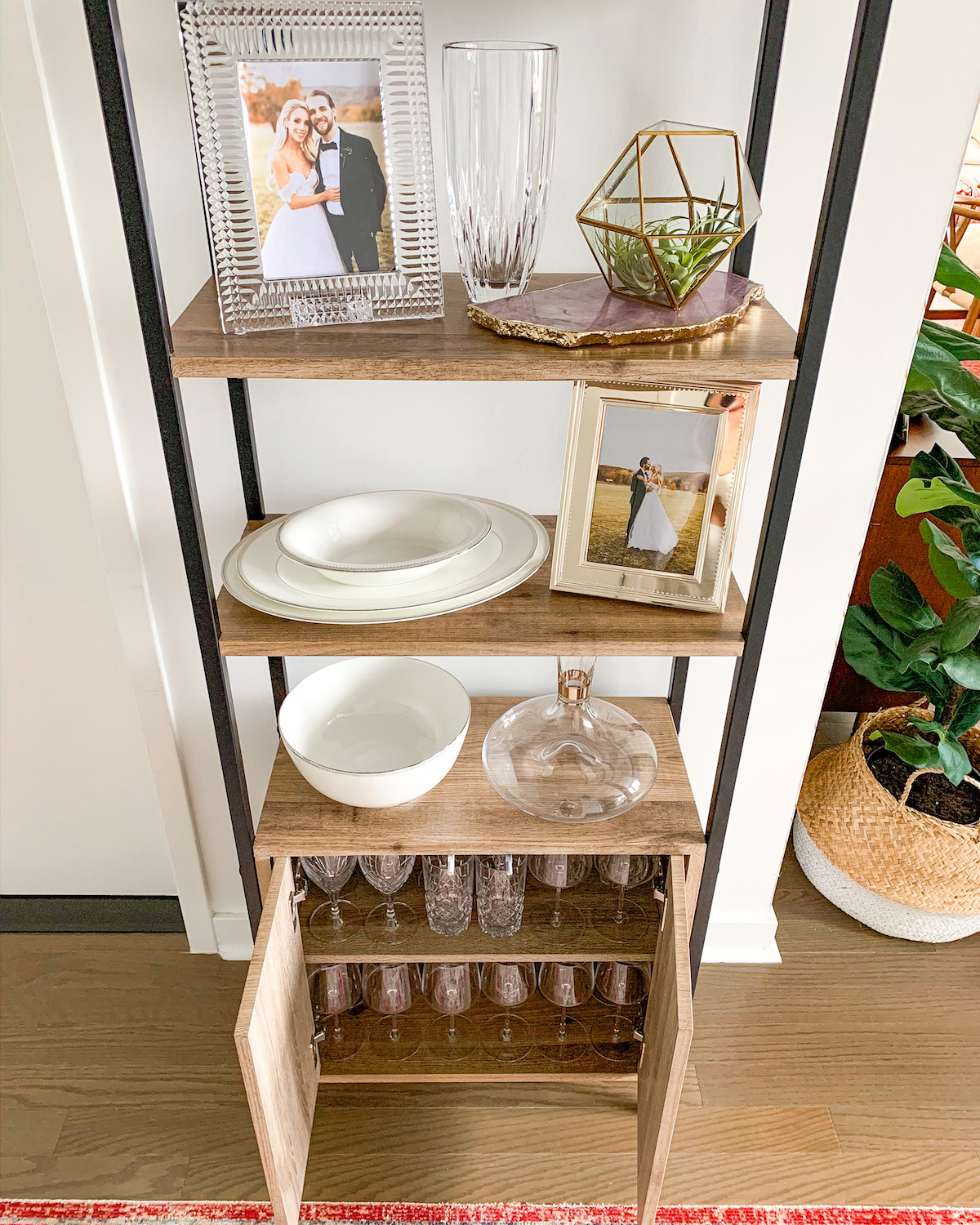 Earlier this month I did a poll on Instagram asking what lifestyle topics you were most interested in seeing on my blog and one common response was our wedding registry gifts! There were also a lot of requests that I post more organizational tips and show how we store our belongings living in an apartment. So today you're getting a two for one combo!
Let's talk about our registry! Since Nick and I have lived together for so long, we've had years to amass home necessities like a Dyson vacuum, a Vitamix blender and everyday plates and glasses. So for our registry we knew that we wanted to focus more on formal items that we'd yet to purchase for ourselves. At the top of our list were a 12-piece special occasion dinnerware set, serving platters, flatware, a crystal pitcher, decanters and quality frames for displaying wedding photos.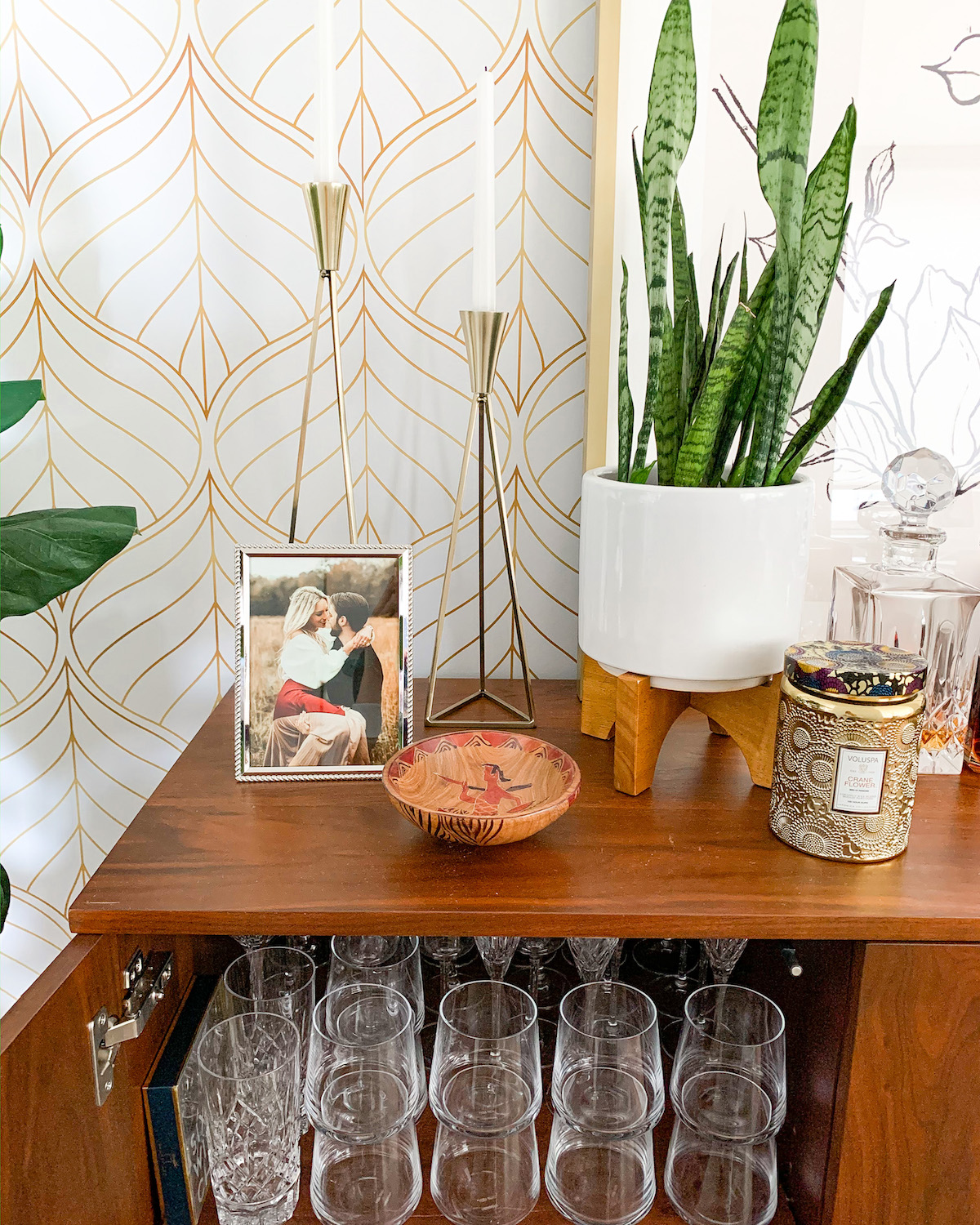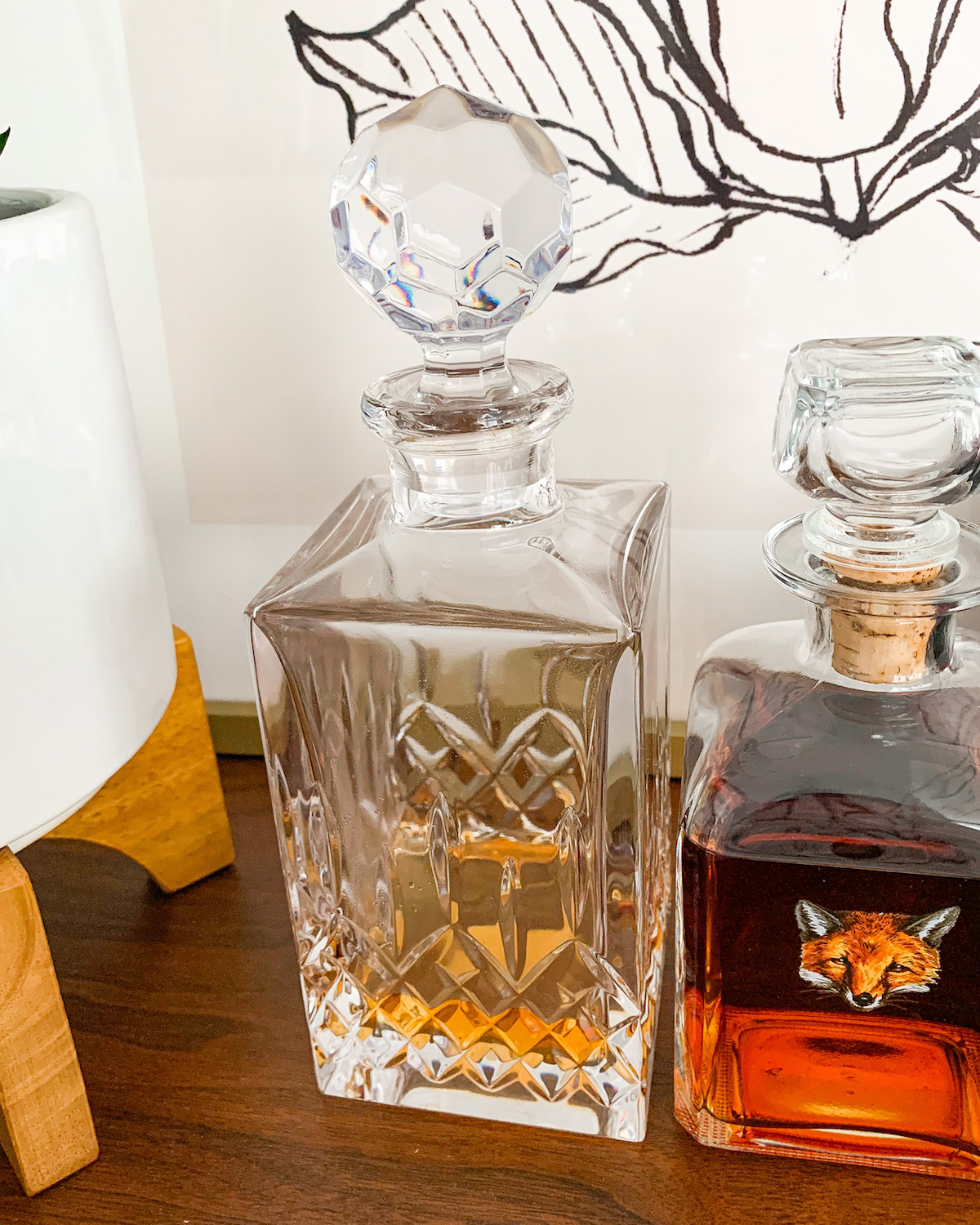 ITEMS PICTURED // Wood Cabinet | Wallpaper | Candlesticks (old from Anthropologie) | Planter | Candle |  Crystal Decanter
Even though we kept our registry small and only included items that we loved and 100% wanted to receive, I still had one nagging concern: "where are we going to put everything?" I'm sure all my fellow engaged and married gals who live in small spaces can relate– getting married and registering is all fun and games until you realize you don't have a place to keep all your lovely gifts.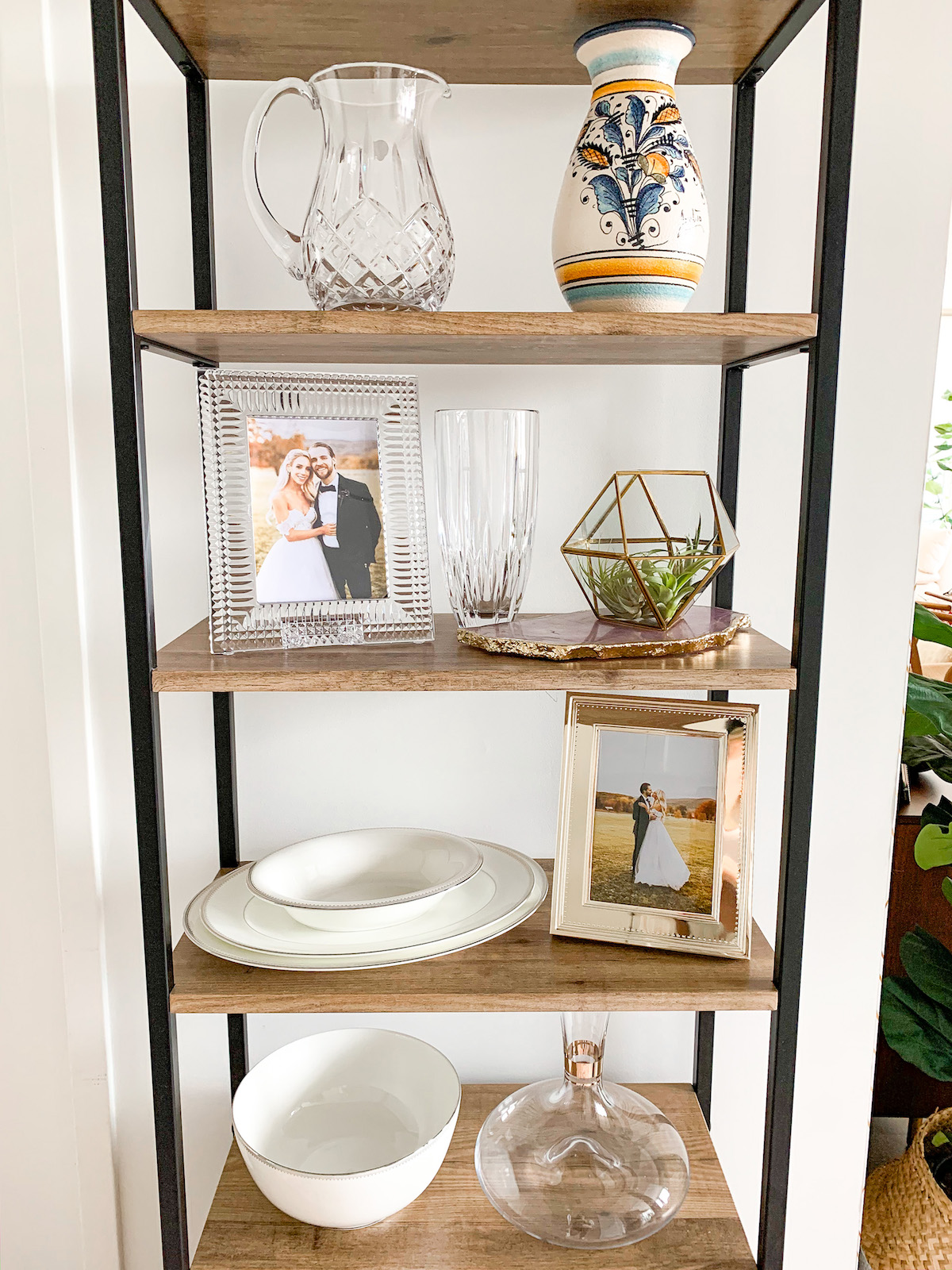 Thankfully we have more than enough room in our new apartment in Jersey City. It took a little bit of time to figure out how and where we would keep a full formal dinnerware set and delicate china, but I'm really happy with the storage solutions we came up with!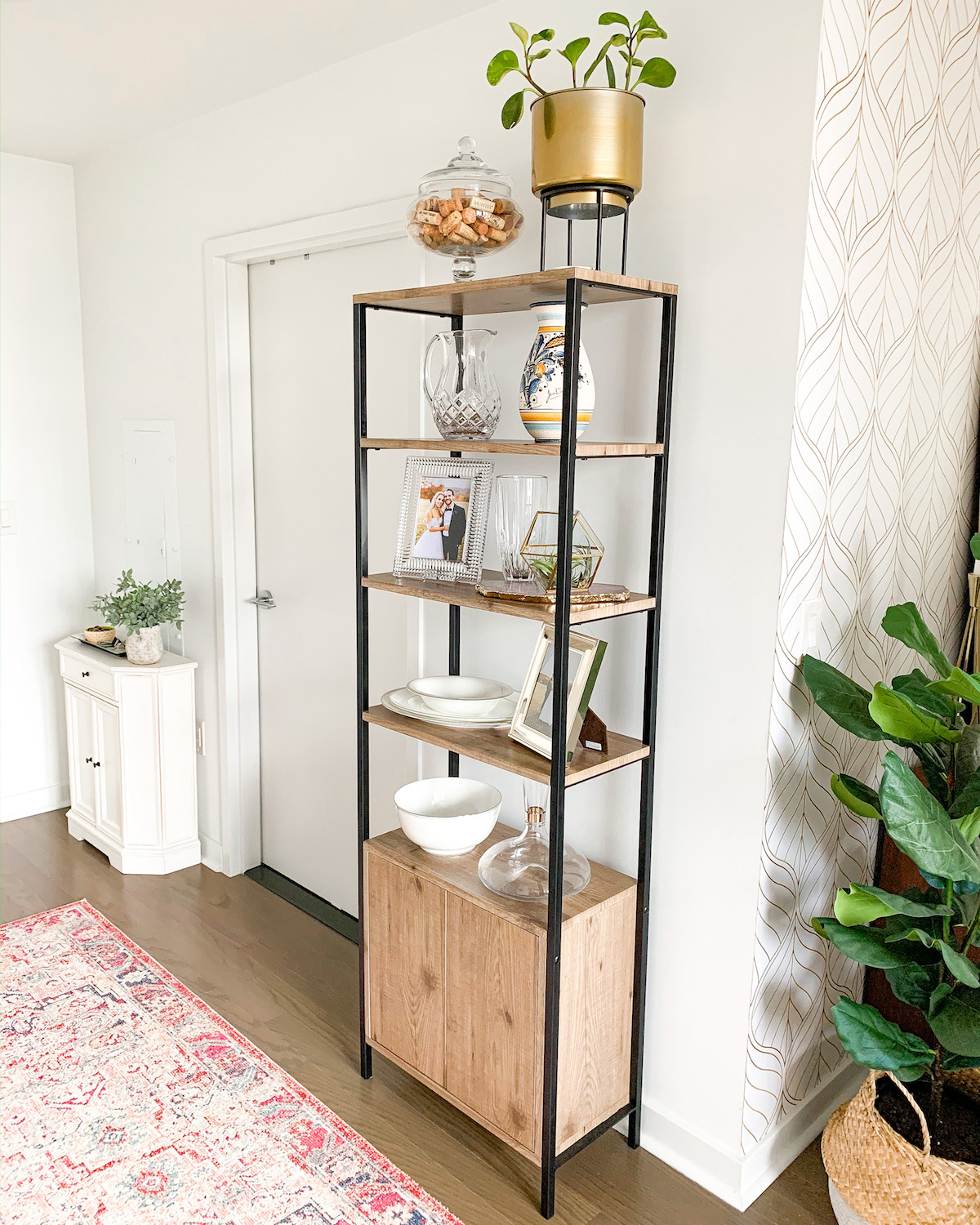 ITEMS PICTURED // Oak & Metal Bookcase | Red & Navy Carpet Runner | Fiddle Leaf Fig Plant | Similar Basket | Similar White Cabinet | Faux Sage Plant

Currently we have everything stored and displayed in two areas: our entryway bookcase and the cabinet we have in the hallway leading into our living room. What I love most about this bookcase is how it has a combo of open shelves and an interior cabinet. It allows us to display larger more decorative items like wedding photos and the servingware from our formal dinnerware set, but keep delicate wine glasses safe and dust-free behind a closed door.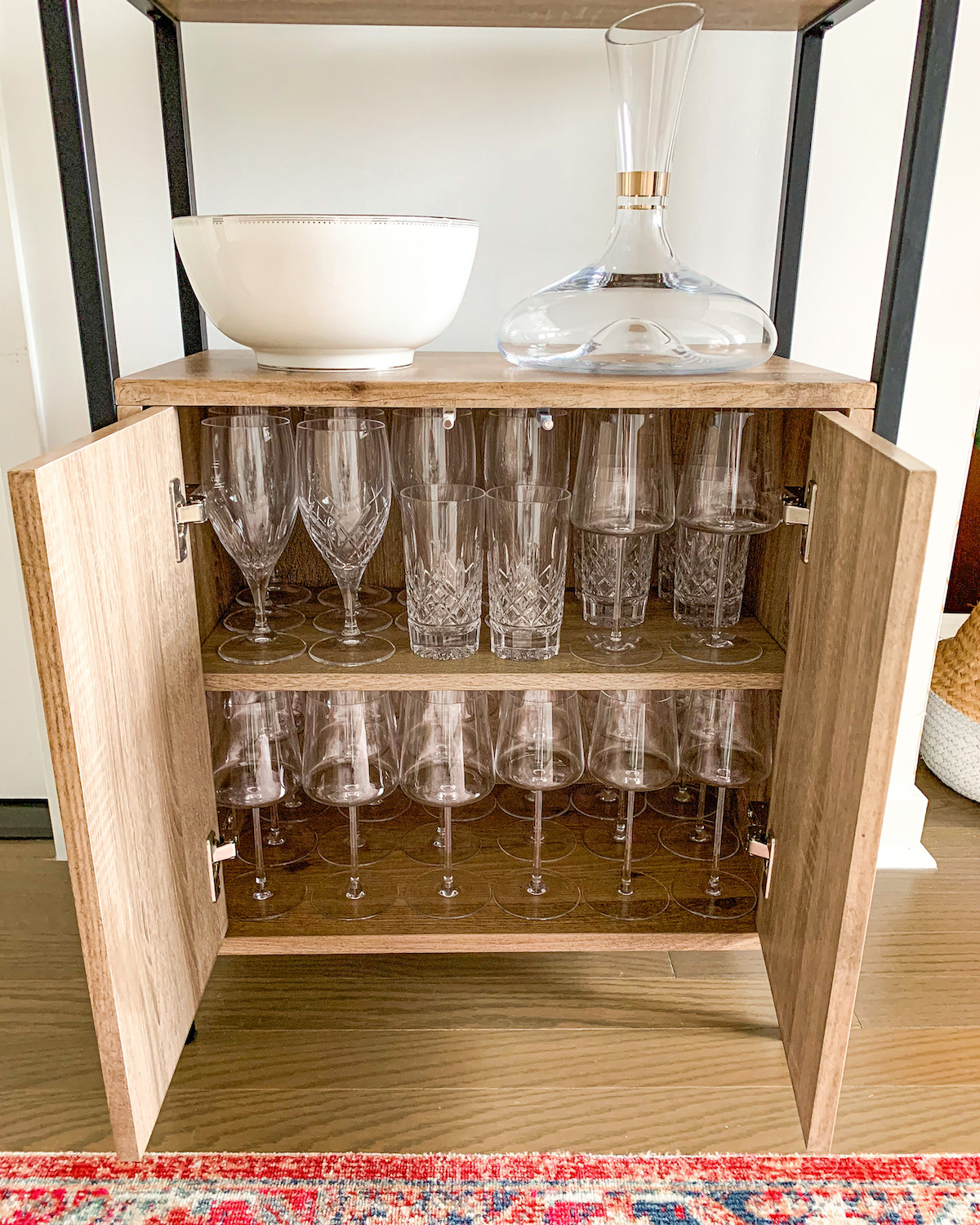 ITEMS PICTURED // Vera Wang Wedgwood Metropolitan Wine Glasses | Vera Wang Wedgwood Metropolitan Goblets | Vera Wang Wedgwood Duchesse Iced Beverage Glasses | Waterford Lismore Highball Tumblers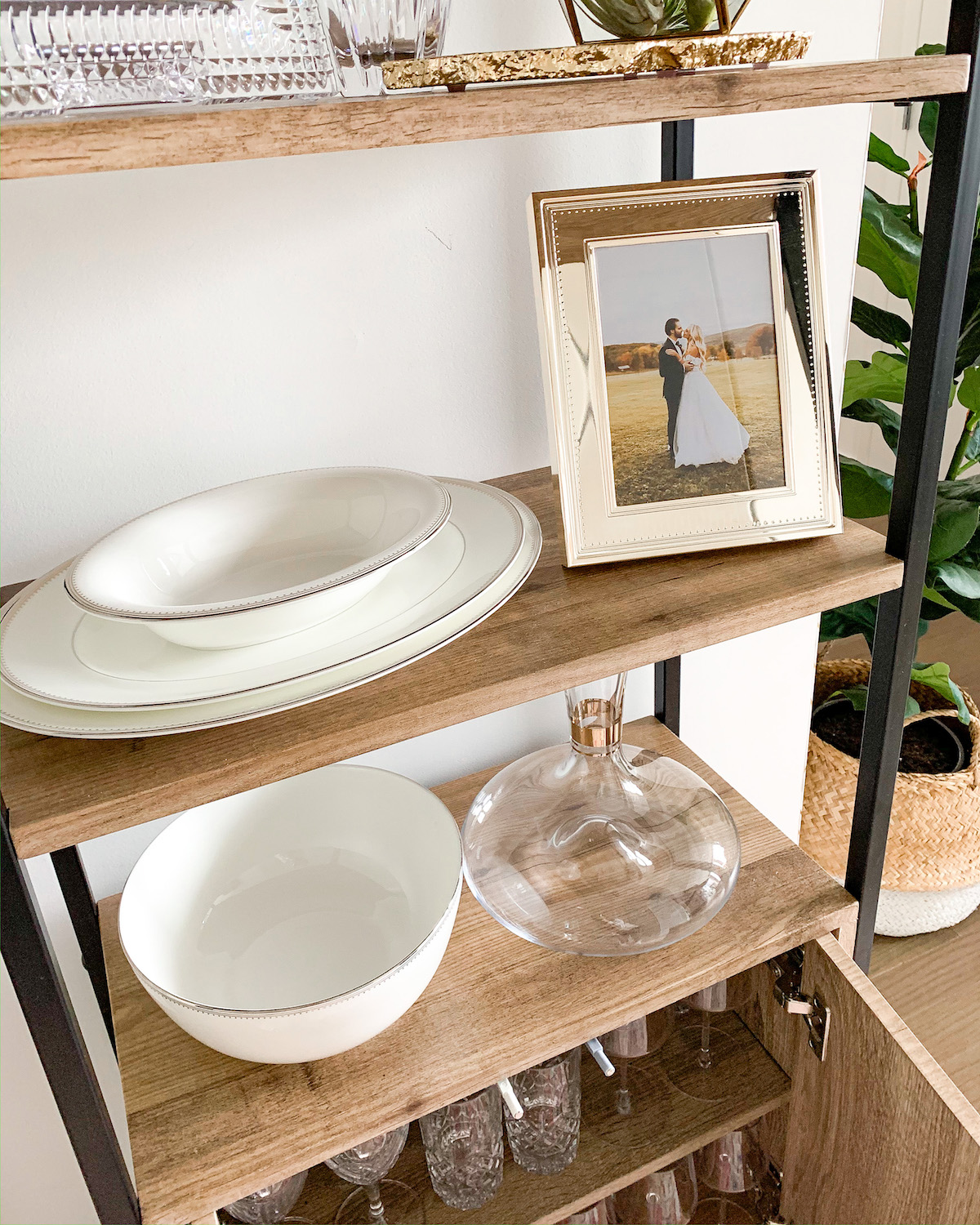 ITEMS PICTURED // Silver Picture Frame | Vera Wang by Wedgwood Grosgrain Serving Bowl | Vera Wang by Wedgwood Grosgrain 13.75″ Oval Platter | Vera Wang by Wedgwood Grosgrain 15.25″ Oval Platter | Vera Wang by Wedgwood Grosgrain Open Bowl | Waterford Elegance Carafe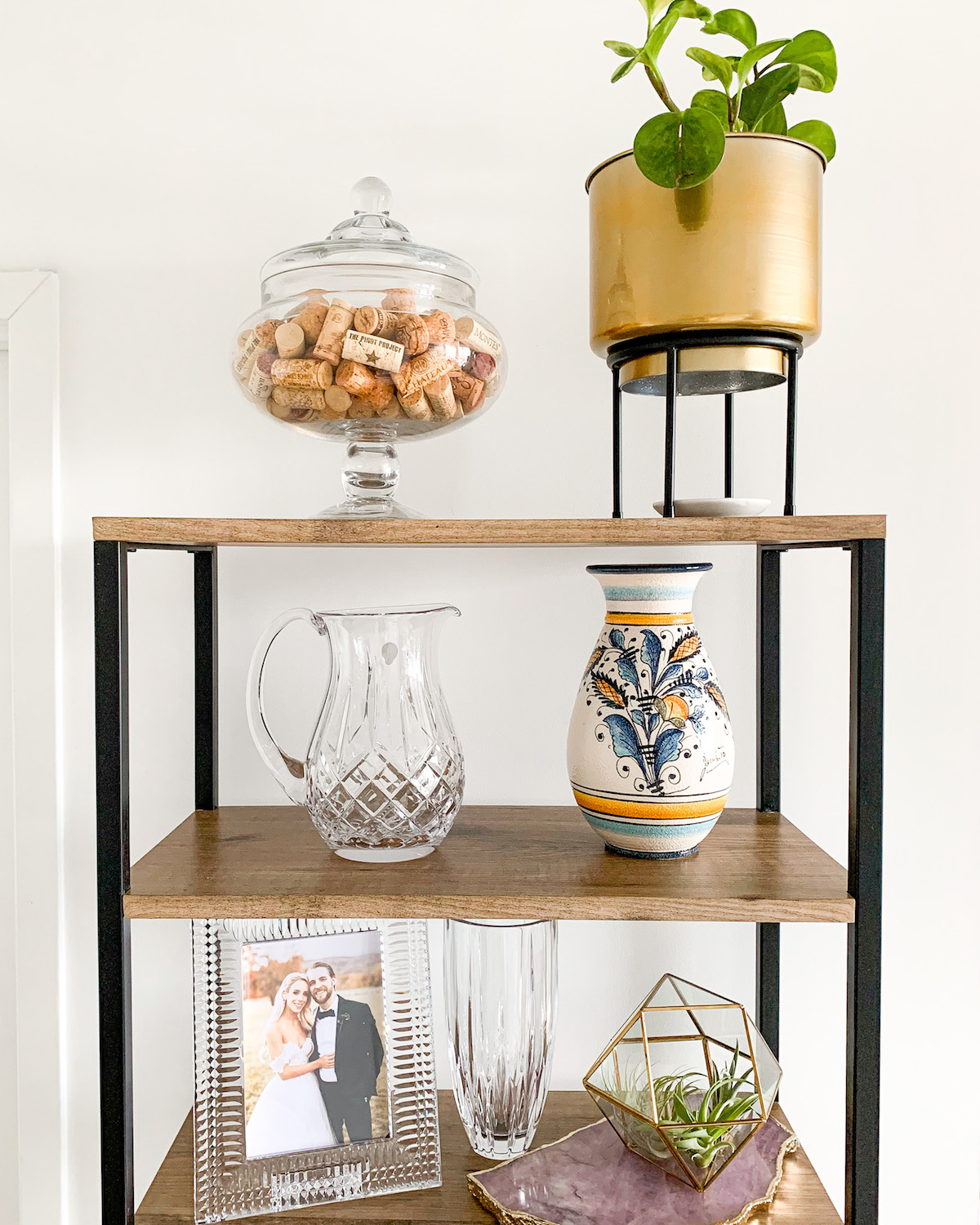 ITEMS PICTURED // Similar Apothecary Jar | Brass Metal Planter | Waterford Lismore Crystal Pitcher | Hand-Painted Vase (purchased in Positano) | Waterford Crystal Picture Frame | Vera Wang by Wedgwood 9-inch Vase | Brass Geo Terrarium + Air Plants | Rose Quartz Board (actually a cheeseboard, but decided I liked it  better as decor!)
All of our plates and the rest of our glassware we keep in the cabinet that you all saw in this post. Everything fits nicely on two shelves when stacked! PS the wallpaper you see here is actually temporary and we installed it ourselves. Check out this post for we did it!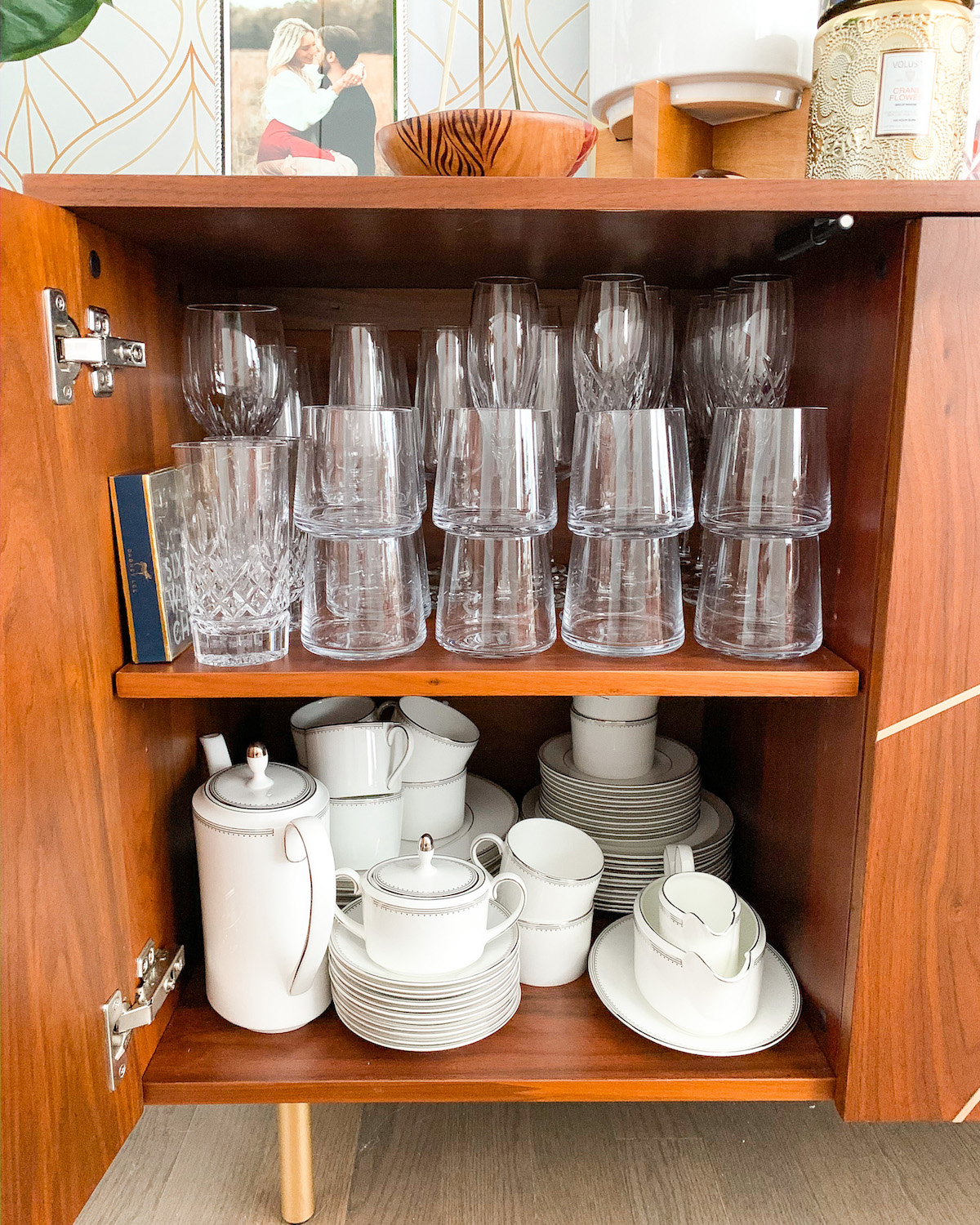 ITEMS PICTURED // Vera Wang Wedgwood Metropolitan Tumblers | Vera Wang Wedgwood Duchesse Wine Glasses | Vera Wang Wedgwood Duchesse Flutes | Vera Wang Wedgwood Grosgrain 5-Piece Place Setting | Vera Wang Wedgwood Coffee Pot | Vera Wang Wedgwood Sugar Dish & Creamer | Vera Wang Wedgwood Gravy Boat & Stand

- Katie