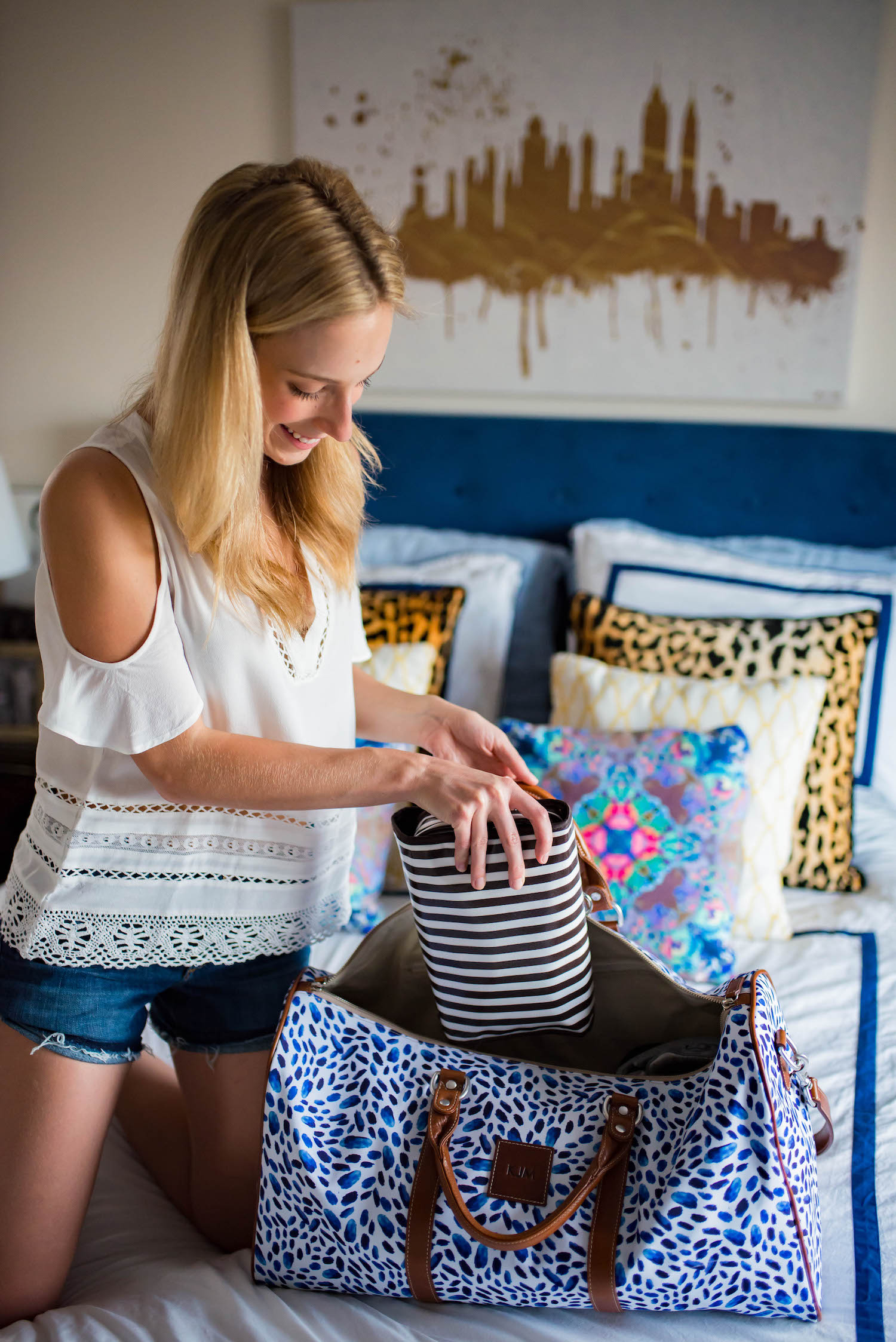 Oh traveling and packing. I have a love/hate relationship with both. While I love being able to check places off my bucket list, I wish I could go into a coma and skip the entire process of actually getting to my destination. Same thing when it comes to packing. I don't mind taking the time to physically do it, but planning out what I'm going to bring is always stressful. Every time I am about to head somewhere new the same familiar questions ring in the back of my mind. Am I bringing too much? Is this many outfits enough? What if it ends up raining? Should I bring workout clothes just in case? Are my shoes comfortable?
Sound familiar?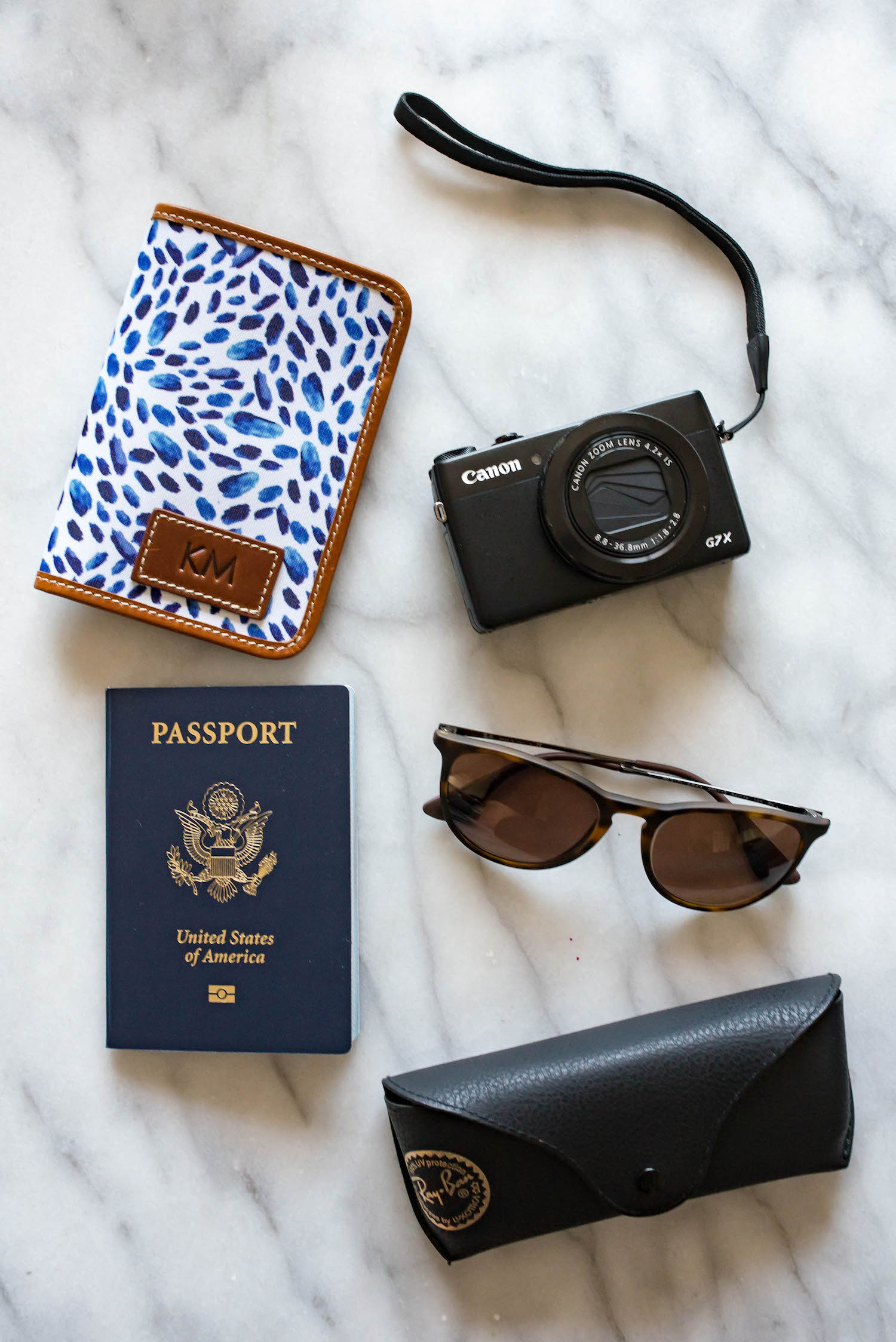 Passport Case | Pocket-Sized Camera | Sunglasses via GlassesUSA.com
Well, luckily I've had more than a handful of opportunities over the last year that have helped me hone my packing skills. I'm still a work in progress (I ridiculously overpacked for Finland) but when it comes to weekend trips or getaway lasting a few days: I've got packing down to a science.
The first thing I always ask myself. Am I checking a bag? 90% of the time the answer is NO. I try to avoid checking a bag at all costs. I already have bad enough anxiety as it is, so even thinking about entrusting my personal belongings to an airline is enough to give me a panic attack. So that essentially leaves me with one piece of carry-on luggage and a "personal belonging" aka a purse. Sound like crazy little space for more than a weekend trip? Well, believe it or not I've traveled for a week and even gone on blogger trips with just two small pieces of luggage. How did I do it? Let me clue you in…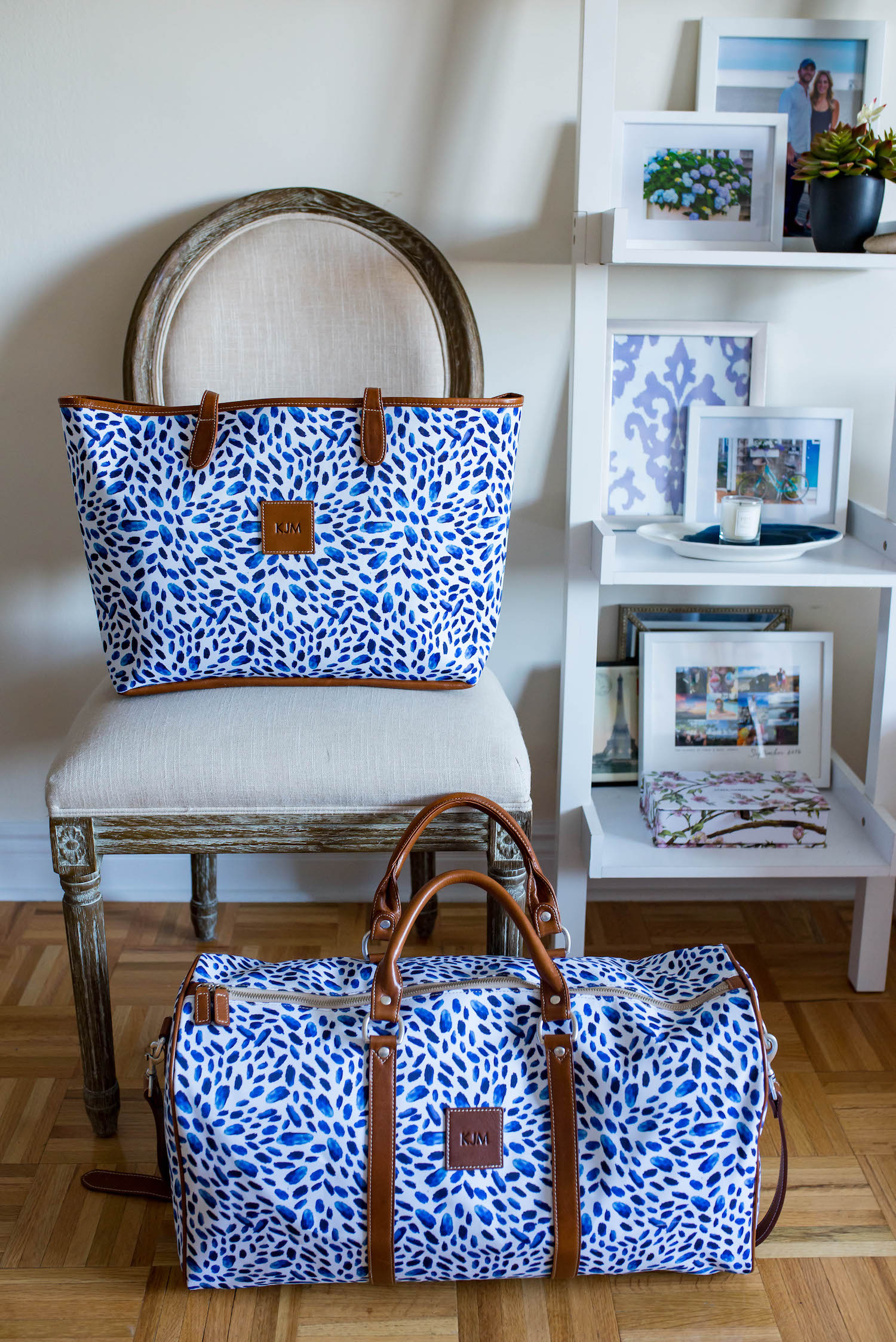 Get The Right Luggage
Barrington Gifts has the perfect bags for weekend getaways or trips that span a few days. The Belmont Cabin Bag is a great alternative to a rolling suitcase, but still has similar storage capacity. There are also so many fun patterns and color combinations to choose from– you can even monogram it! I used mine in Stowe for packing all of our ski clothing and helmets. Talk about deceptively spacious…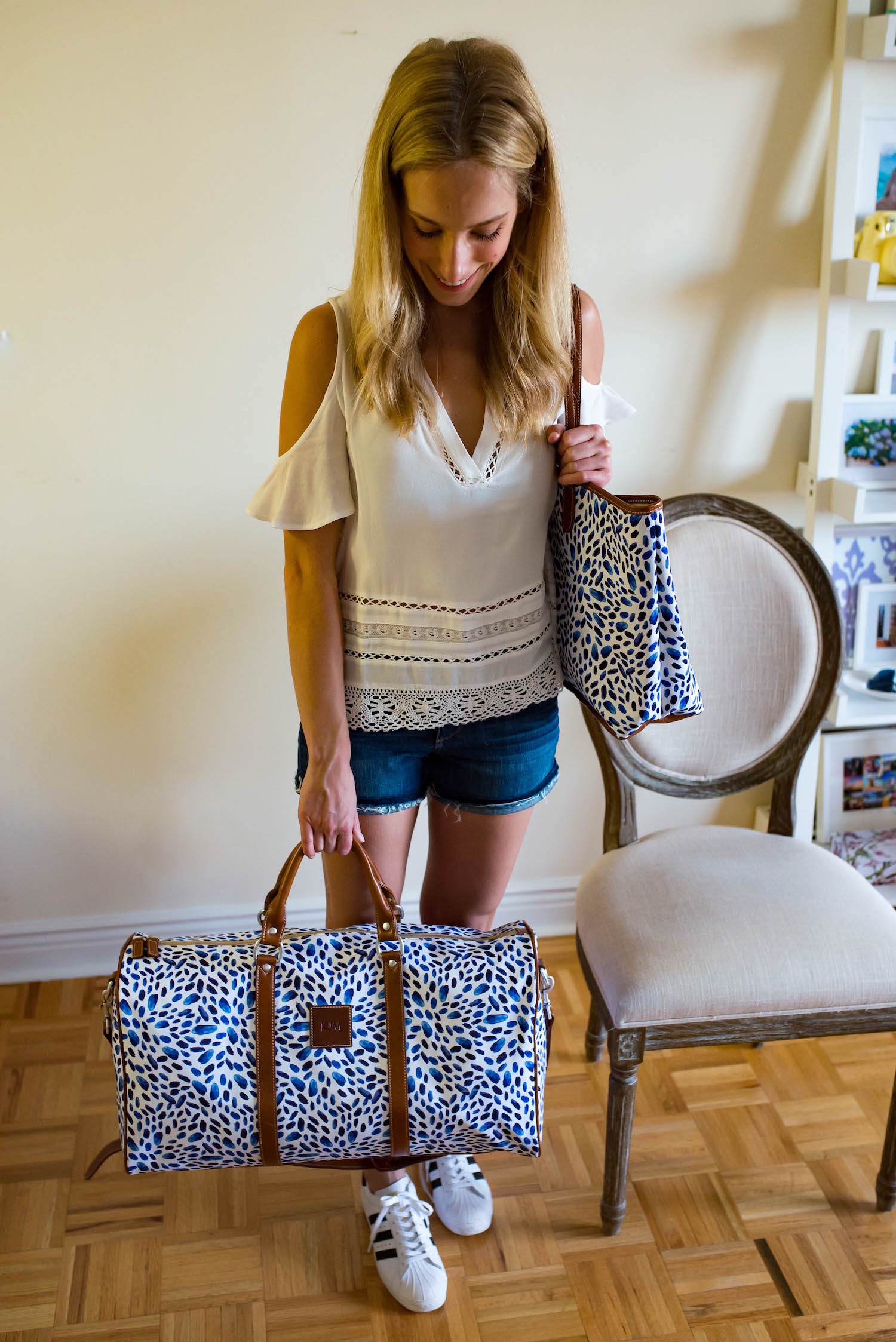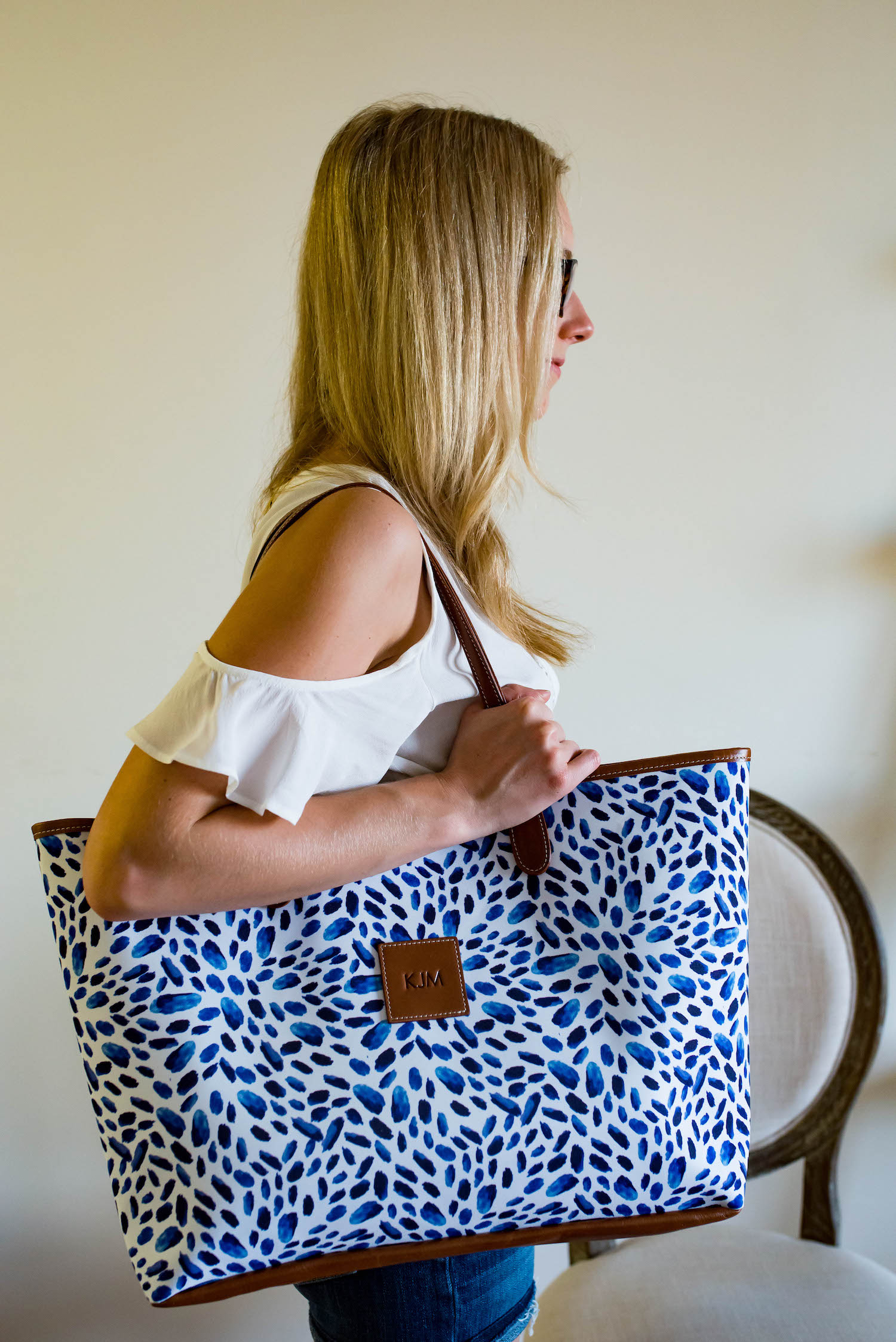 This is now my second St. Anne Tote and similar to the Belmont Cabin Bag there are endless prints and color combos to choose from. Don't you love it when bags are customizable? What I like about this tote is that besides having a roomy interior, there are plenty of pockets including one that zips. It's a big pet peeve of mine when tote bags are just an empty sack because I can never find anything! Not the case with this one.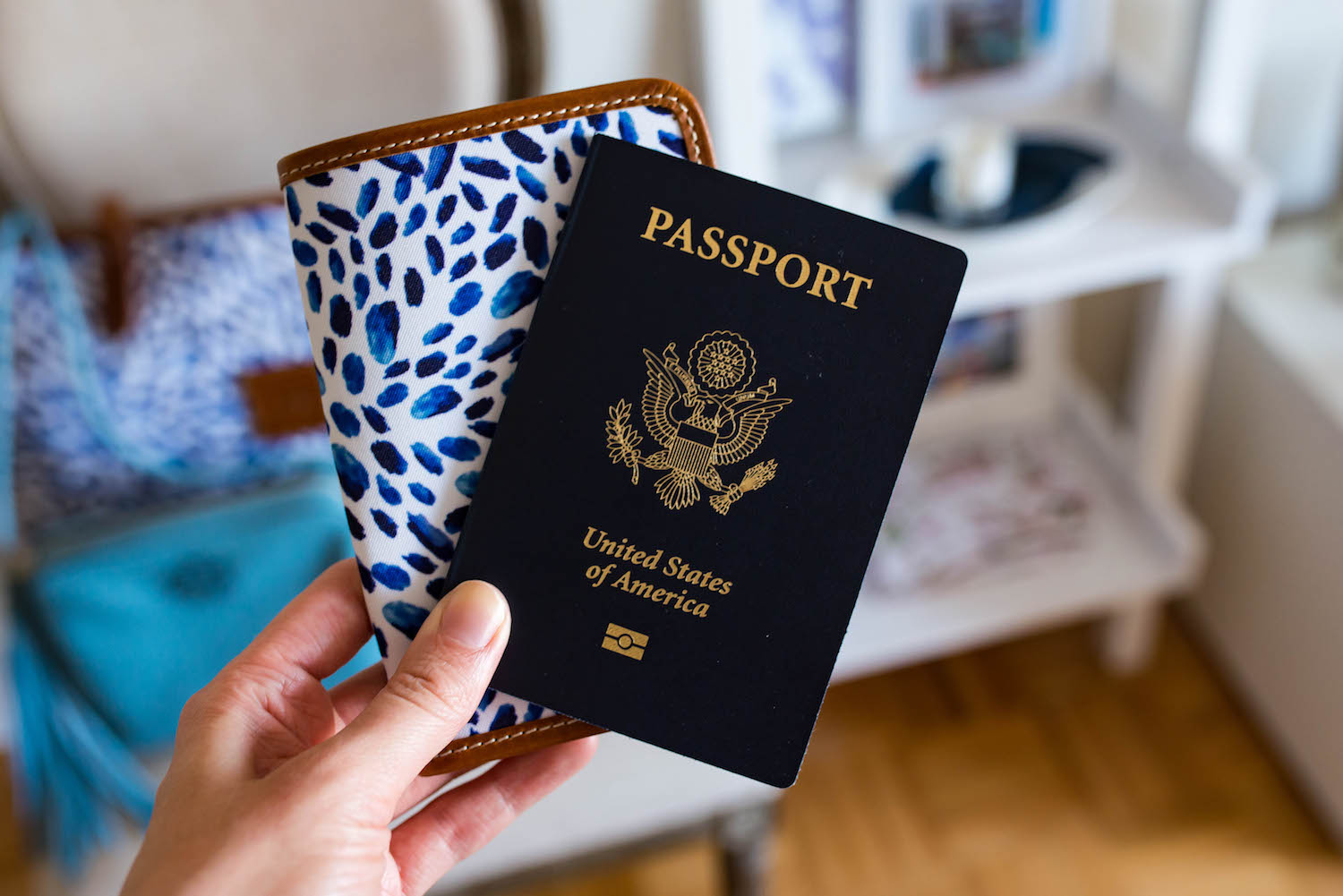 Oh and of course, you can't forget about a cute passport case. This is actually my first one and I love how it matches with both of my bags.
Wear Your Clunkiest Shoes & Clothing To The Airport
While I wish I was one of those bloggers who posts cute selfies and #ootds from the airport, in reality I more closely resemble a runaway teenager when I'm traveling. Why? I always wear whatever takes up the most space in my luggage to the airport– aka my baggiest pants, sweater or jacket and my clunkiest shoes. When you aren't checking a bag, you have to take advantage of space and sometimes that means sacrificing style on the plane.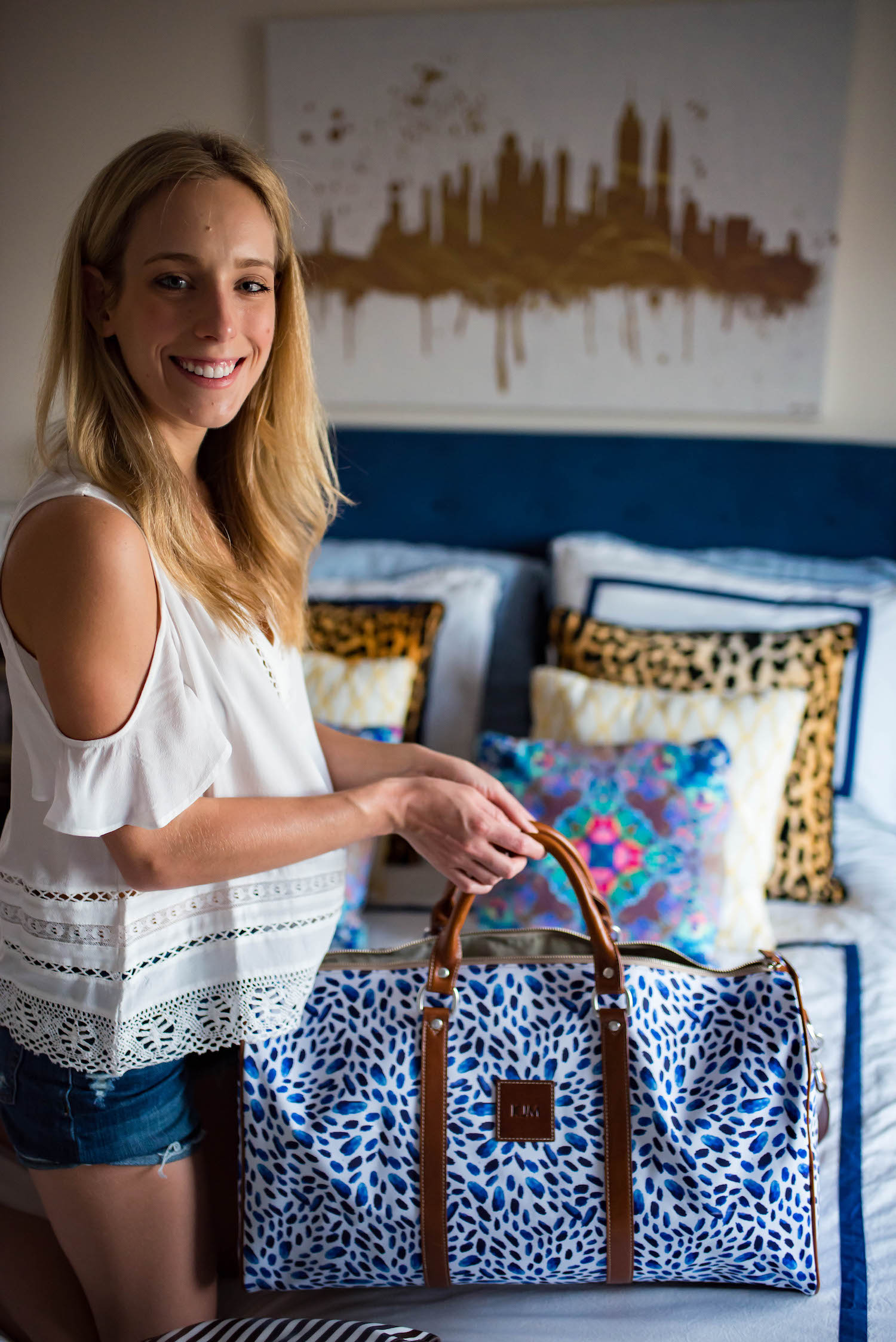 Bring Only Travel-Sized Beauty Products
Whenever I stay at a hotel I like to bring home the travel-sized beauty products housekeeping leaves in the bathroom to utilize on future trips. PS a hanging toiletry bag is LIFE-CHANGING. After encountering many small sinks and lack of bathroom counter space in Finland, a folding bag with separate compartments and a hook was the perfect solution.
Layer Bags & Hats
Forgive me if this tip is kind of obvious, but after destroying a few Panama hats in my suitcase over the years it finally hit me that all I had to do was stack my hats and wear them as one to the airport. When it comes to my "personal item" I have no shame and will literally layer three tote bags and a backpack all within one another.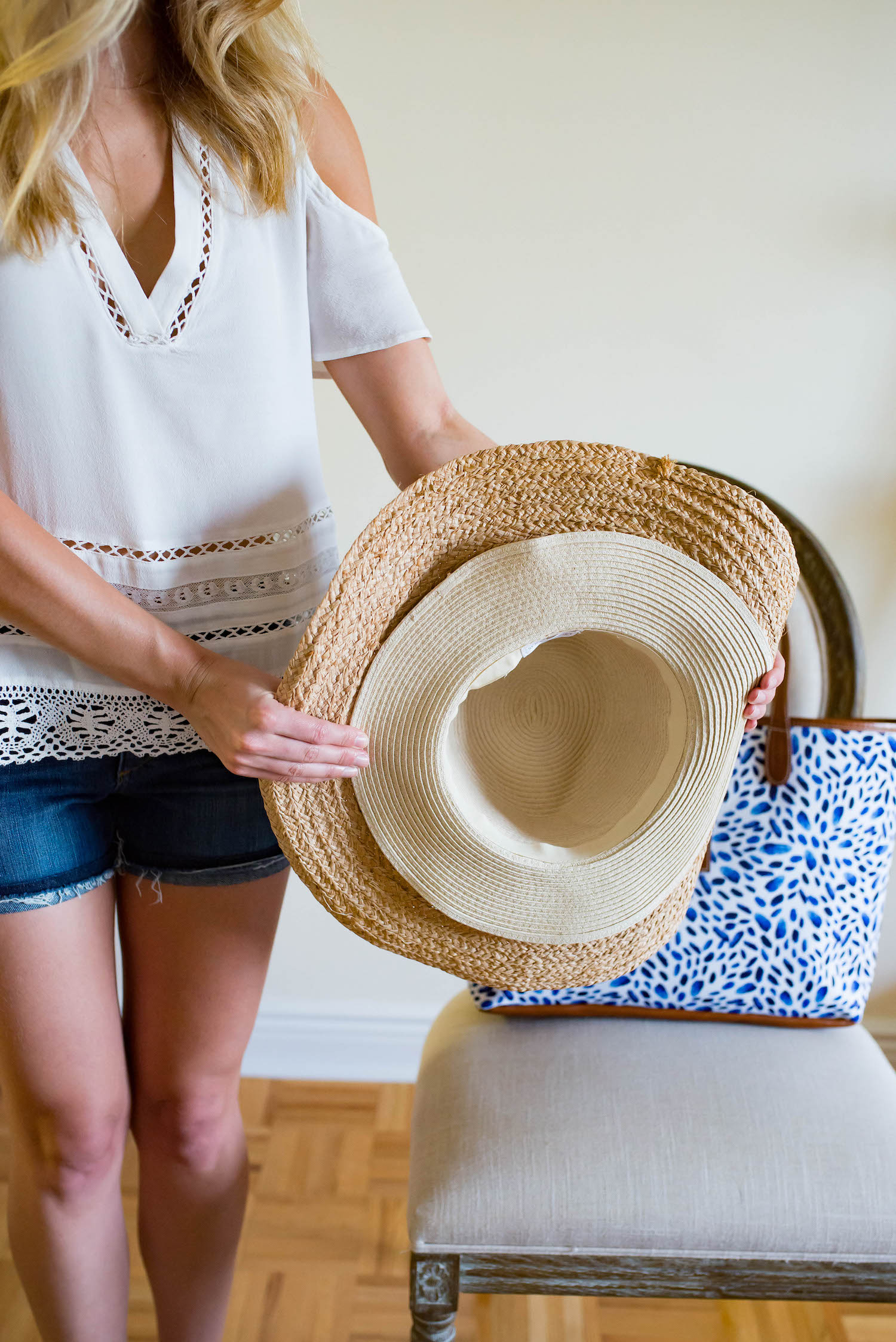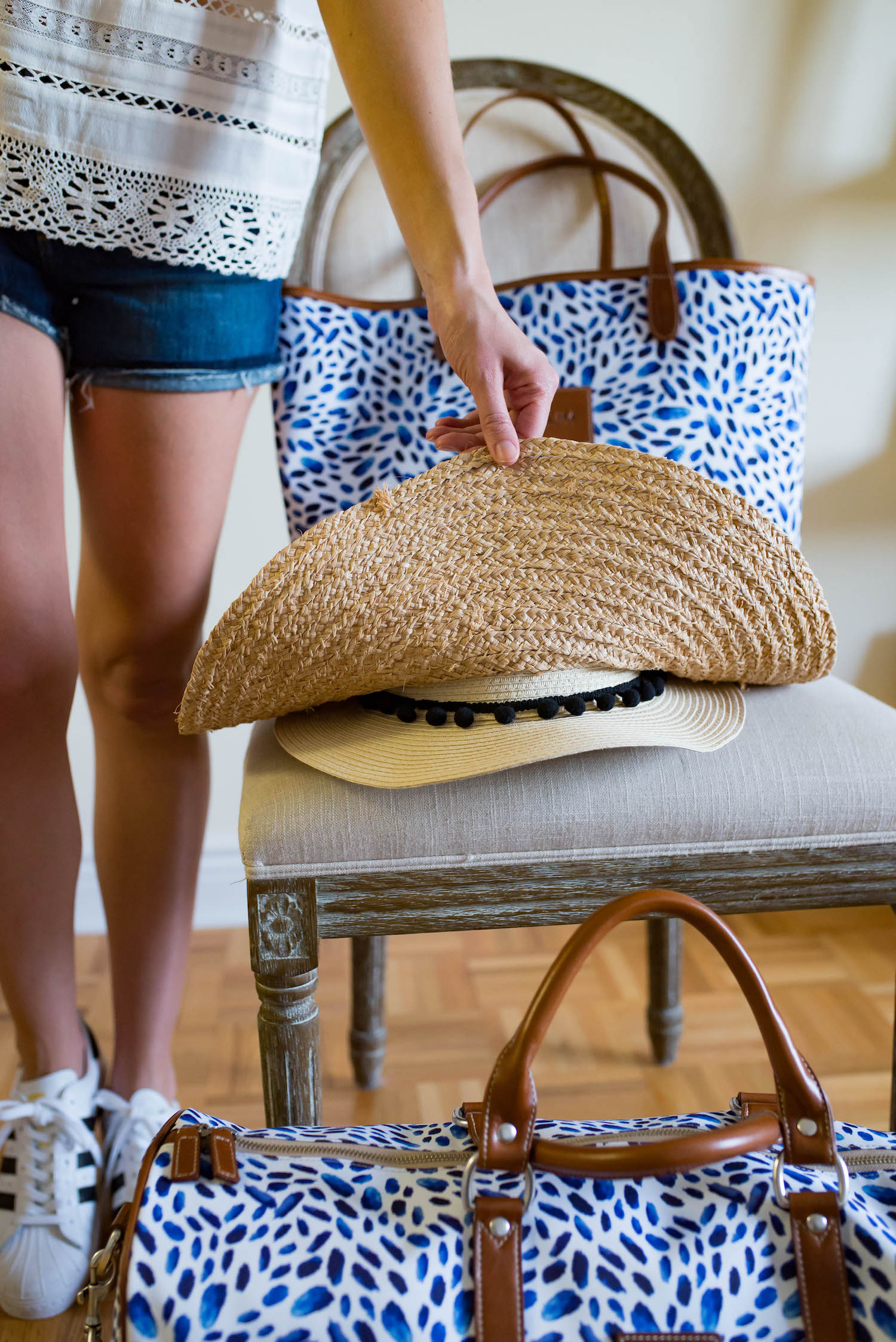 Floppy Sun Hat | Pom Pom Panama Hat
Pack Using Compression Or Space-Saving Bags
Compression travel bags are the latest hack I've added to my luggage arsenal. I used these last week in Mexico for packing basics like my underwear, socks, t-shirts, fitness clothes and pajamas. Basically whatever I didn't mind getting wrinkled! The way you pack them is by rolling everything and then zipping the compression compartment in place– I'd say using them saved me 25% more room in my suitcase. The ones I purchased are also very lightweight and would be perfect for backpacking or just to use within a carry-on suitcase. These are also great for separating clothing after it's become dirty.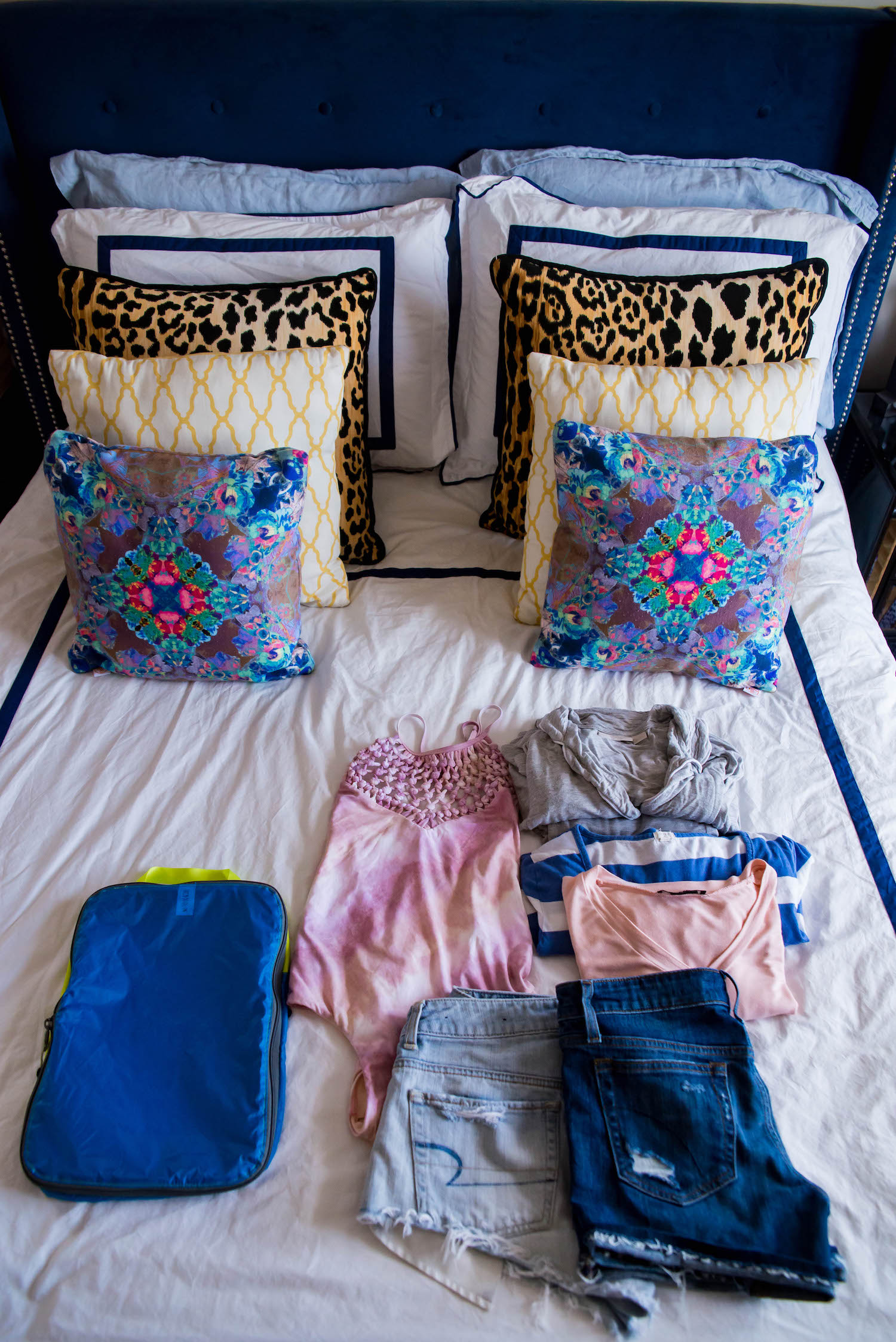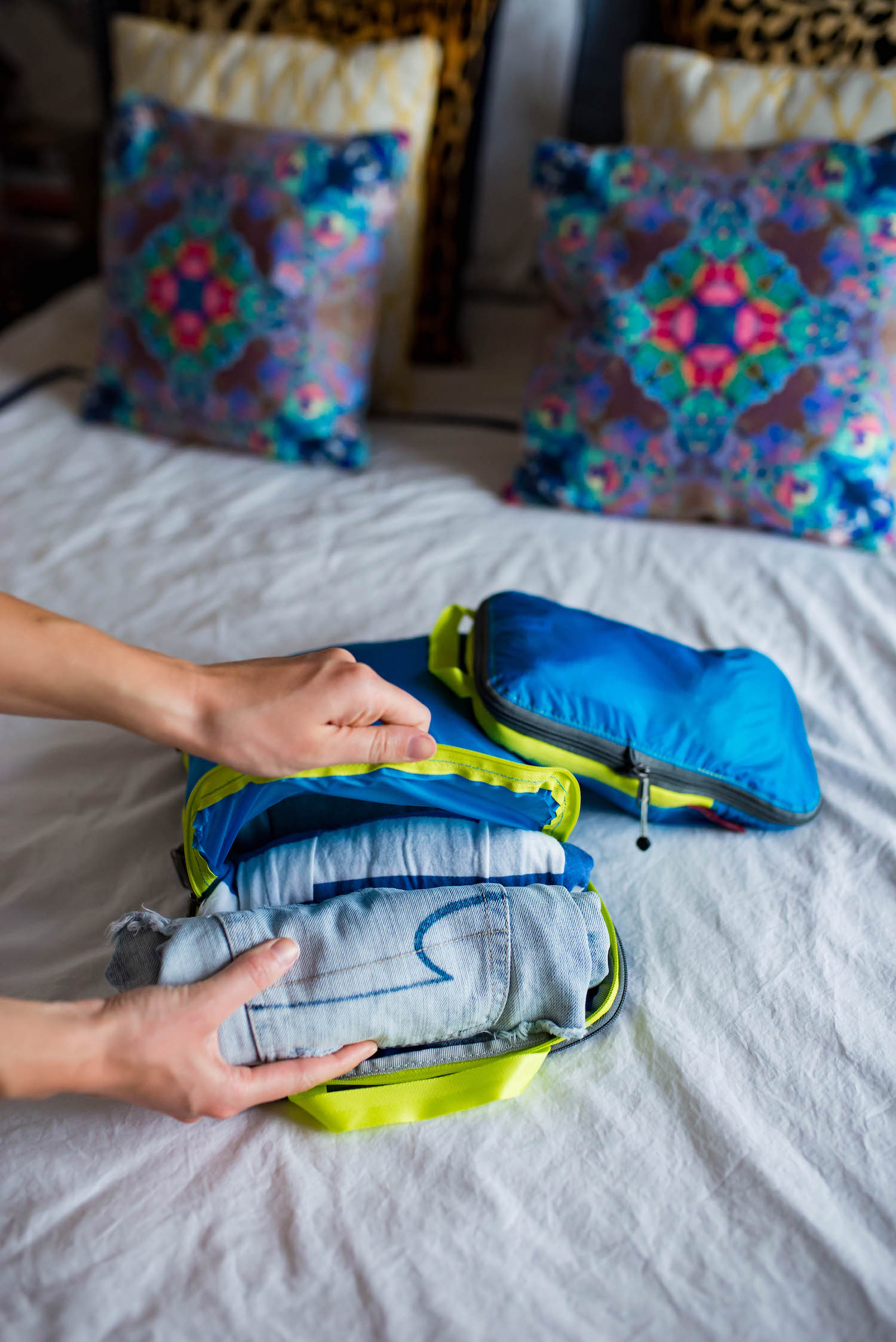 Before & After: Yes, I was able to fit all of this clothing in one compression bag!
Pack Attire You Can Mix & Match
I like to lay out all my outfits on my bed before placing anything in my suitcase. This way I can visualize my looks and make sure I'm bringing pieces that pair well together. For example, I'm always cold so I like to have some type of sweater or jacket for layering. Whether it's a jean jacket or a blazer– I make sure it matches with everything so I only need to bring one. Some of my travel style staples include items like this chambray romper, a white knit dress, denim shorts and a simple stripe shirt.
Don't Overpack Footwear
In a perfect world I'd love to have a big selection of shoes on vacation, but I've found it's just not worth it to overpack footwear. Shoes are the heaviest items you'll bring and take up the most space. I would so much rather have space for more clothing, toiletries and my camera equipment. At most I'll bring three pairs of shoes when I'm not checking a bag– flats, heels and then maybe sneakers or an option that's good for walking.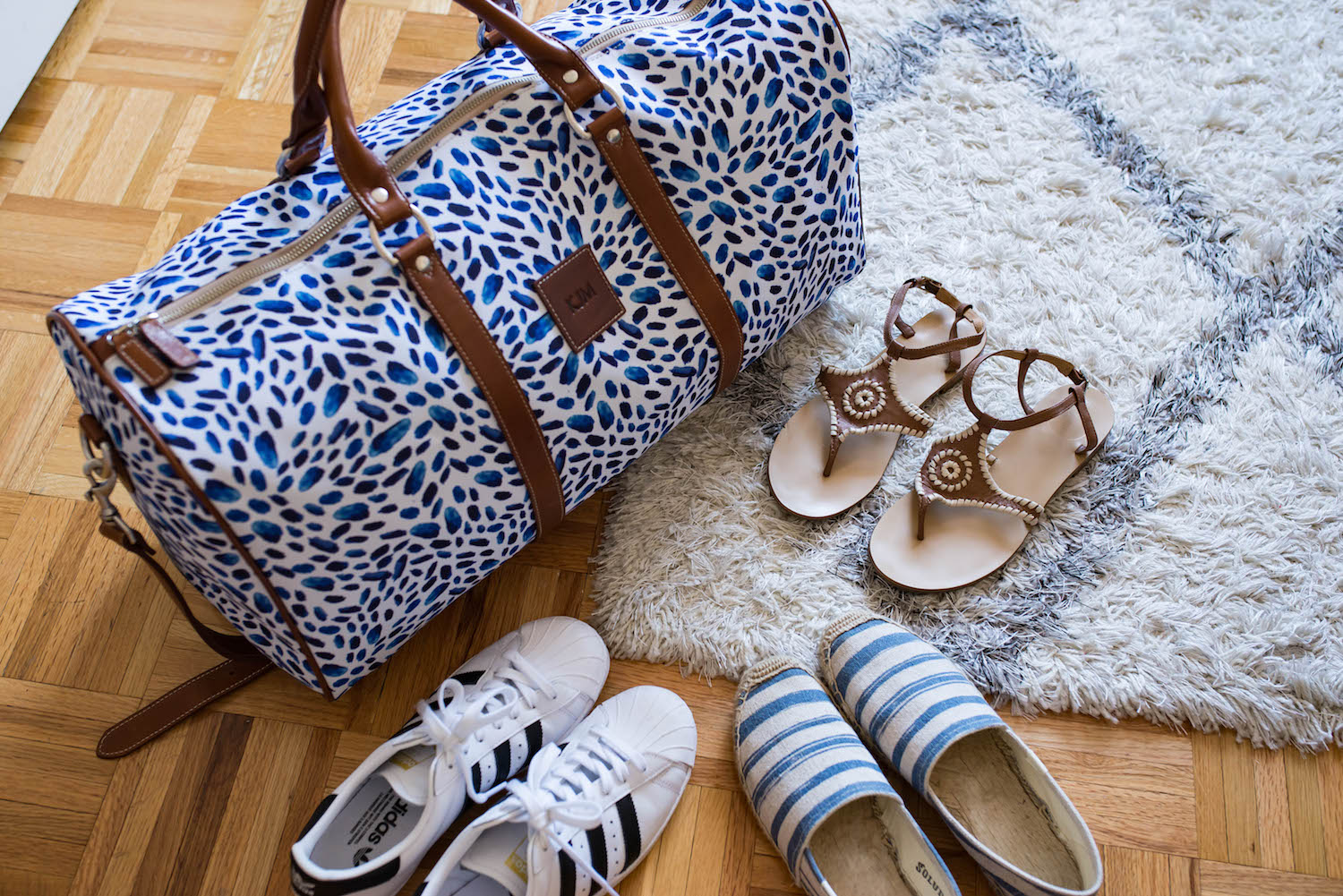 Barrington Gifts Belmont Cabin Bag c/o | Adidas Sneakers | Espadrilles | Jack Rogers Sandals
Let me know what you guys think in the comments and if you have any tips for me– please do share! Also keep a lookout for a recap from my latest trip to Mexico coming by the end of the week. xo
Big thank you to Barrington Gifts for sponsoring this post!
- Katie