I'll keep this intro brief because this travel guide is a big one. We kicked off our recent European adventure beginning with three wonderful days exploring London. As always whenever we visit somewhere new, we wanted to put together an itinerary that combined shameless touristy sightseeing with some things that aren't necessarily listed on every single London Travel Guide. For such a short trip I think we accomplished a lot! PS you can see an outline of our full 10 day trip to London, Germany & France here.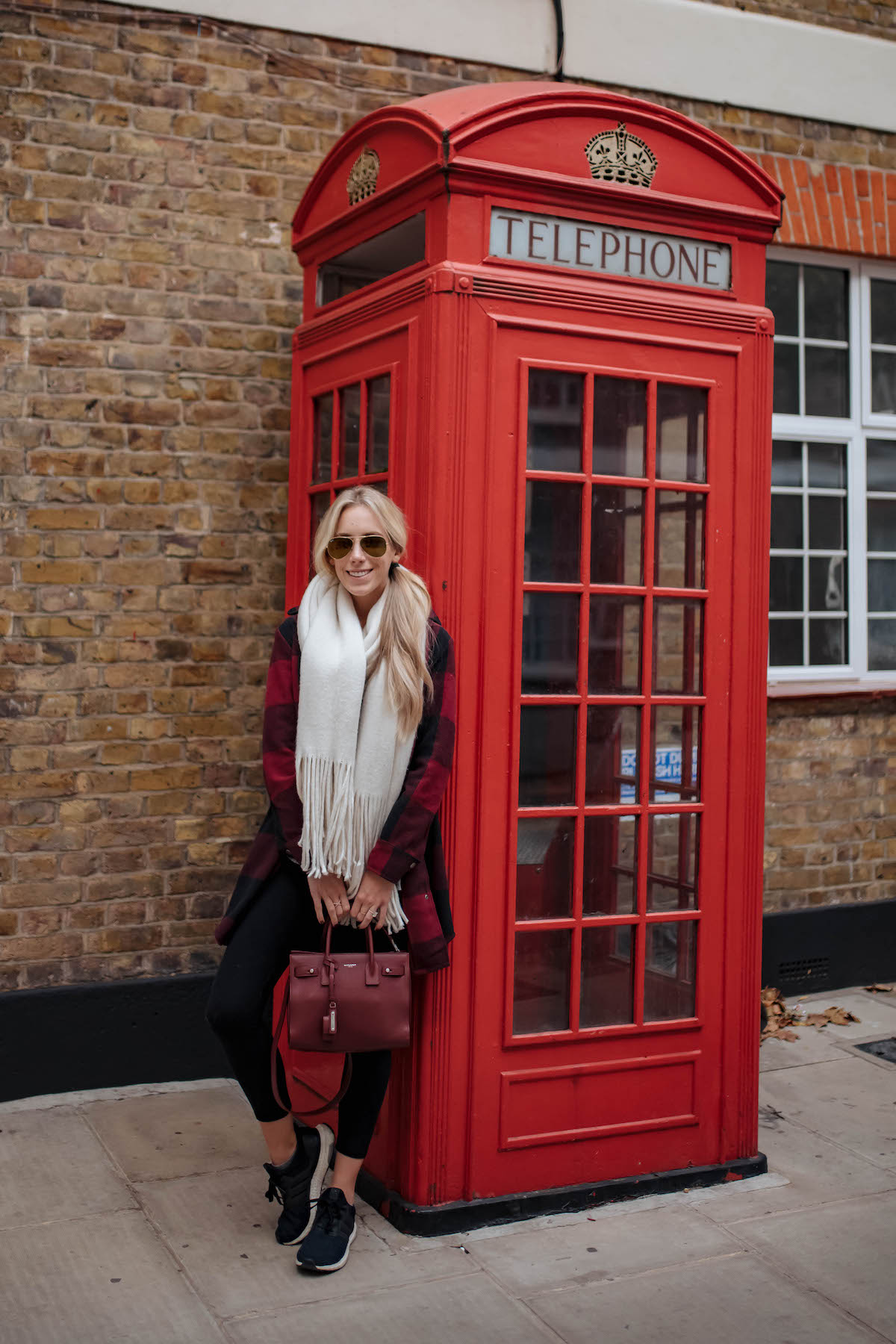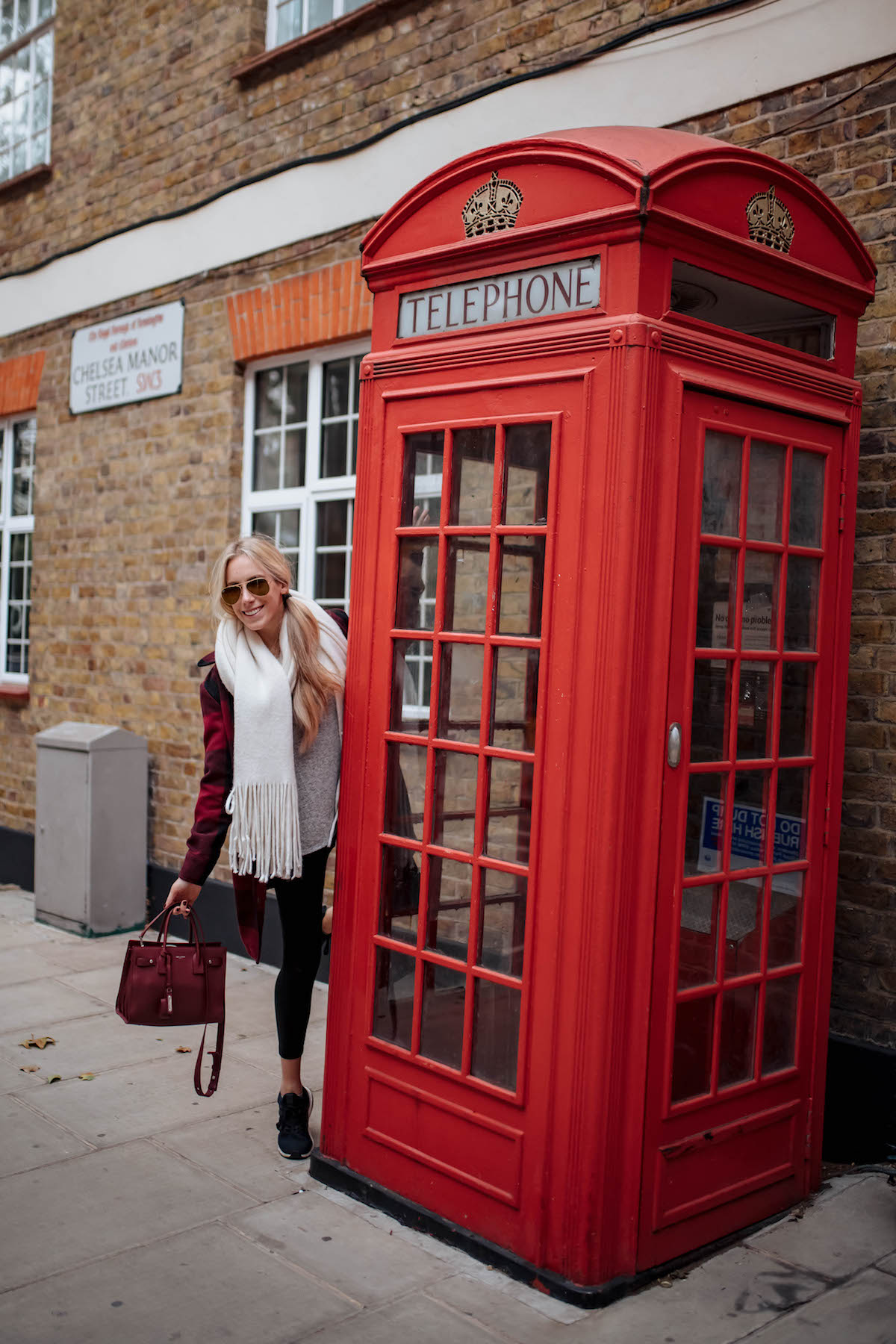 OUTFIT DETAILS // Red Buffalo Check Coat | Knit Top | Fringe Scarf | Cropped Leggings (only $29!) | Faux Suede Jacket | Sneakers | Saint Laurent Bag | Aviators
Nick and I really loved London. Like, really loved it. It reminded me a lot of Paris in a way. At least visually. I immediately was captivated by the romantic architecture, winding streets and lack of high rise buildings. When I picture a big city in my head I immediately think of New York's flat grid-like layout and tall skyscrapers, so anytime I go somewhere where that's not the case, it's always a bit shocking yet often a very much appreciated breath of fresh air. I really liked how London was so spread out. It felt much less intimidating than New York and way more livable. Super clean too! I would go back again in a heartbeat.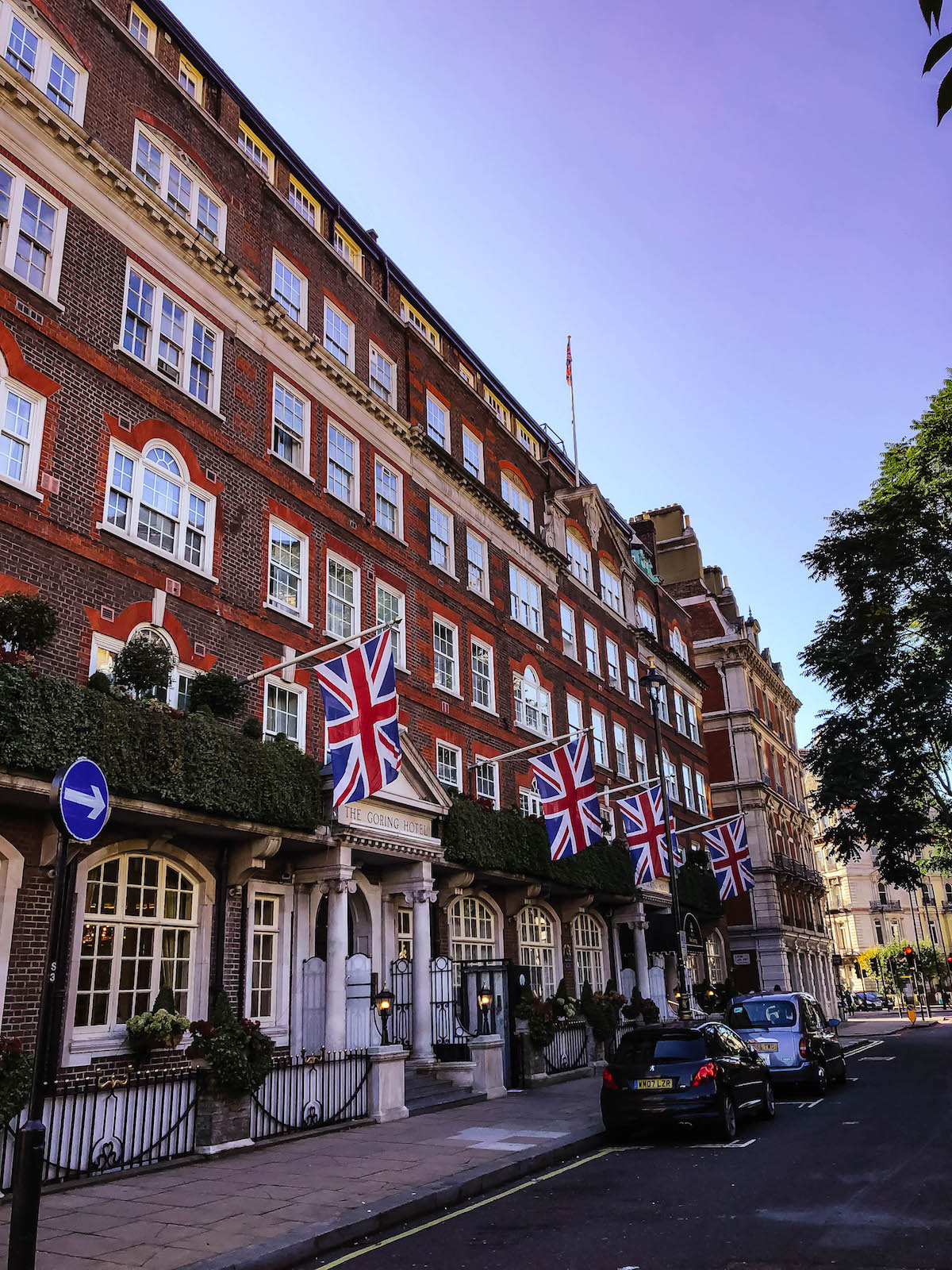 First Time Visiting London Itinerary
Where To Stay
ST. JAMES'S HOTEL & CLUB, MAYFAIR
When I first began researching London hotels, to say I was overwhelmed would be an understatement. There are just so many options of places to stay and similar to New York and Paris every neighborhood has a different vibe. Since this was our first visit and time was limited, it was important for us to find a hotel that was within reasonable distance to the main sightseeing, yet in a neighborhood where we could enjoy walking around and not feel like we were in the thick of a busy city.
Keeping those factors in mind, we were able to narrow our search to Mayfair, where if you look at a map is pretty much smack dab in the middle of London. It's an area best known for it's upscale shopping, gourmet restaurants and pretty townhomes, all within walking distance of some of London's top landmarks like Hyde Park, Buckingham Palace and Westminster Abbey.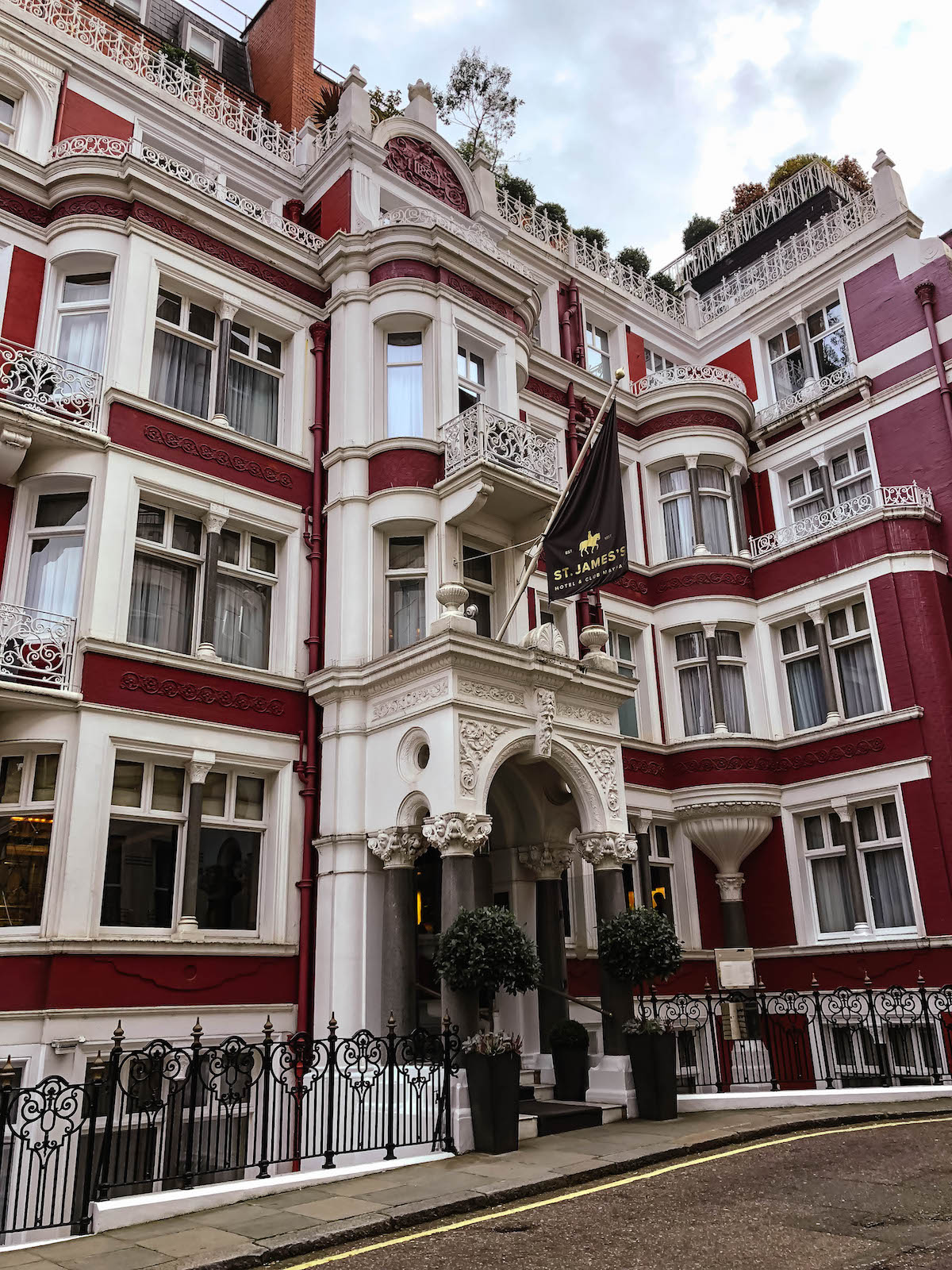 After having such positive hotel experiences in Amsterdam and Positano, we decided to stay at another Small Luxury Hotels of the World-member property in London: St. James's Hotel & Club. We had high expectations and couldn't have been happier with our accommodations, the attentive service and central location.
As you'll see below, our itinerary took us all over the city so by staying at the St. James's we never felt like we were spending too much time getting from place to place. Despite being just minutes from Piccadilly (one of London's busiest streets) the St. James's felt so quiet and tranquil, which I'd attribute to it's small number of guest rooms (just 60!) and it's location in a historic townhome on a private cul-de-sac.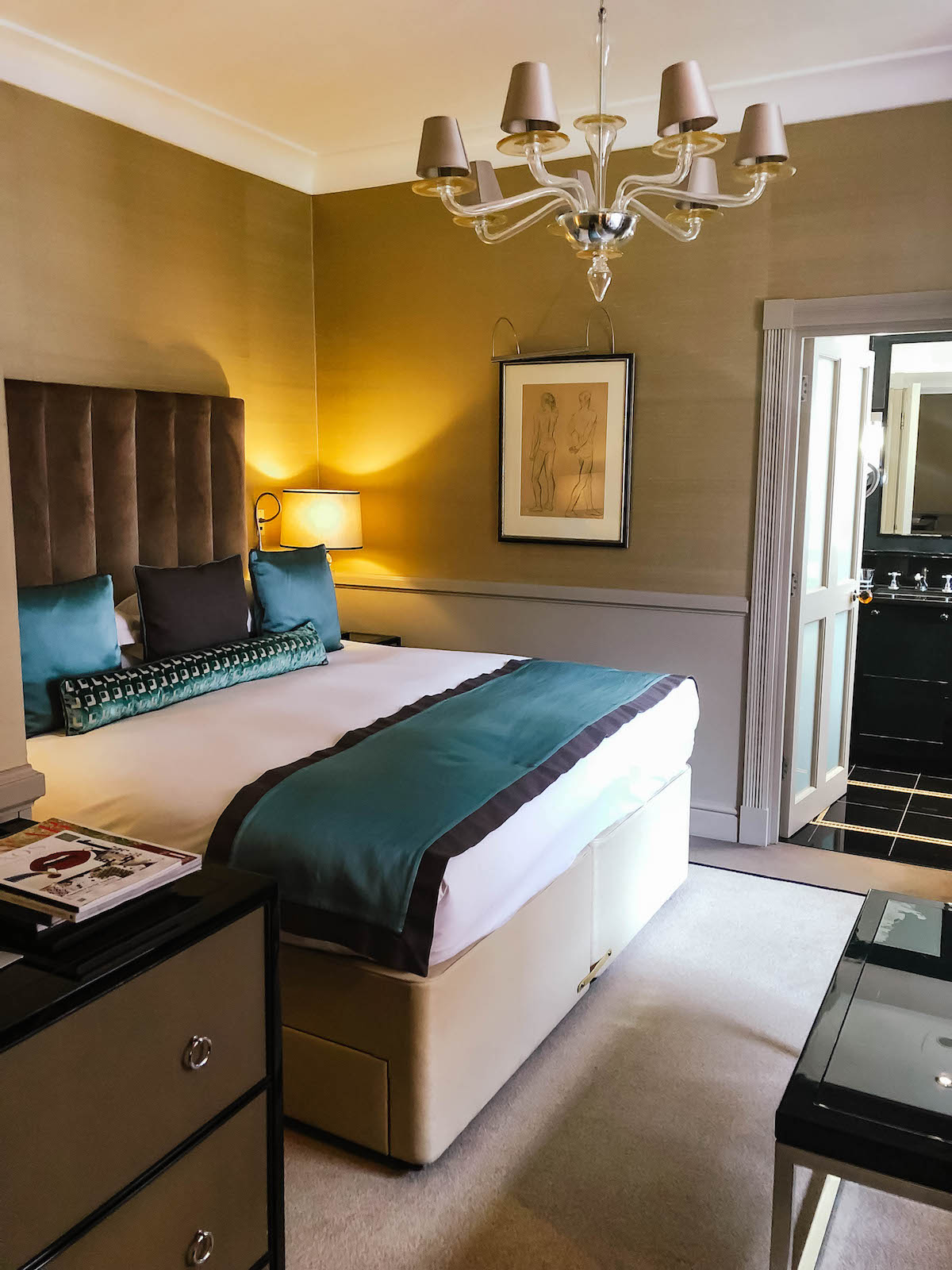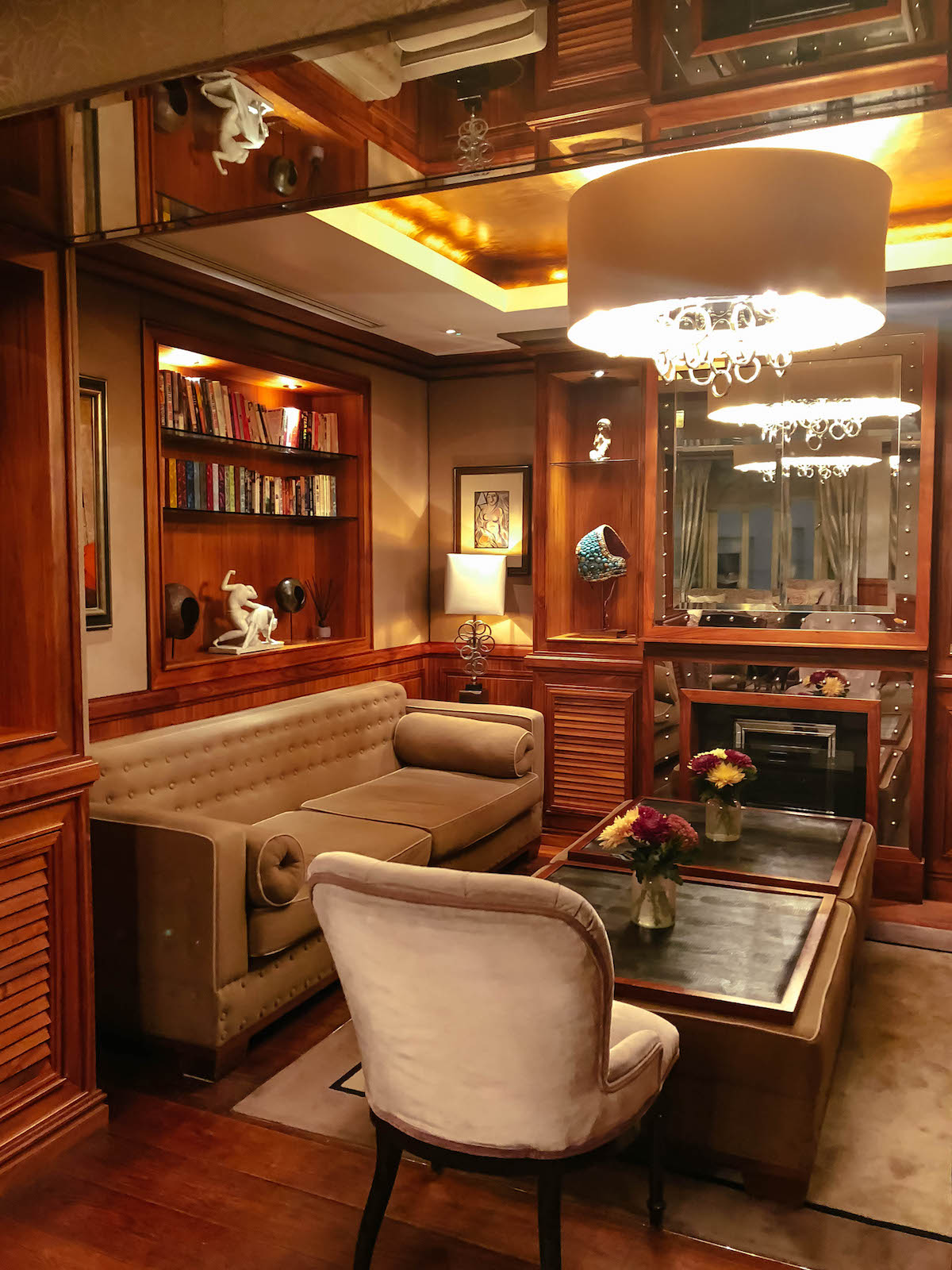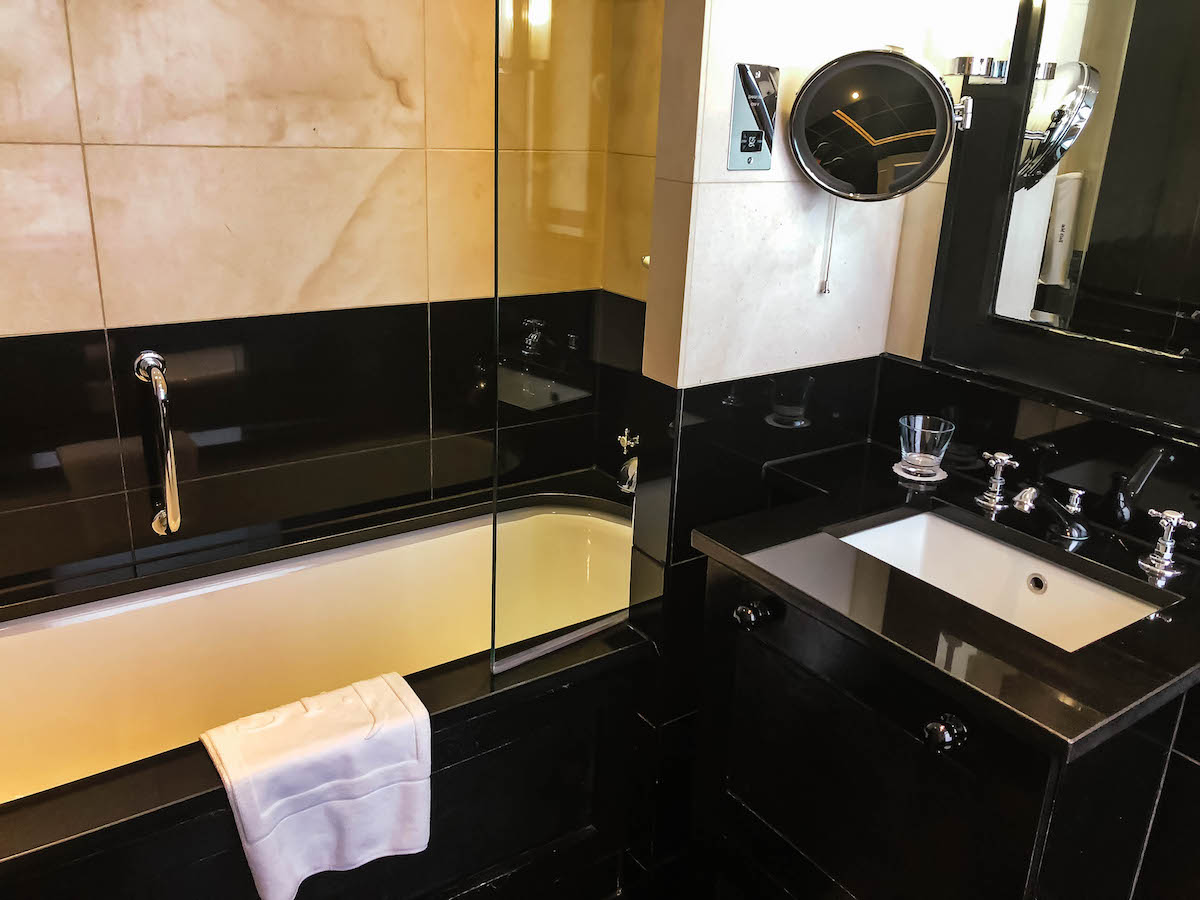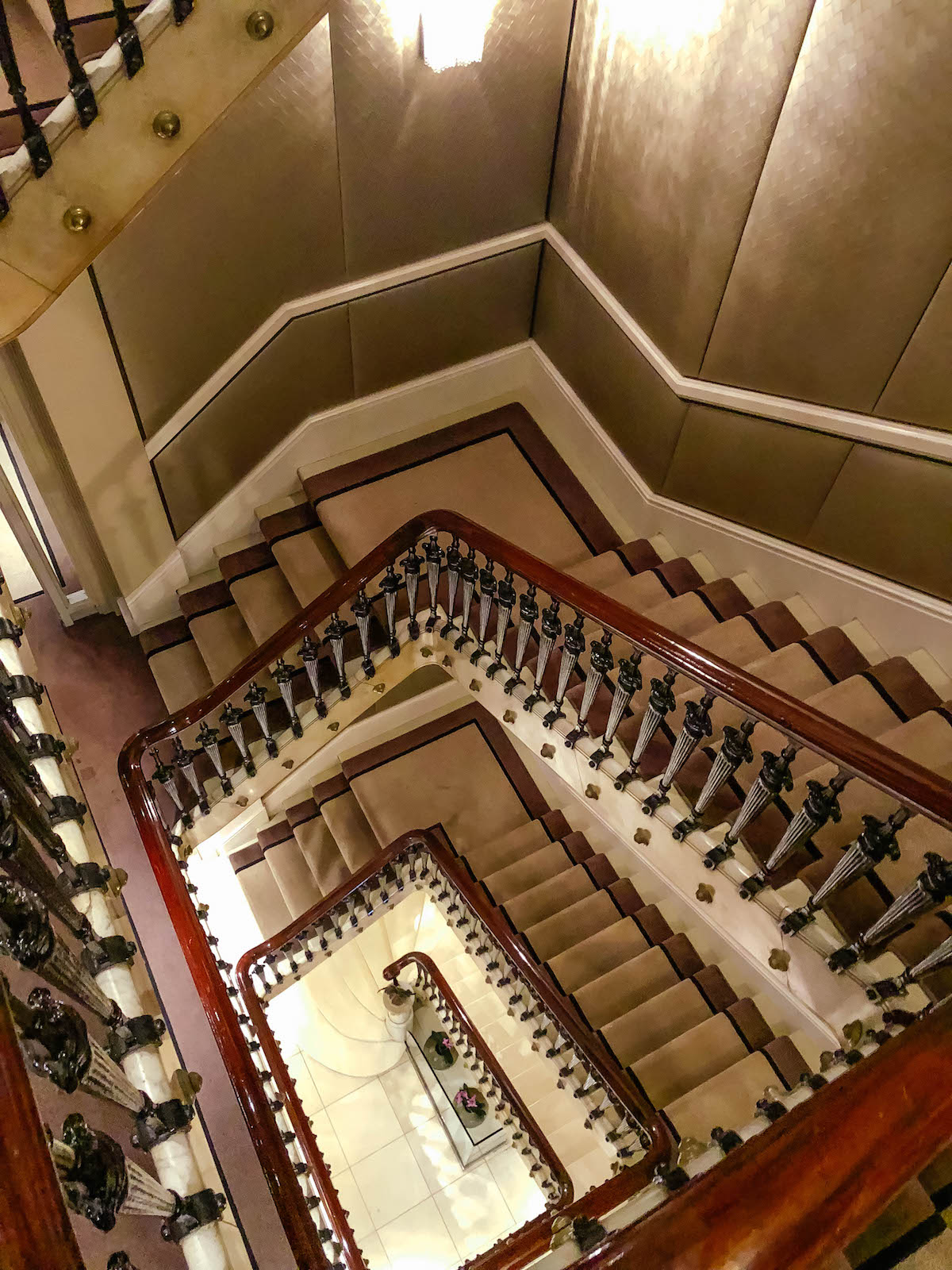 The St. James's Hotel & Club is one of 520 properties in the Small Luxury Hotels of the World collection of small, independent hotels that have a proven track record of excellence and exclusivity.
One really interesting aspect of the St. James's is it's also a private club with a history dating back to 1857. Don't worry, you no longer have to be a member to book a room (though how cool would that be?) today anyone can stay there and enjoy the amenities. I personally prefer staying at small hotel when visiting a new large city because the vibe is always so much more intimate, plus I feel like you're better taken care of by the staff and concierge, so I really felt like that's exactly what we got during our stay at the St. James's.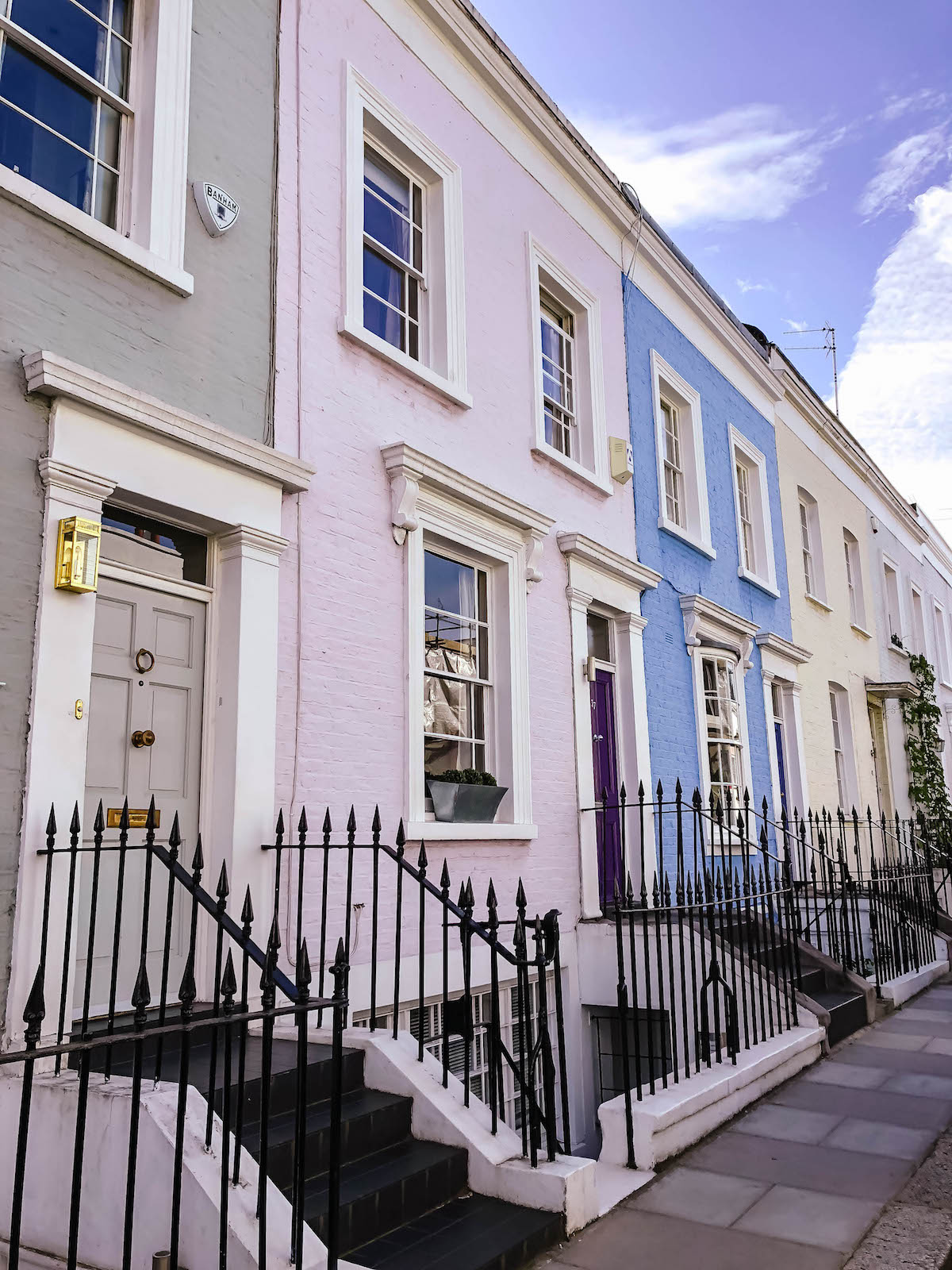 Day 1 Itinerary
SIGHTSEEING + EXPLORING:
Tower of London
Tower Bridge
Borough Market
London Eye
Big Ben
DRINKS:
Aqua Shard at The Shard
Mr. Fogg's Gin Parlos
DINNER:
Dishoom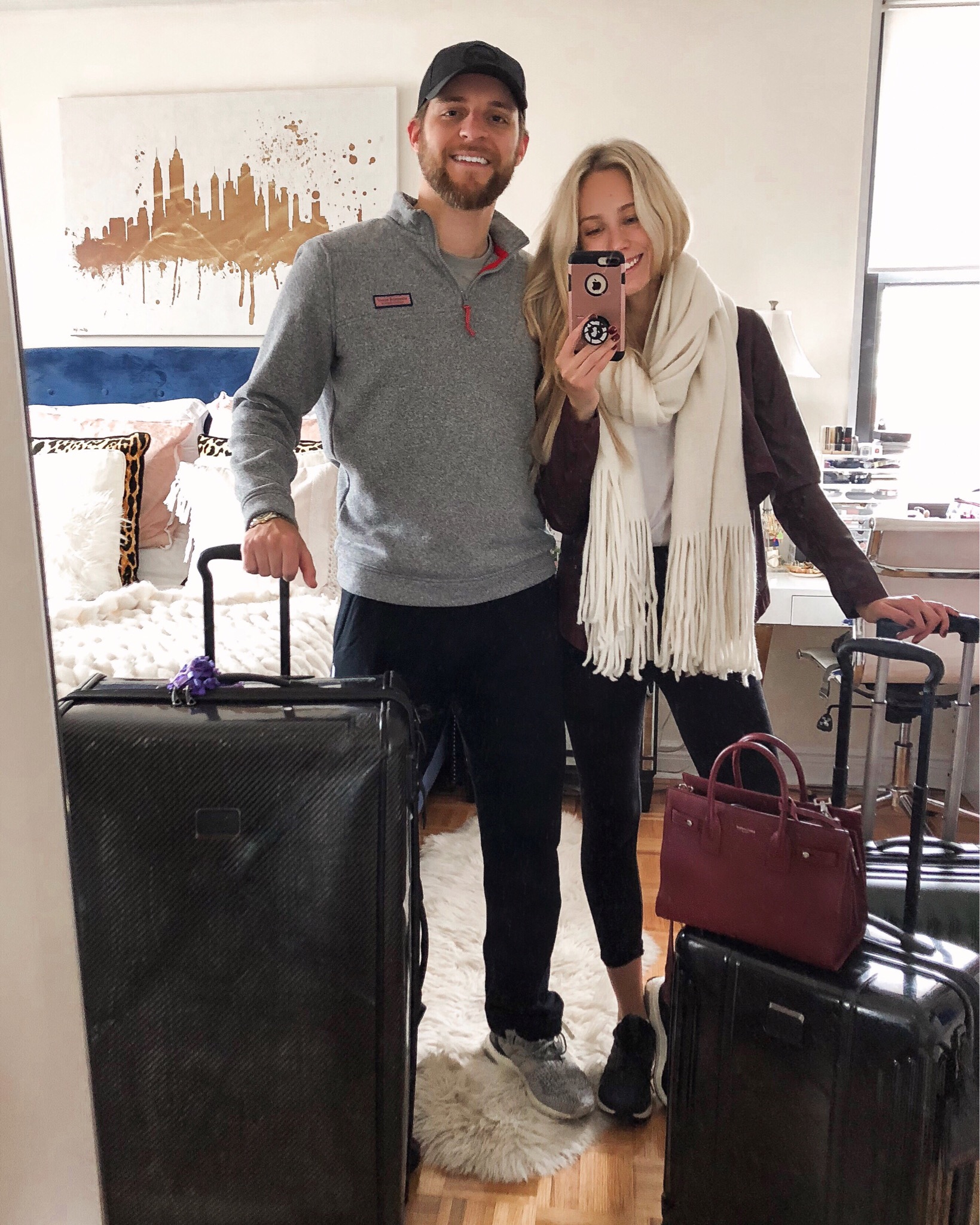 OUTFIT DETAILS // Large Luggage | Carry-On Luggage | Fringe Scarf | Cropped Leggings (only $29!) | Faux Suede Jacket | Sneakers | Saint Laurent Bag | Nick's Pullover
Getting to London from New York is a breeze! There are tons of direct overnight flights every single day so booking our travel was super easy. We had a very pleasant experience taking an overnight Delta flight (my first time flying Delta internationlly!) We left Friday evening after Nick finished work and arrived in London around noon on Saturday afternoon, leaving us with just enough time to crank out a half day of sightseeing.
MY PACKING + COMFY TRAVEL ESSENTIALS

Those of you who have read my previous travel guides and itinerary know that Nick and I like to go fast and furious when we travel. At most we only come to Europe for 10 days, so given our limited time we really like to pack in the activities. After washing up and dropping our bags at our hotel, we hit the ground running and set off for an afternoon of exploring #nonapsallowed.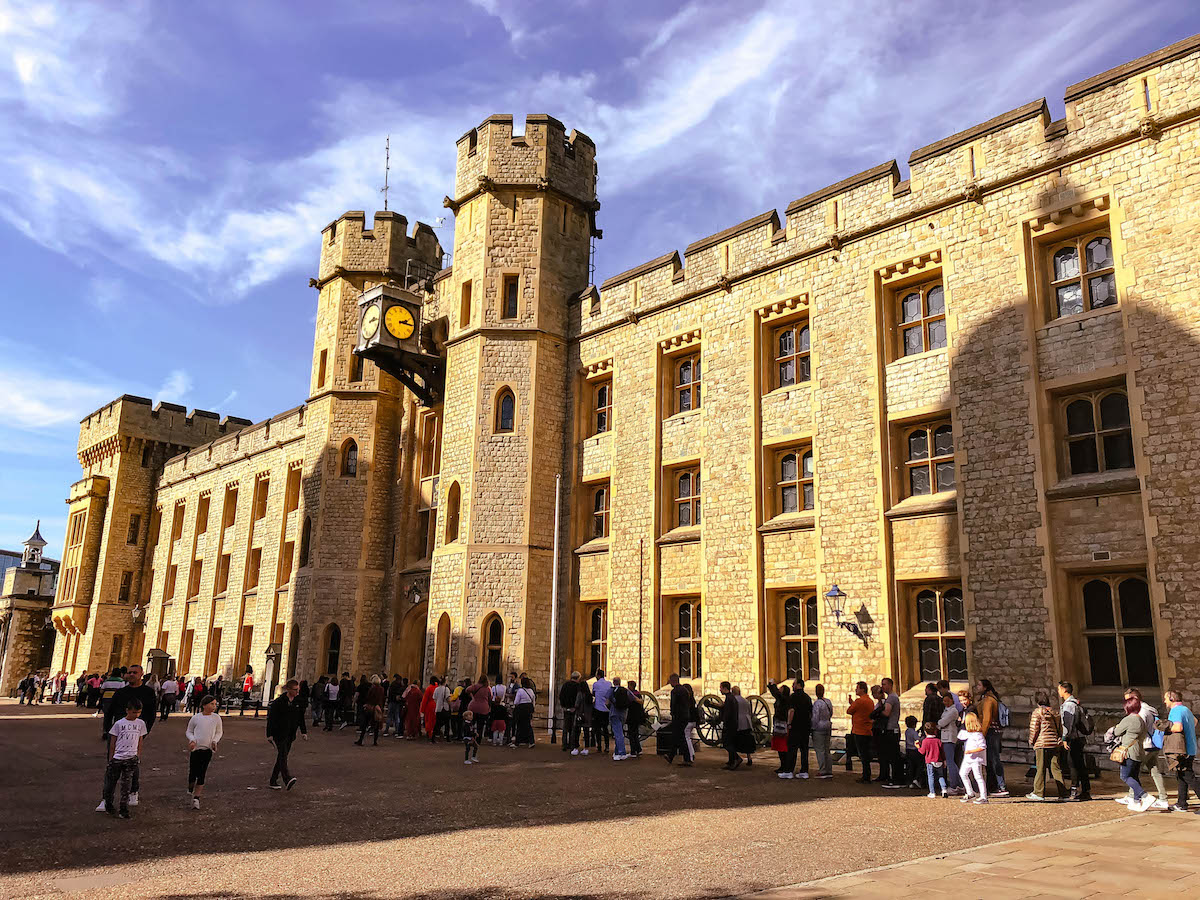 Our first stop was the Tower of London. I had pre-purchased our tickets online so entry into the Tower grounds was a breeze. We aren't guided tour people so we spent about two hours walking around on our own. For me the highlight was definitely the Crown Jewels exhibit, though sadly no pictures are allowed.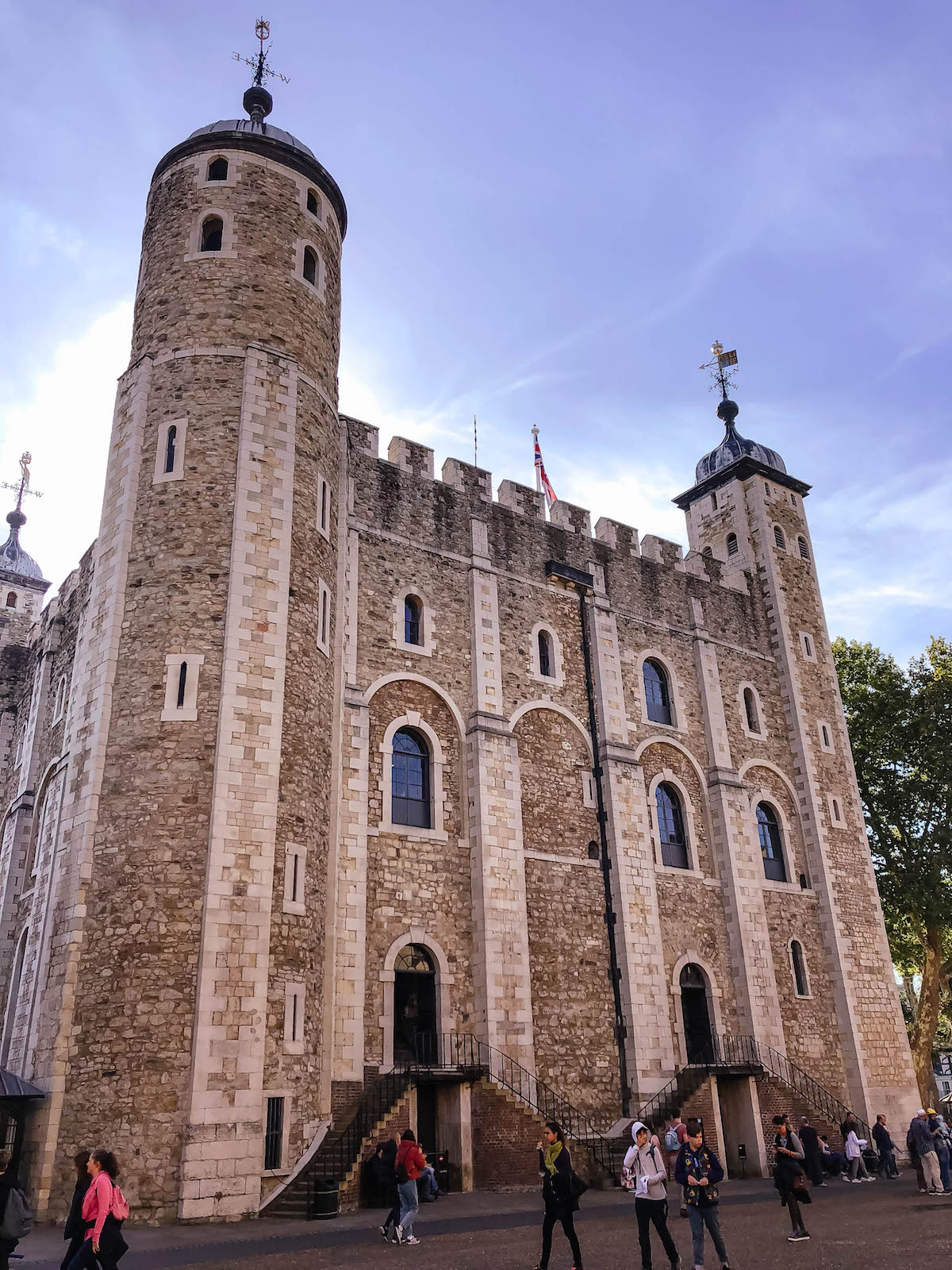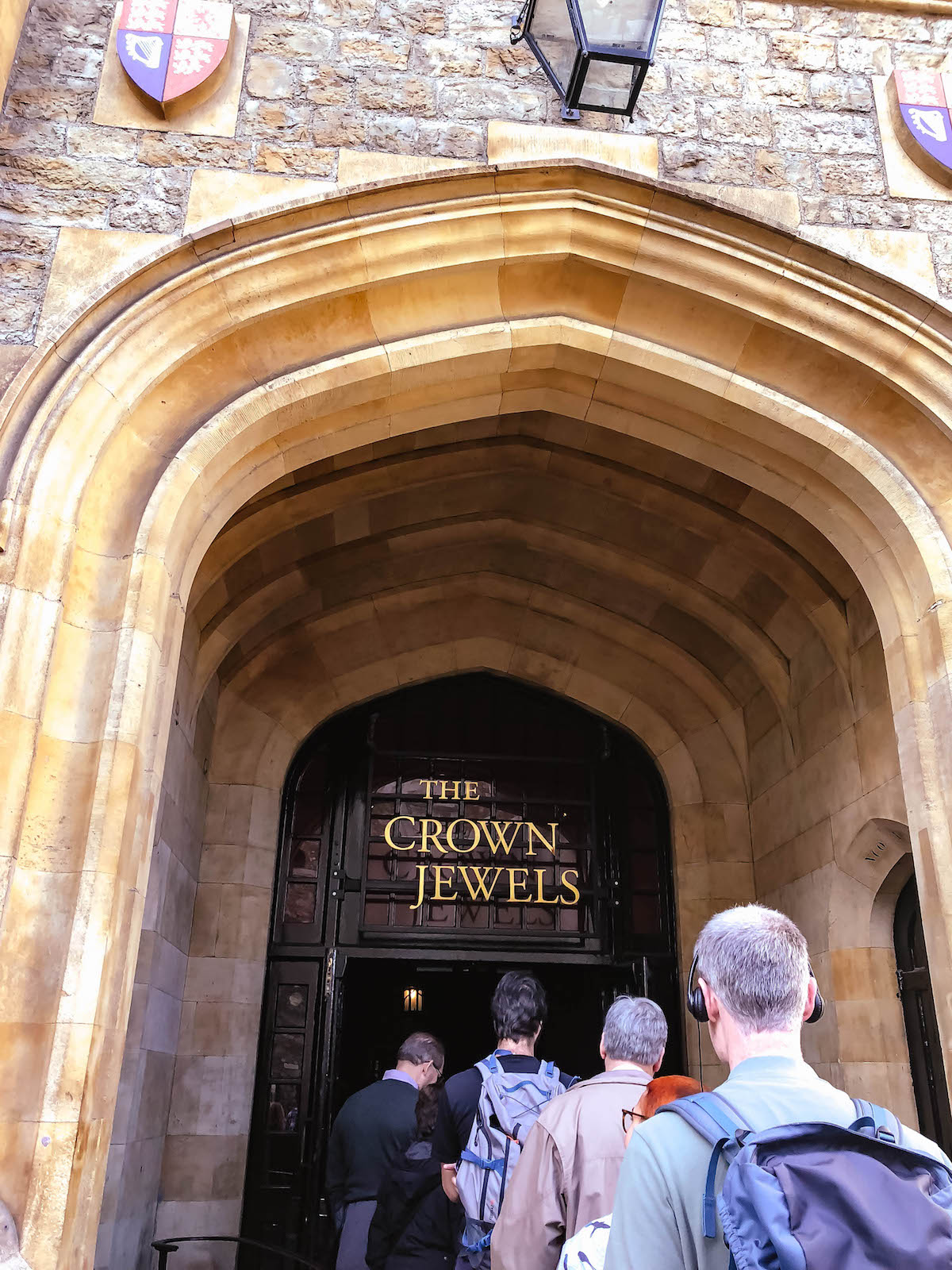 Next we continued being shameless tourists by walking across London's famous Tower Bridge. There's a museum here too, however we skipped that in favor of our own wandering. We were blessed with the most gorgeous weather the entire time we were in London, so just walking around outside in the 65 degree sunshine was a such a treat.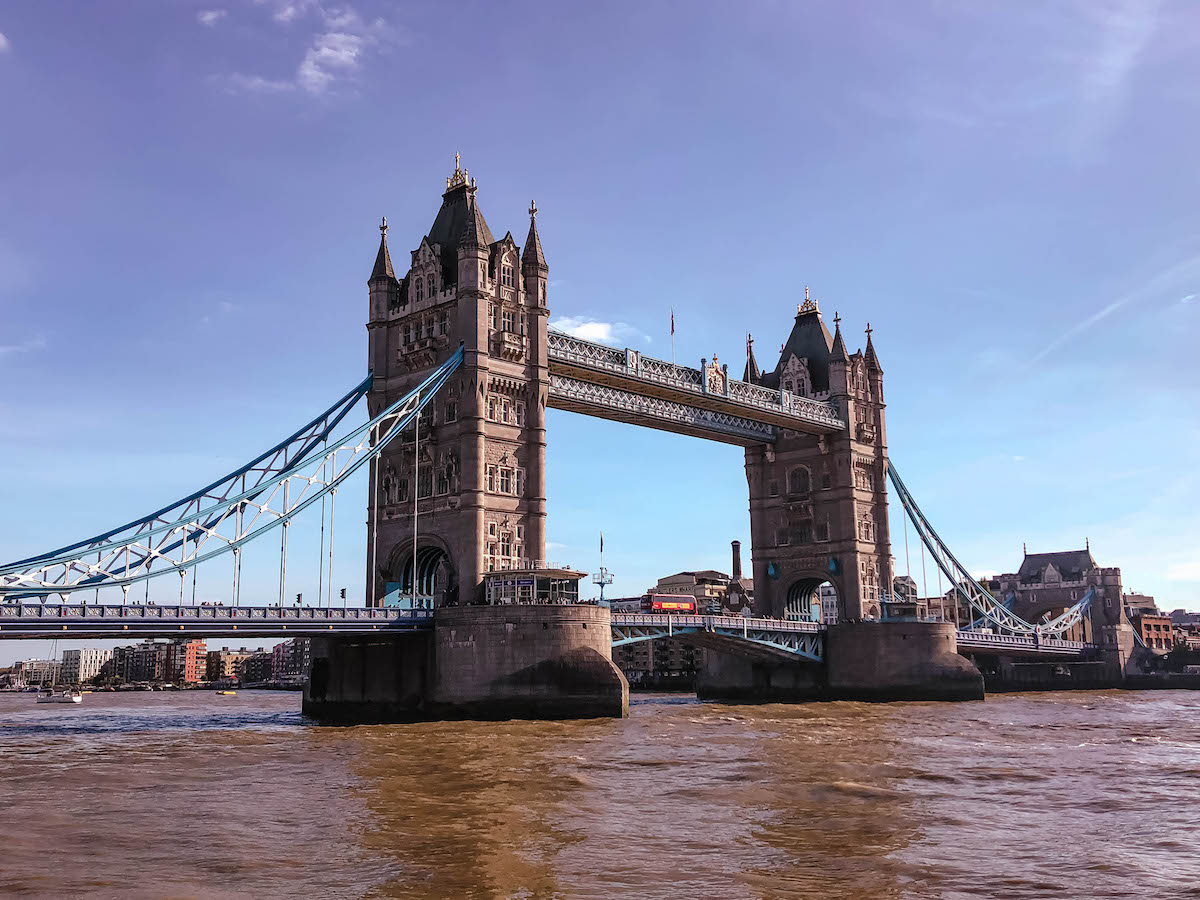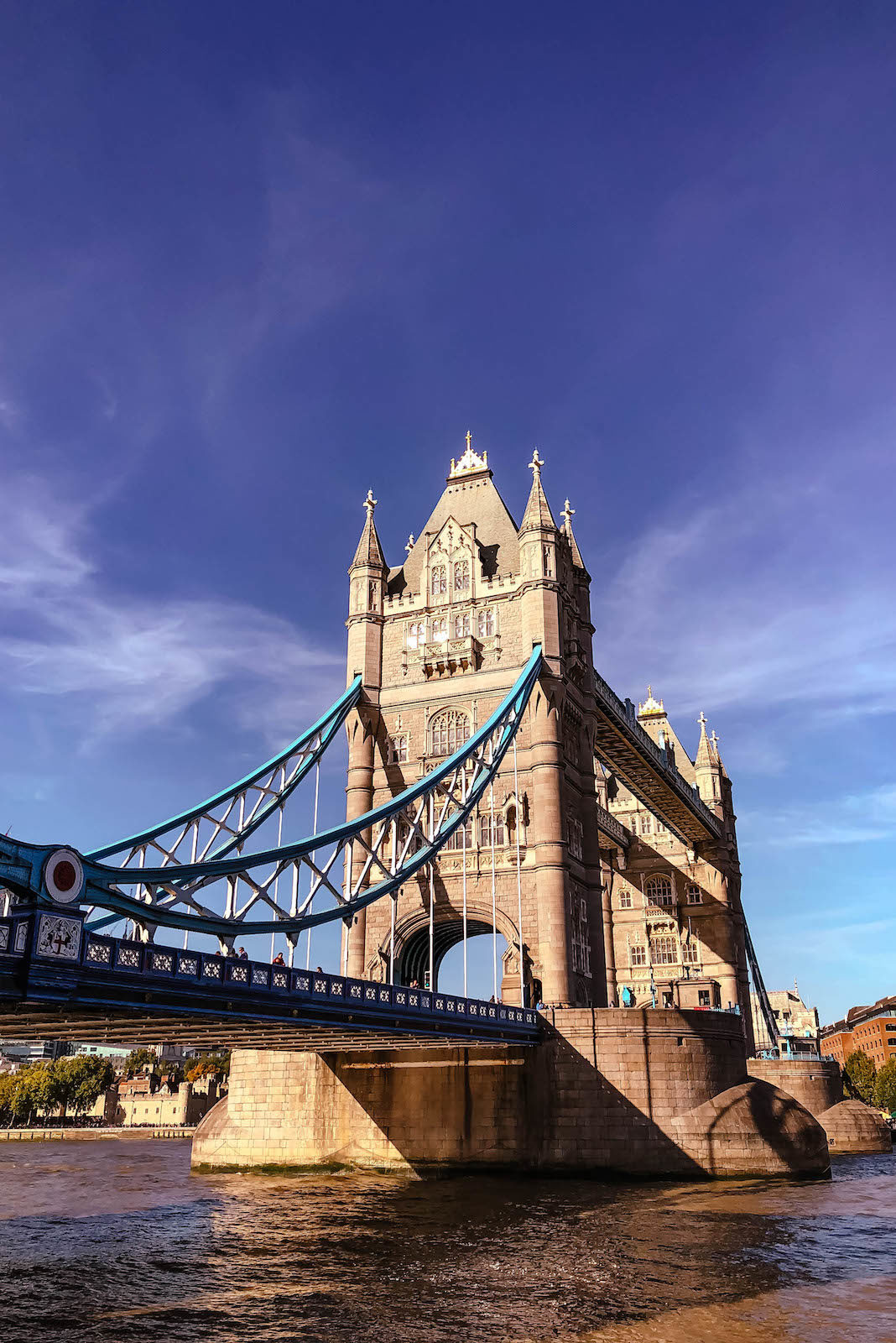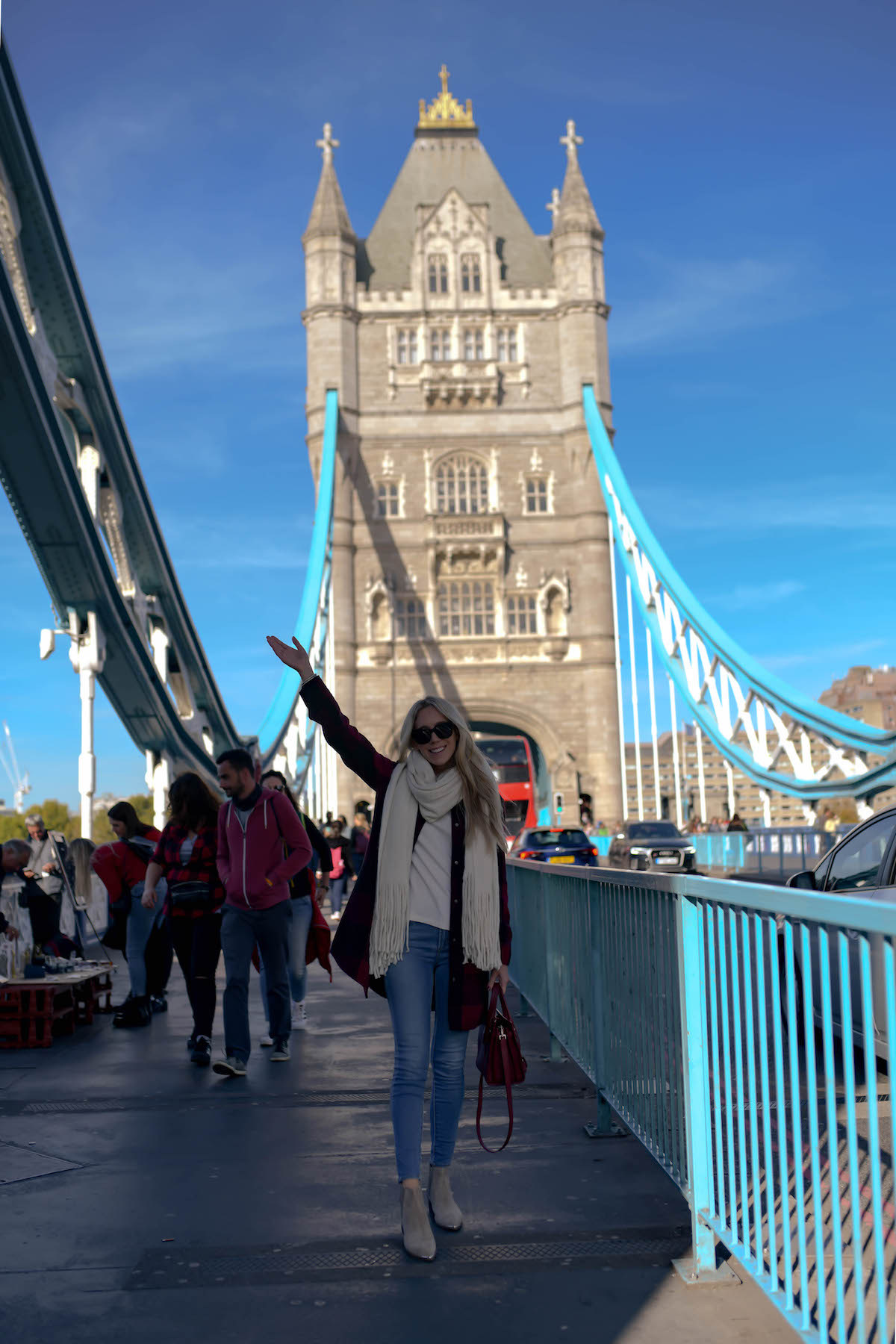 On the other side of Tower Bridge you'll find a few more of London's most notable attractions: Borough Market (foodie paradise), Shakespeare's famous Globe Theatre, the London Eye ferris wheel and The Shard, a 95-story tall skyscraper that's home to some of the cities best restaurants and bars.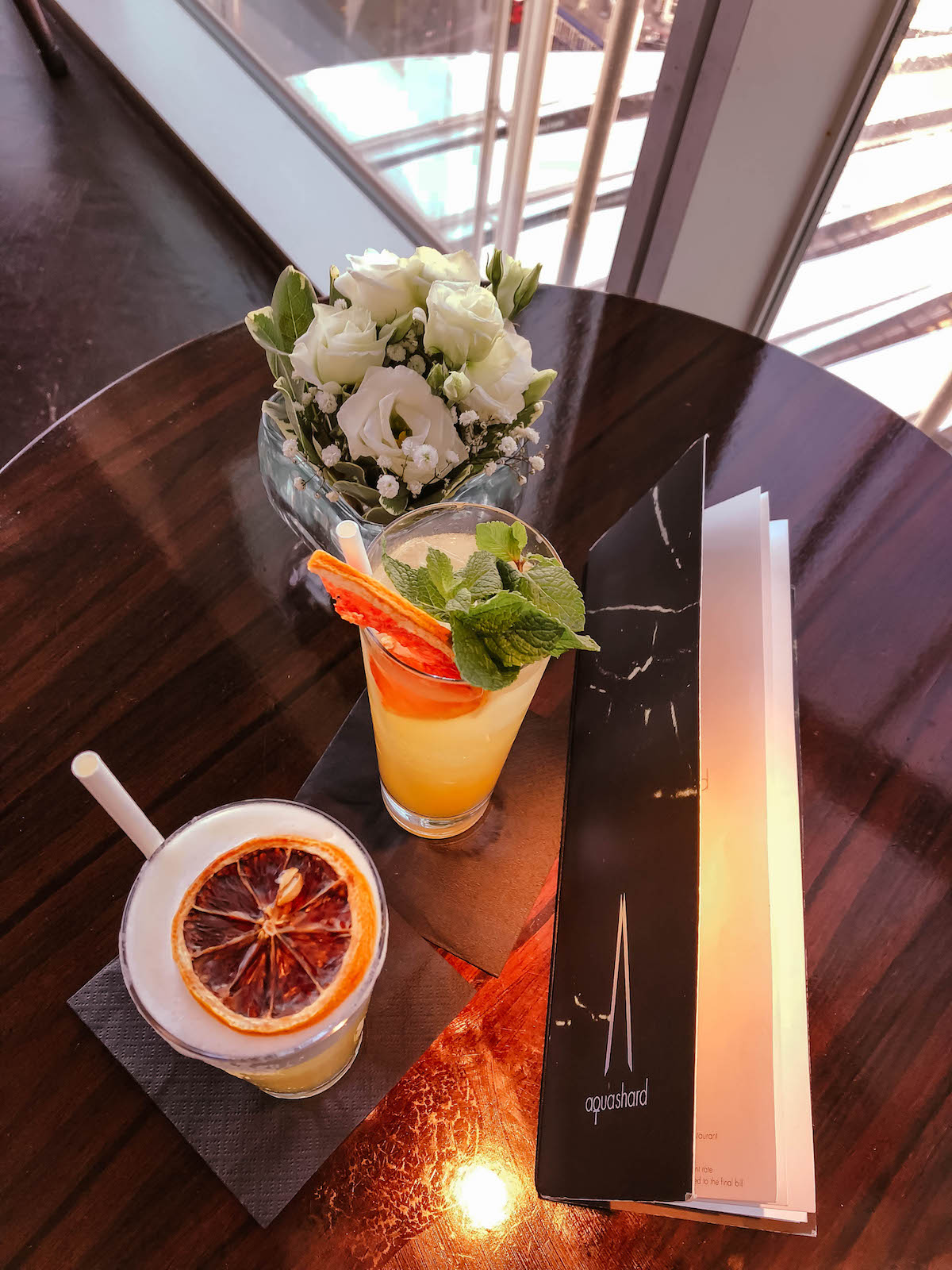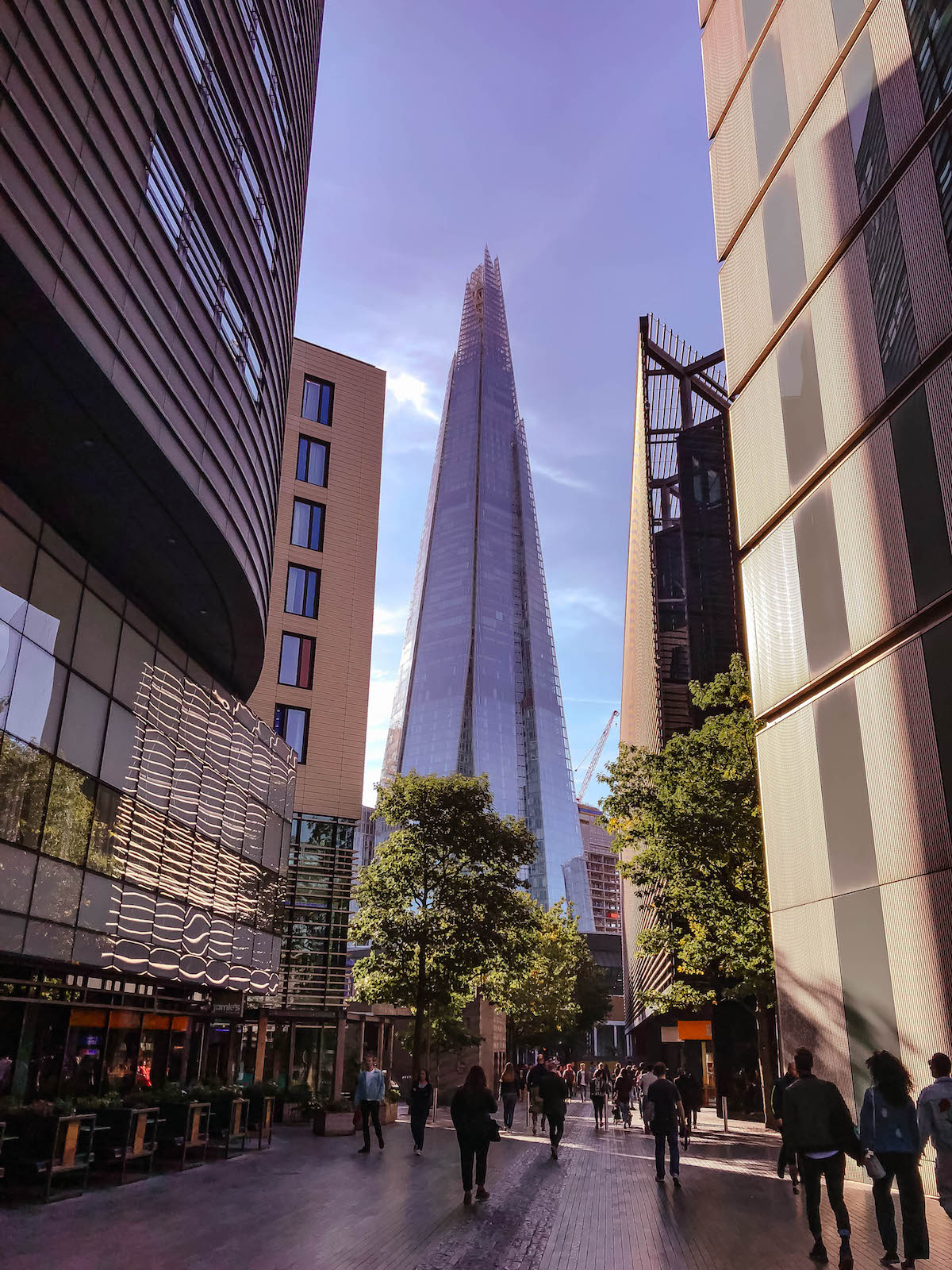 In a perfect world we would've loved to visit all of these sites, but we really only had time to do one more thing before meeting our friends for dinner, so after walking the Tower Bridge we headed straight for Aquavit at The Shard to grab a drink and take in the view.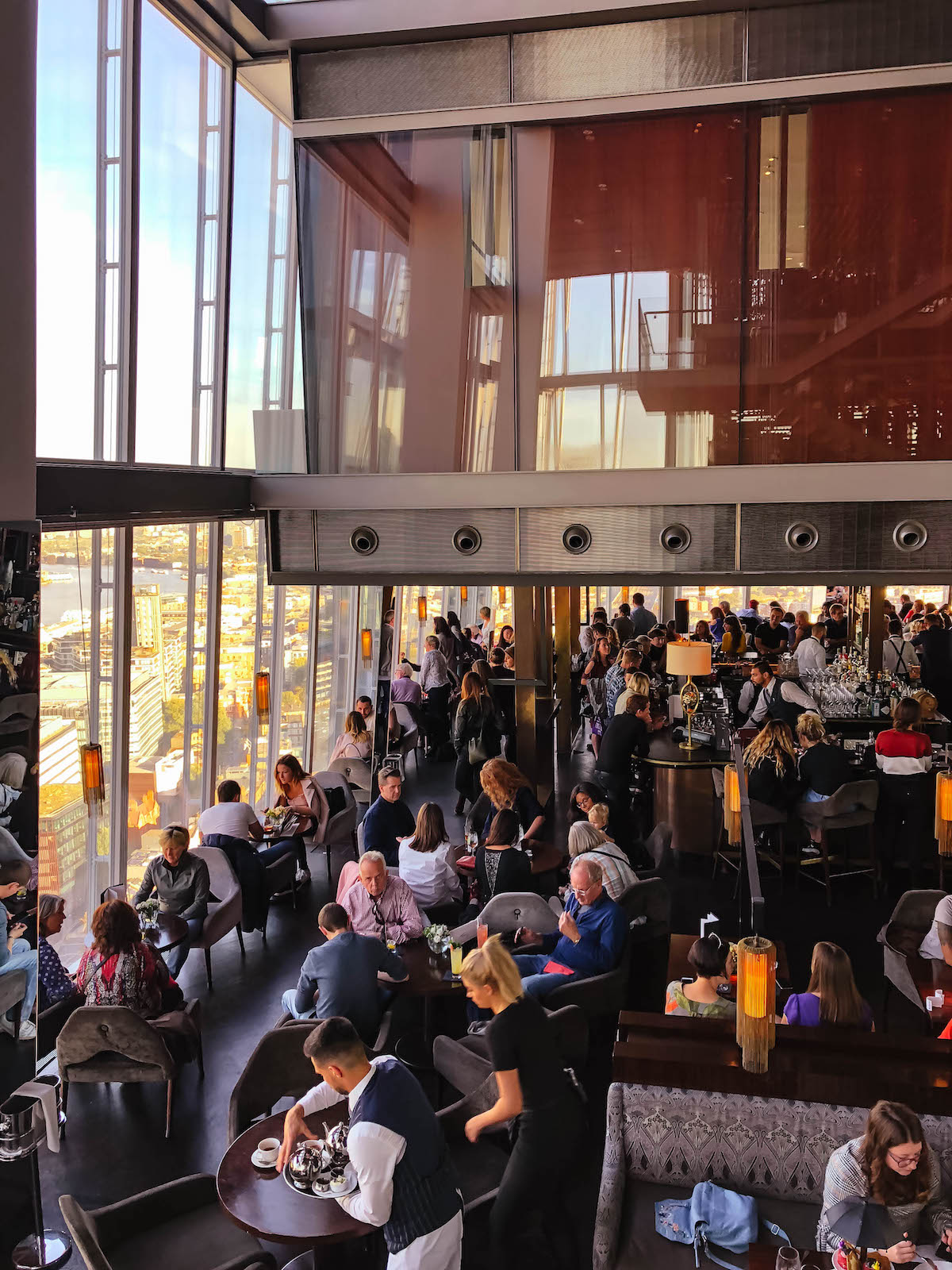 Tip // Skip the viewing platform and save your money for one of The Shard's many bars or restaurants. You can enjoy the same view for free and spend your $$$ on a yummy cocktail instead 😛  
After freshening up back at the hotel, we kicked out the night's festivities with my girl Mollie and her fiance Connor. We had drinks first at Mr. Fogg's Gin Parlor (get the rum punch!) and from there proceeded to wait in line almost two hours for dinner at nearby Dishoom. Normally I would never have the patience to wait that long for food, but since we were with our friends (& a couple drinks deep…) the time passed quickly and before we knew it we were seated and eating the best dinner of our entire trip.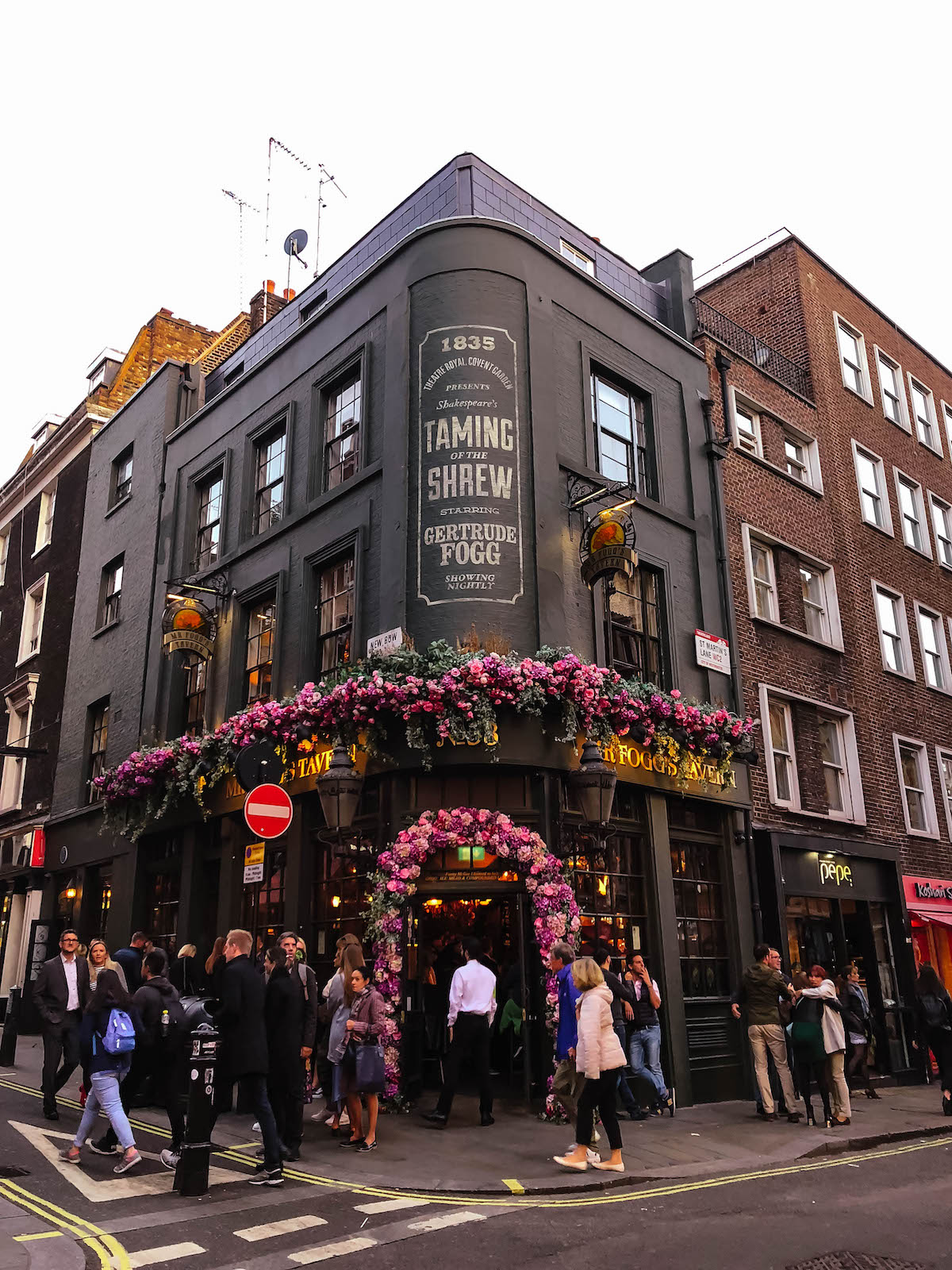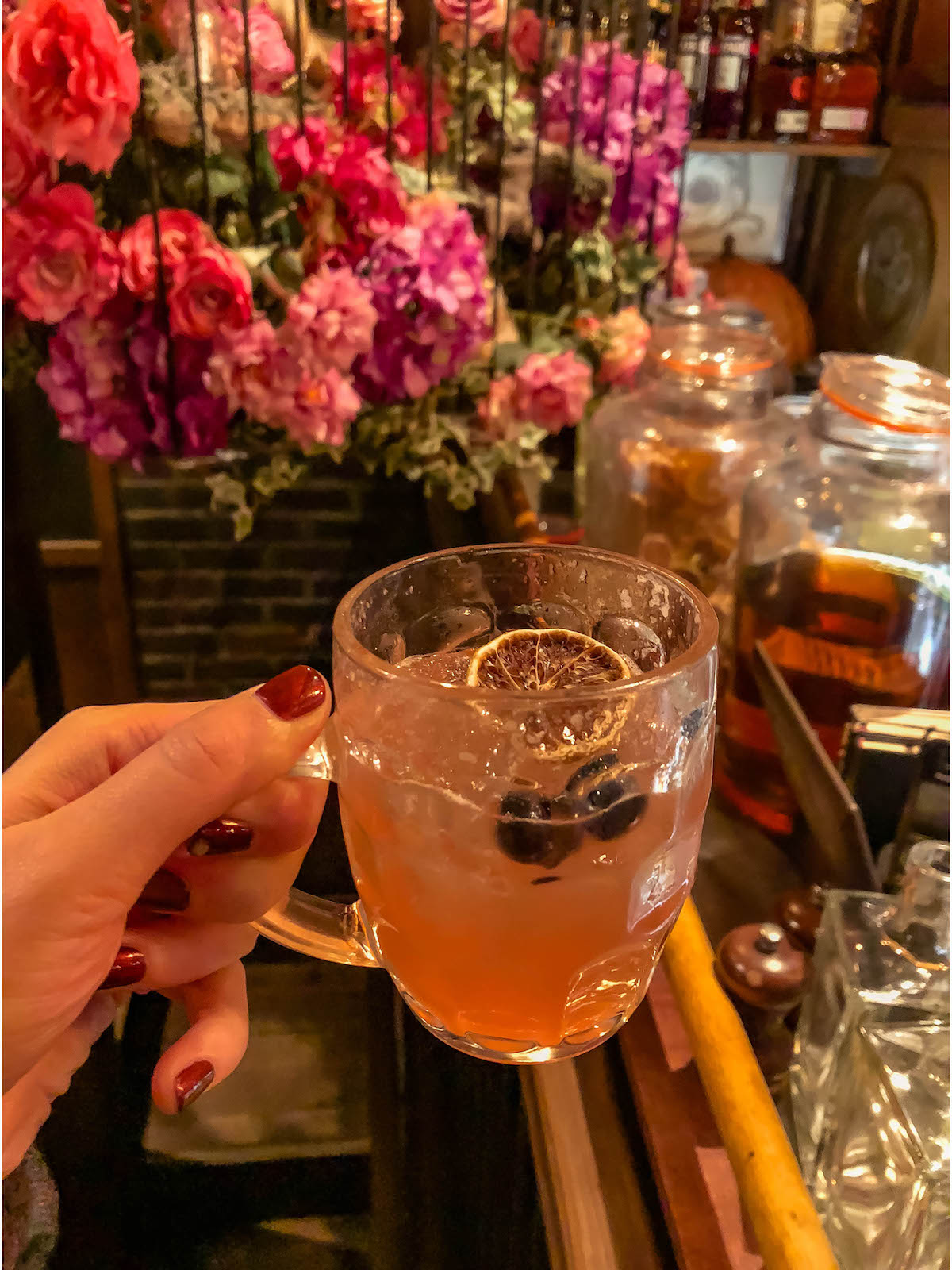 Yes. The food we ate our first night of our 10 day trip was our favorite. I'd never had Indian before and was sooooo skeptical of all the hype I'd heard about Dishoom, but guys it really was amazing. Nick and I are both picky eaters and almost never eat anything out of our normal American/Italian/French comfort zone, but we both left that meal agreeing it was the yummiest dinner EVER.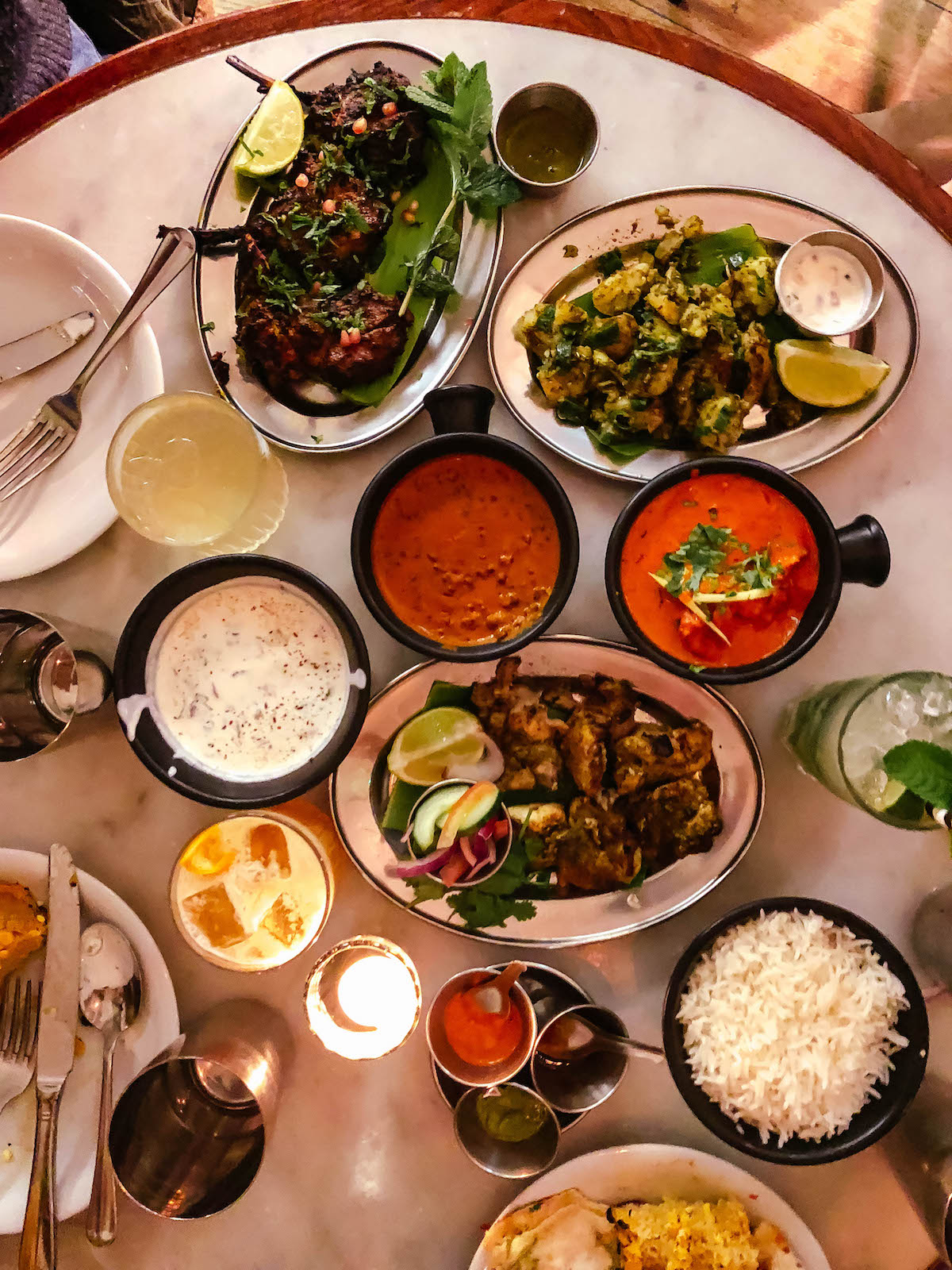 Day 2 Itinerary
SIGHTSEEING + EXPLORING:
Buckingham Palace
St. James Park
Hyde Park
Shopping at Liberty London
LUNCH:
The Mayfair Chippy
DRINKS:
William's Bar & Bistro at St. James's Hotel & Club
Duke's Bar
DINNER:
Bob Bob Ricard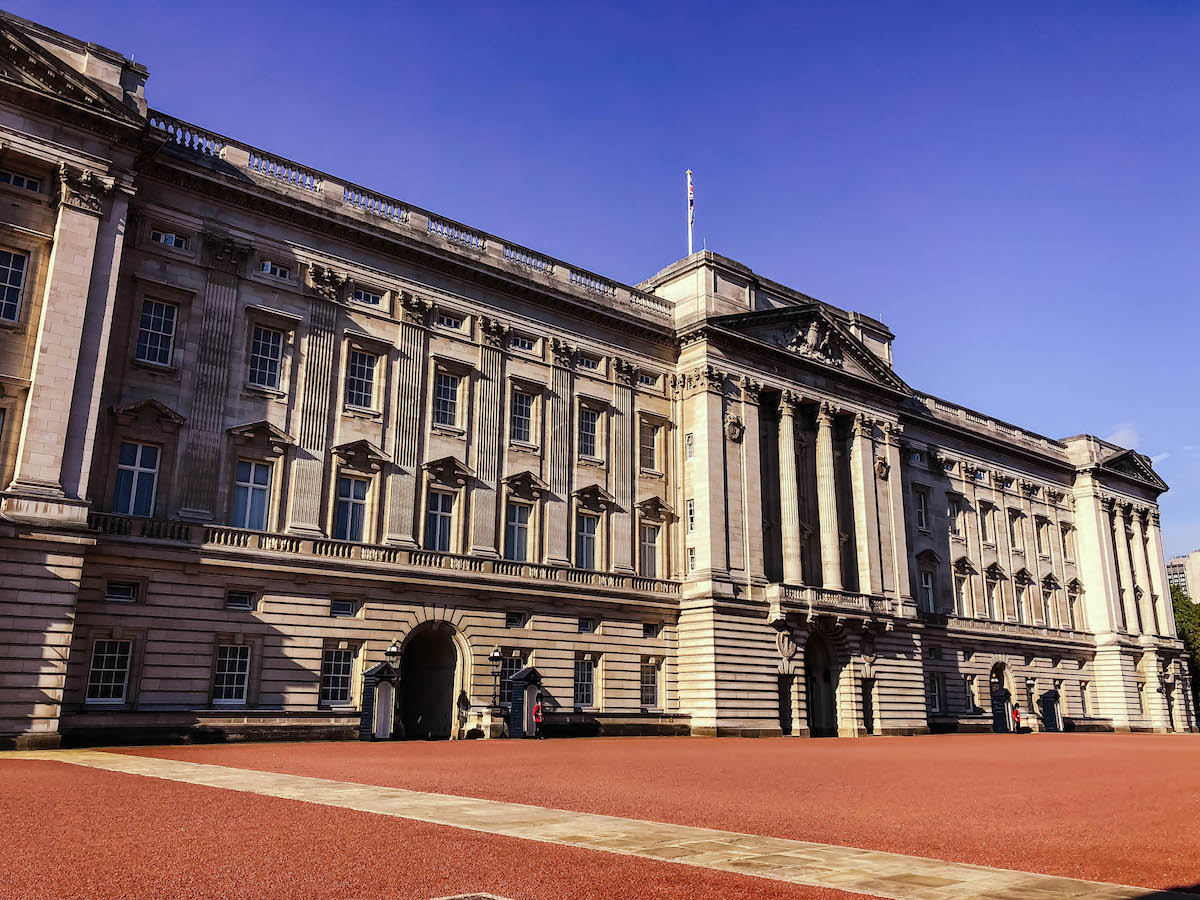 We seriously lucked out because our first full day in London happened to be the very last day Buckingham Palace was open for tours. Shoutout to Carly for giving me the head's up about this! Every year the Queen spends August and September in Scotland, leaving her home of Buckingham Place empty, so this is the only time the public can ever get an inside look at the castle. The tours are strictly ticketed by timeslots, so we made sure to arrive right on the dot at our 10:15AM entry time. For not being tour or museum people, Nick and I really thought the tour was well done. It's actually an audio tour so everyone is given a headset up arrival and you can walk through around on your own listening narration by the Queen, Prince Charles and palace staff. It was really interesting and the inside of the palace is absolutely beautiful. If you have the chance to go it's so worth it!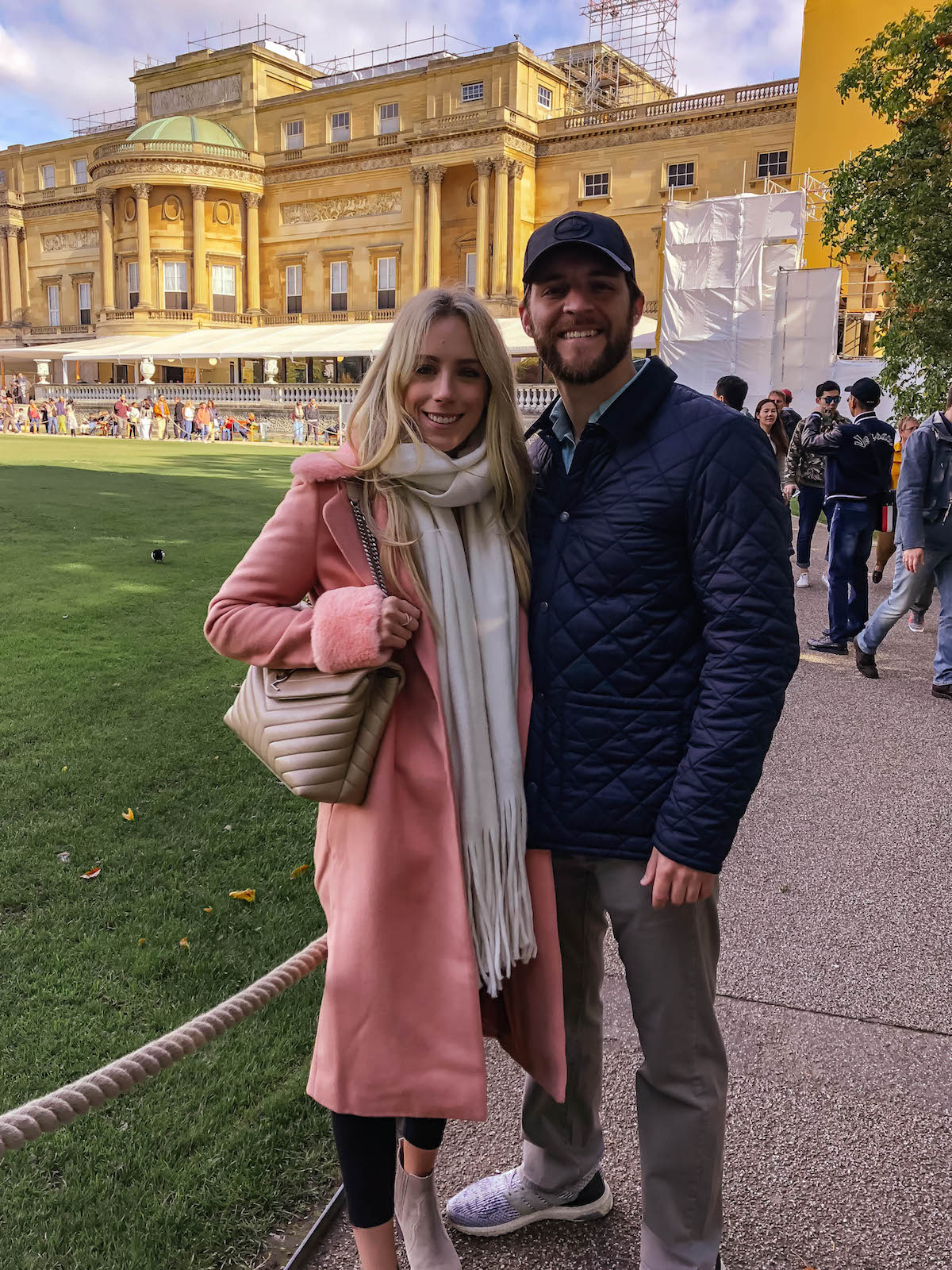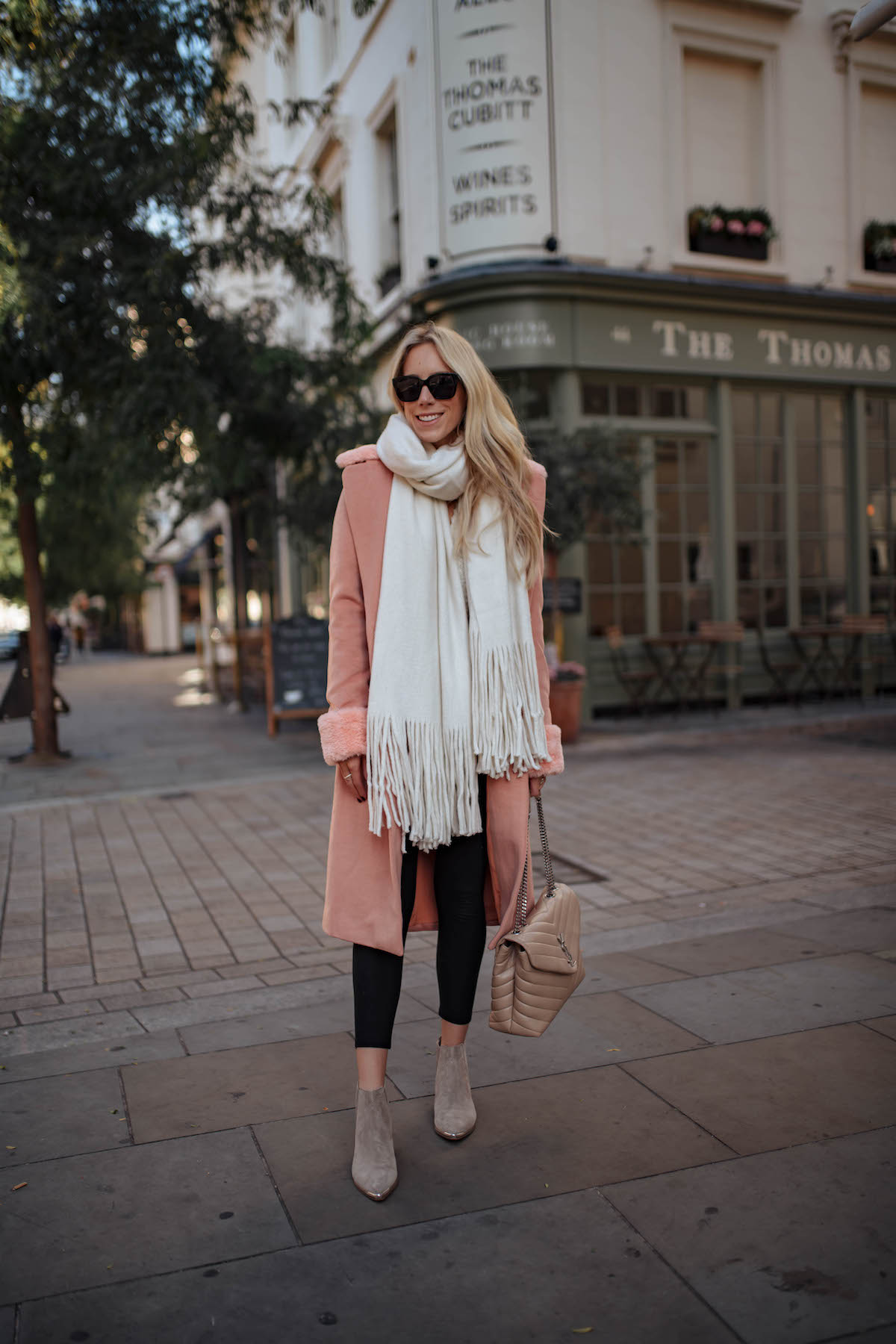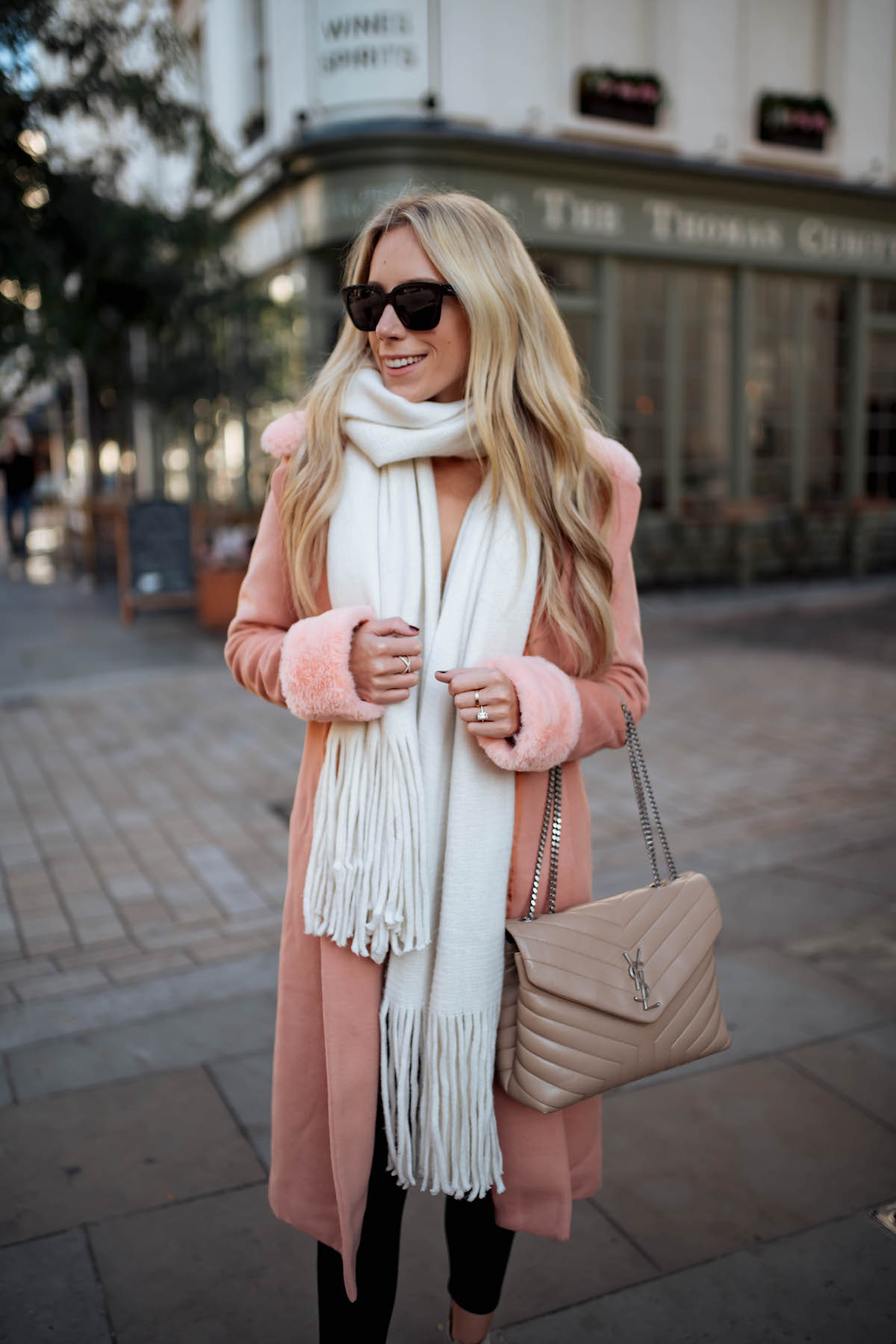 OUTFIT DETAILS // Long Pink Coat | Fringe Scarf | Cropped Leggings (only $29!) | Suede Booties | Saint Laurent LouLou Bag | Sunglasses
After we finished the palace tour, we walked around St. James Park and Hyde Park for a bit heading to lunch at The Mayfair Chippy. I really wanted to try traditional fish and chips and had heard the food here was so good! Spoiler alert: it was was.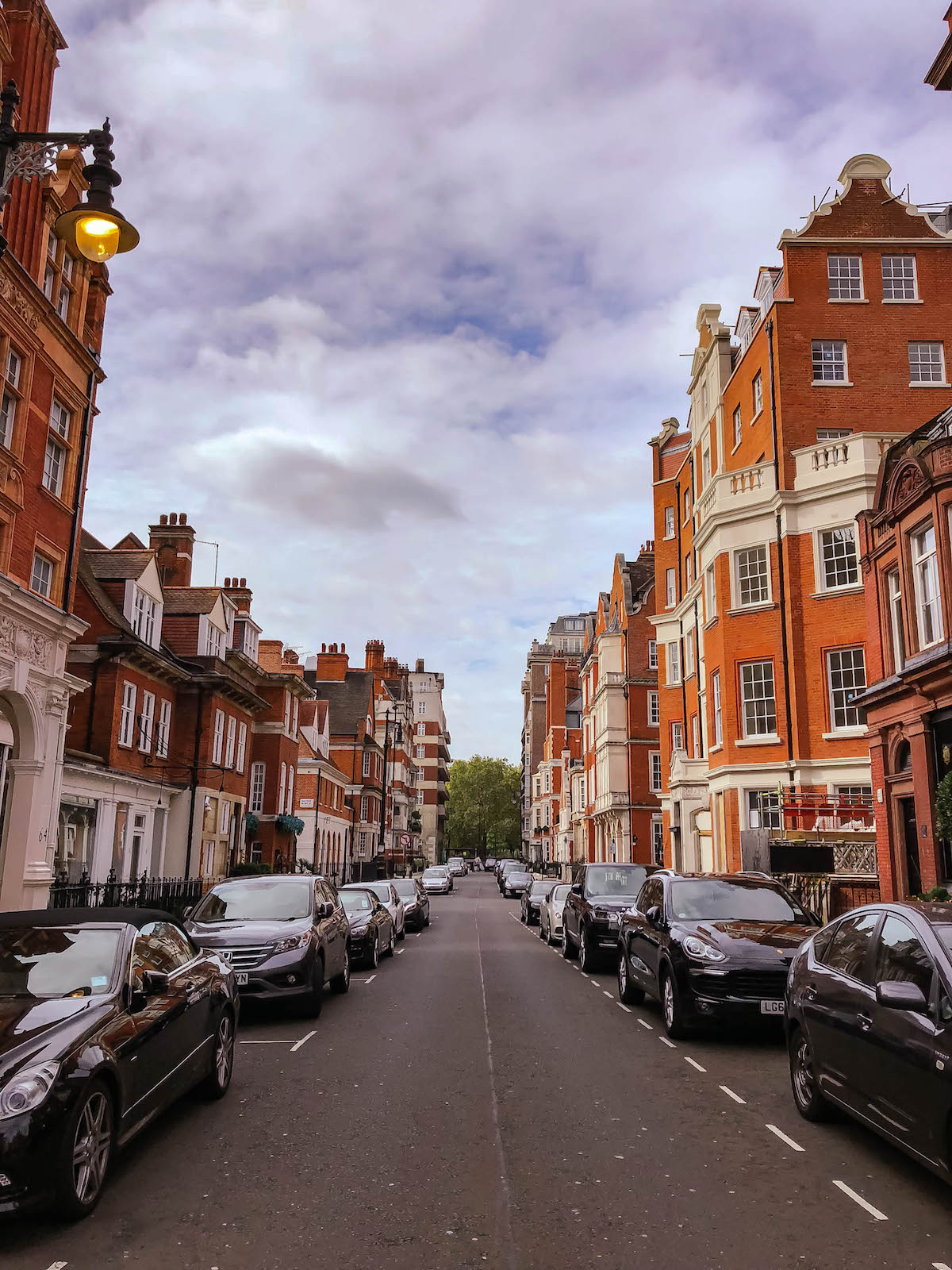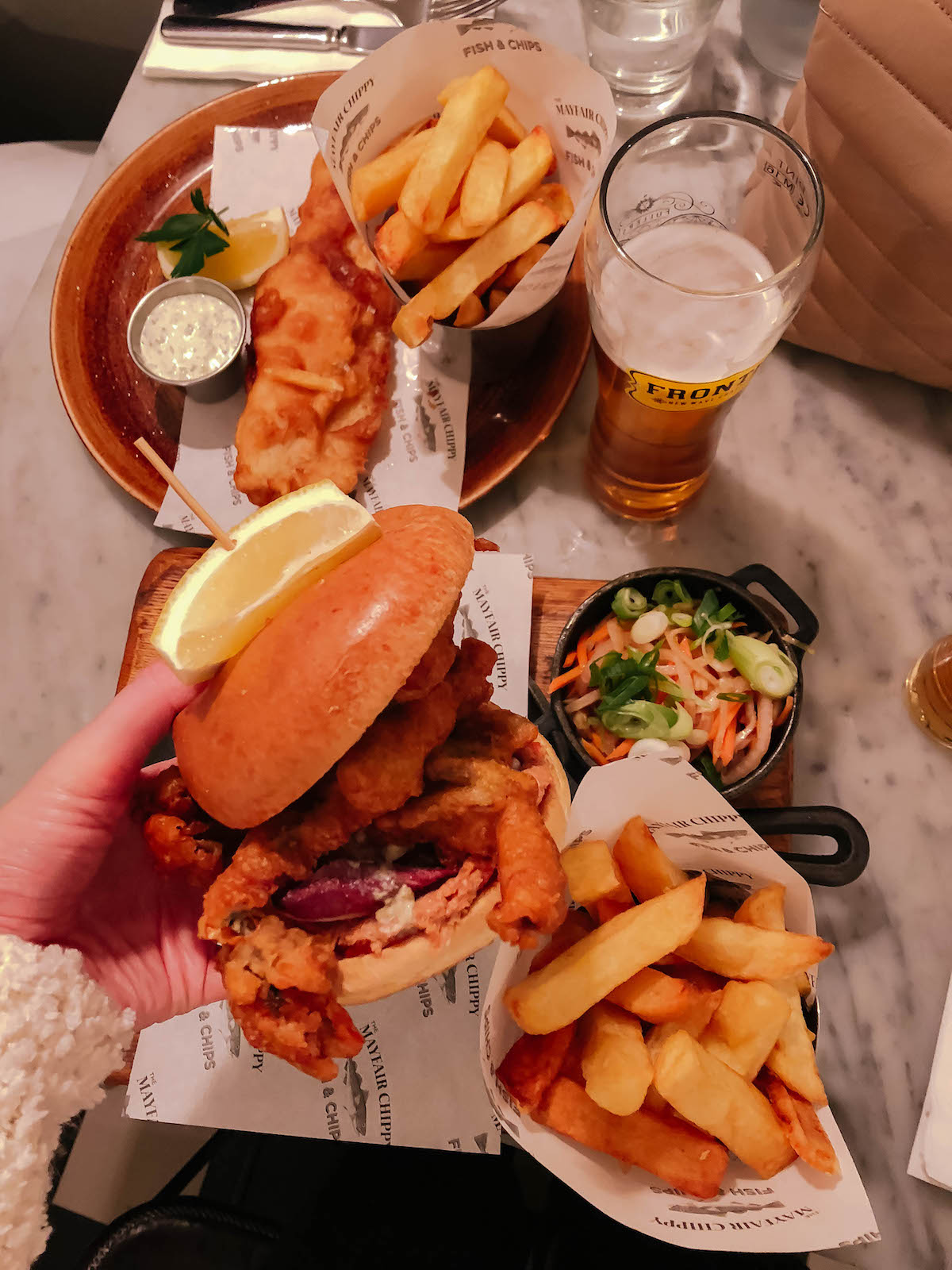 Once we'd gotten our fill of fried goodness, we continued exploring Mayfair on foot. London has so much beautiful architecture and again it was a gorgeous day, so we were perfectly content spending some time walking around with no plan in mind. We eventually ended up at Liberty London and I couldn't resist stopping in the peek at the holiday floor that had just opened for the season!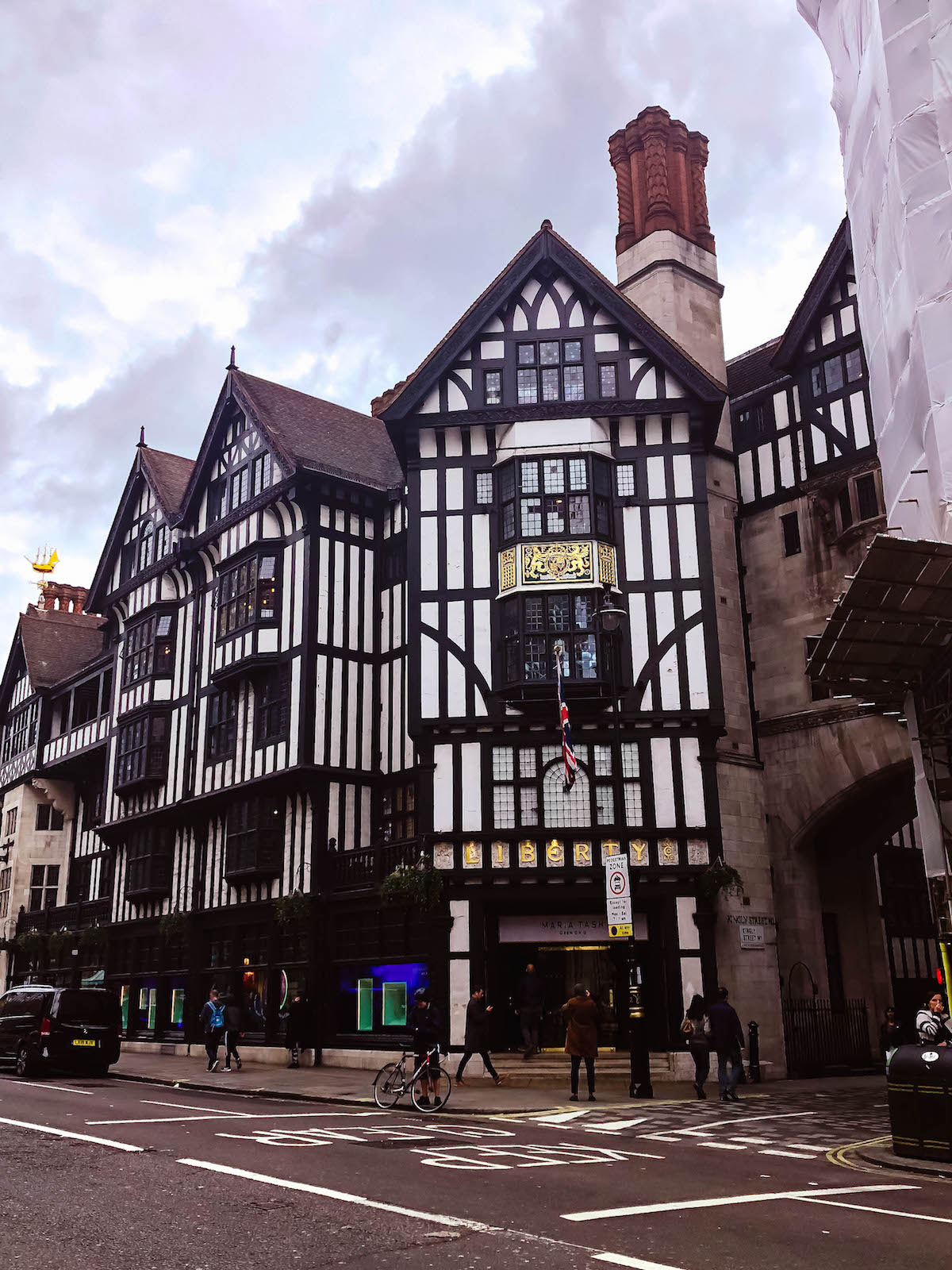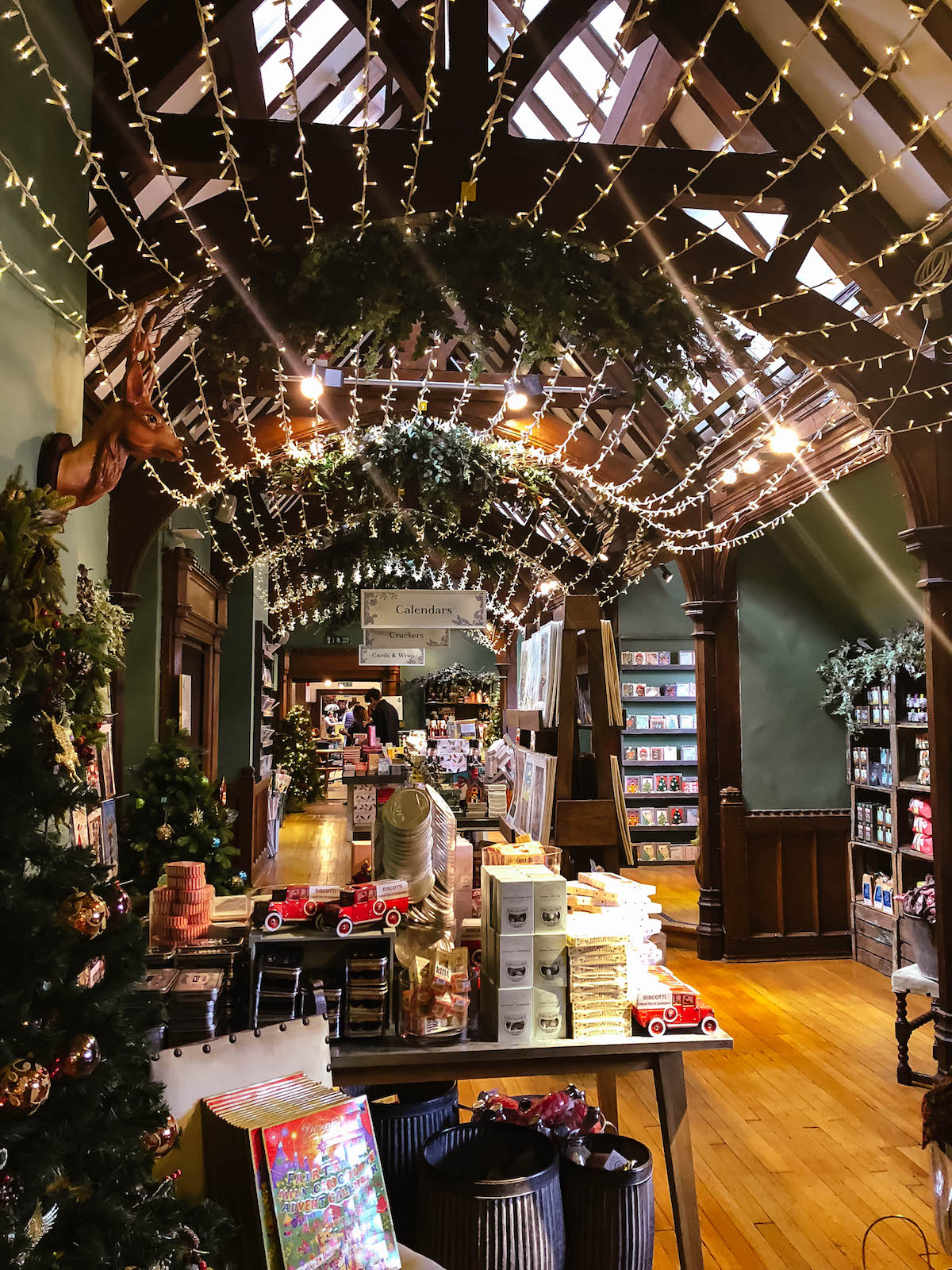 I would've liked to have done another activity or two before calling it a day, but no joke I could barely keep my eyes open. The jet lag had finally caught up to us so I'm really glad we opted for an afternoon nap instead. Such a good decision!
A three hour nap was exactly what we needed, because we woke up feeling so refreshed with just the right amount of energy needed for a big night out. I really wanted to do one "fancy" dinner in London so I made reservations at Bob Bob Ricard (yep the restaurant with the famous "press for champagne" buttons at every table.) We definitely didn't need to dress up in cocktail attire, but we love a reason to be a lil extra so we put on our best, grabbed a pre-dinner cocktail at William's Bar & Bistro (conveniently located in the St. James's!) and then headed off to our reservation.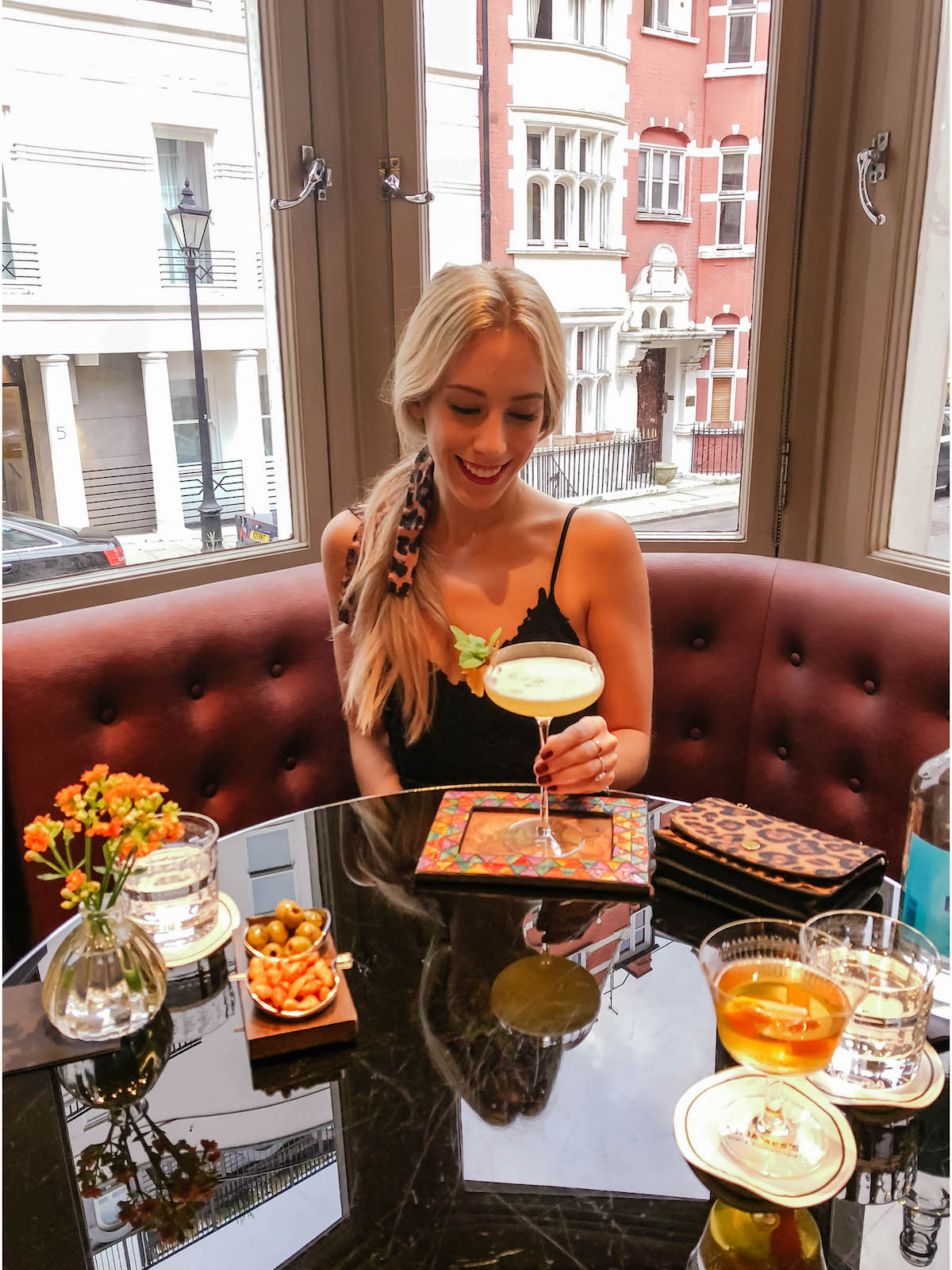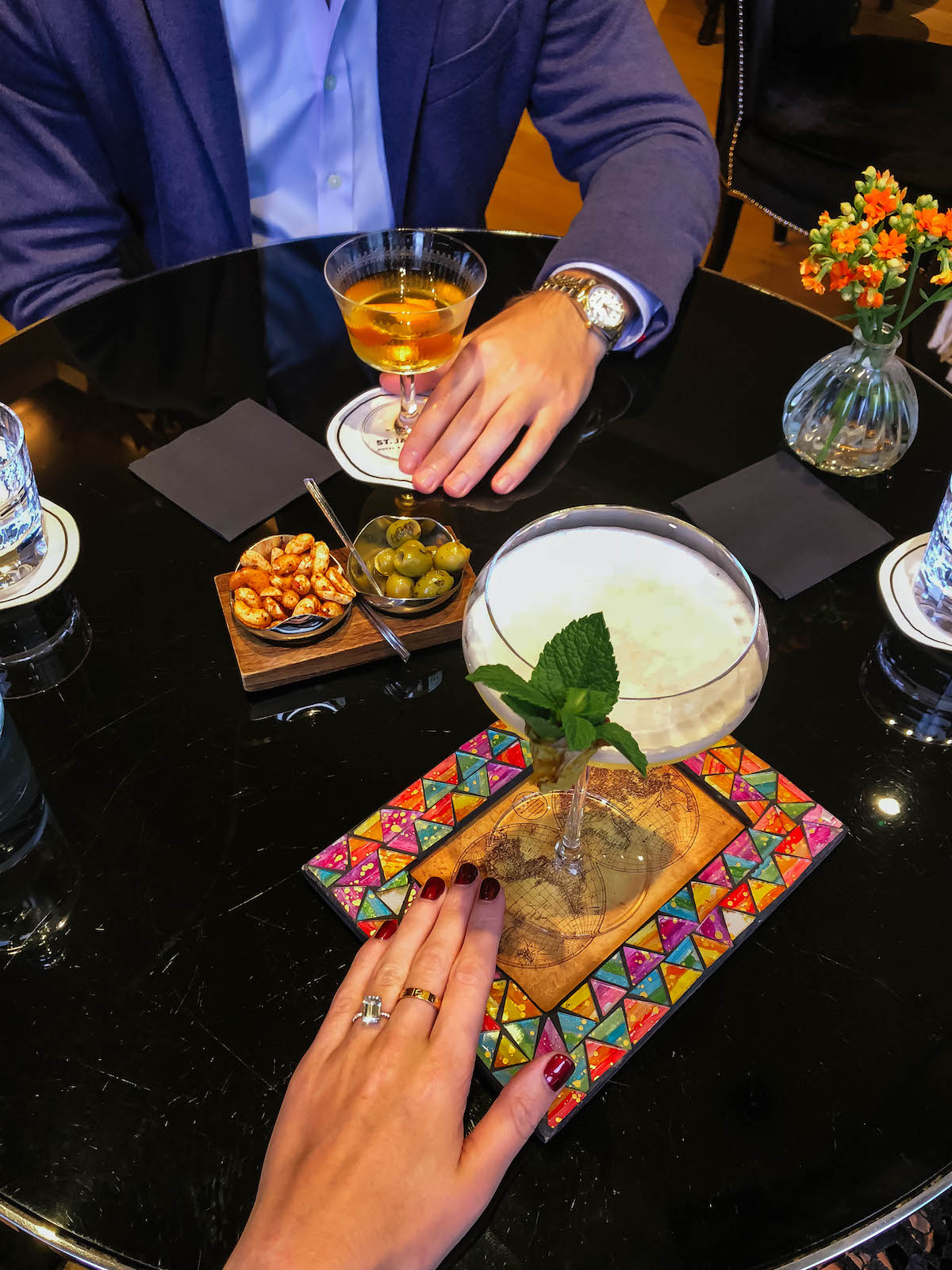 My outfit details from this night out can be found here.
Bob Bob Ricard was totally over the top in the best way possible. It was so pricey, but everything was delicious and the experience itself made it worth the spend. Nick and I shared the seafood dumplings as an appetizer and the ultra decadent beef wellington for two entree (obvi with a side of truffle fries.) We definitely didn't need dessert, but as soon as I saw another table with a molten gold chocolate ball I had to have one for myself 😛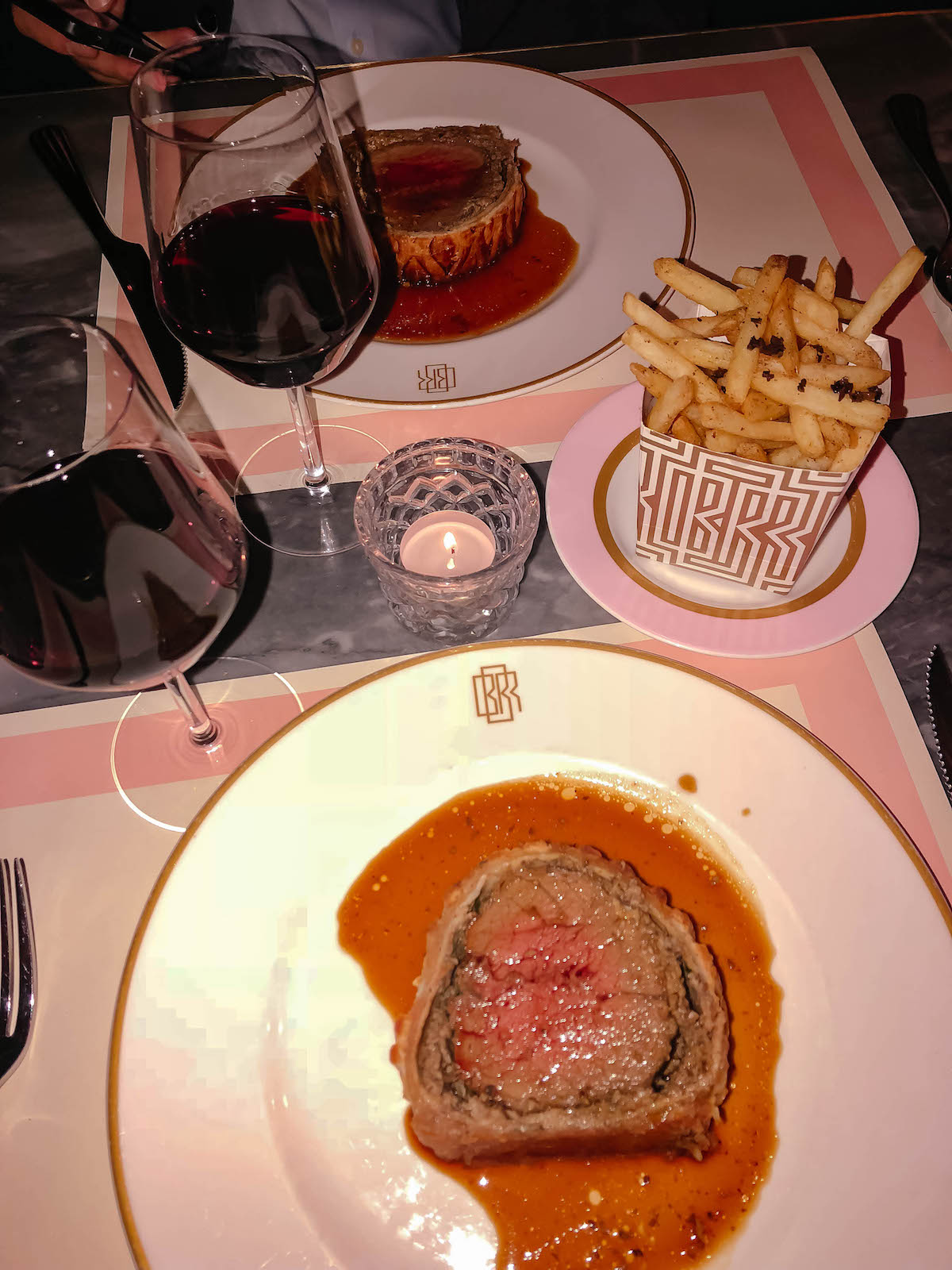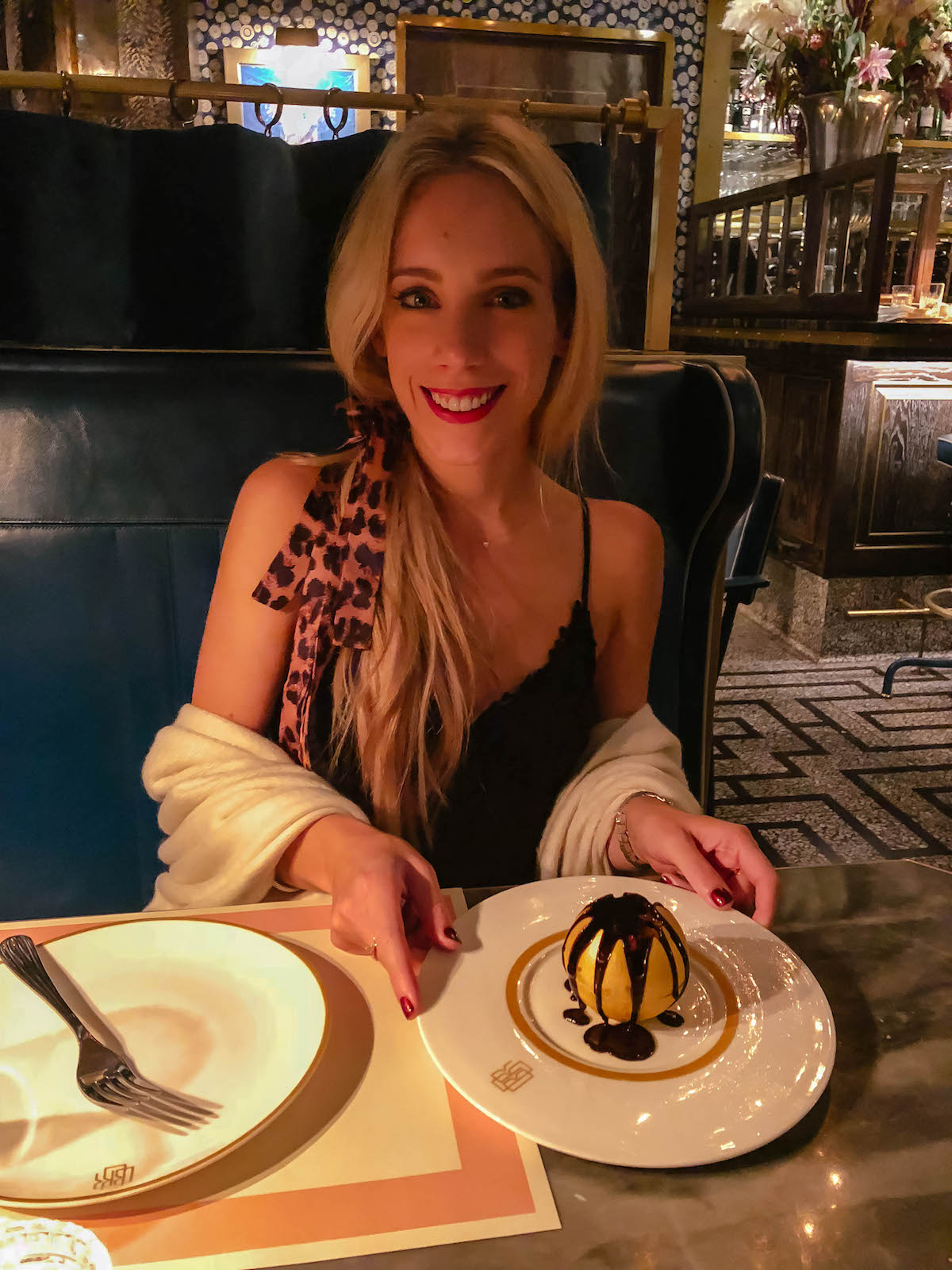 Any normal person would've been in a food coma at the end of that meal, but somehow we had the energy to hit up one more bar. I know, who are we??? I'm gonna have to blame it on the nap because normally I would've been like OMG time to call it a night. I'm glad we did it though because Duke's Bar was not to be missed. It's one of London's most famous cocktail bars and known for being the place Ian Fleming created James Bond's signature martini!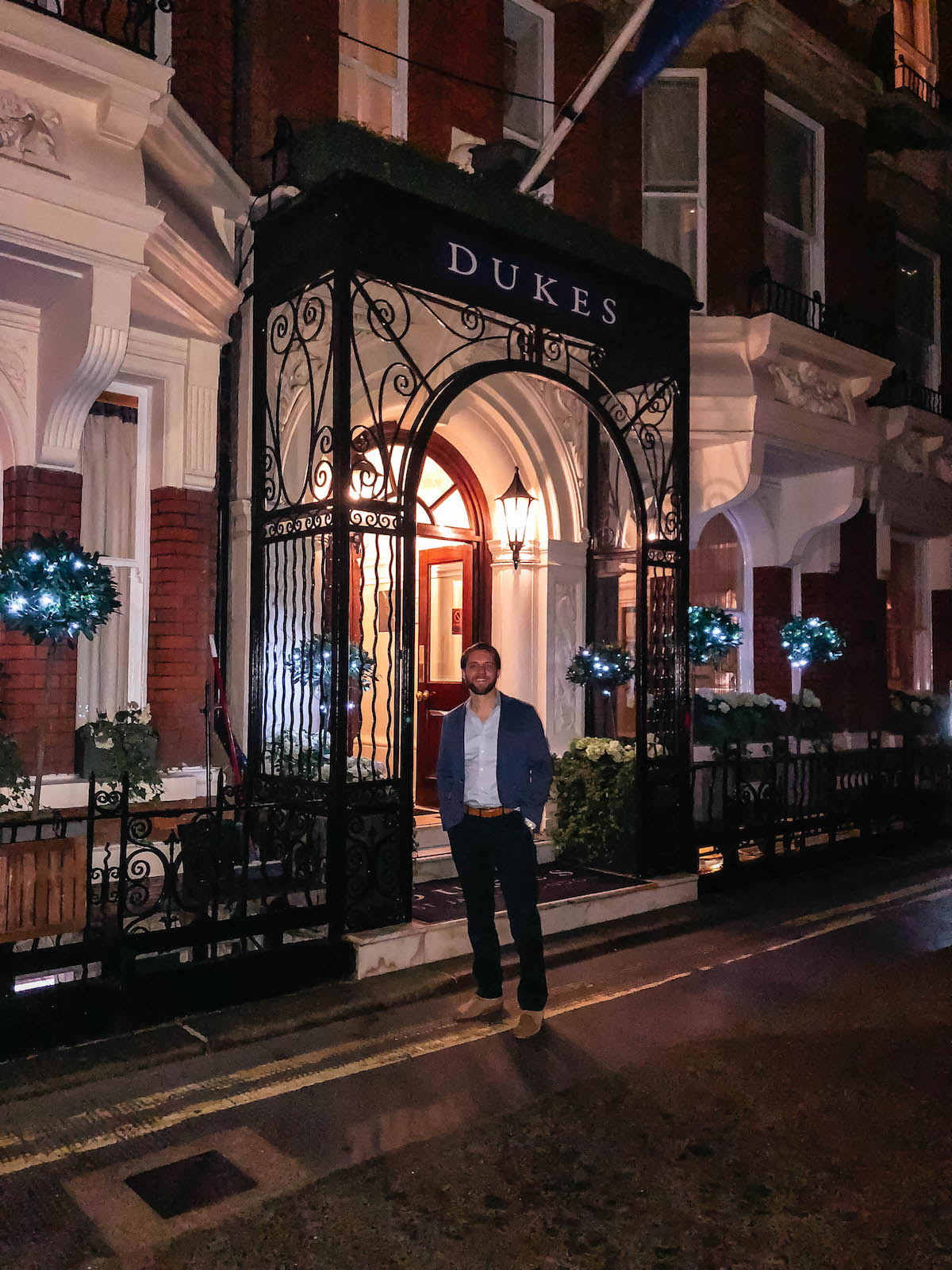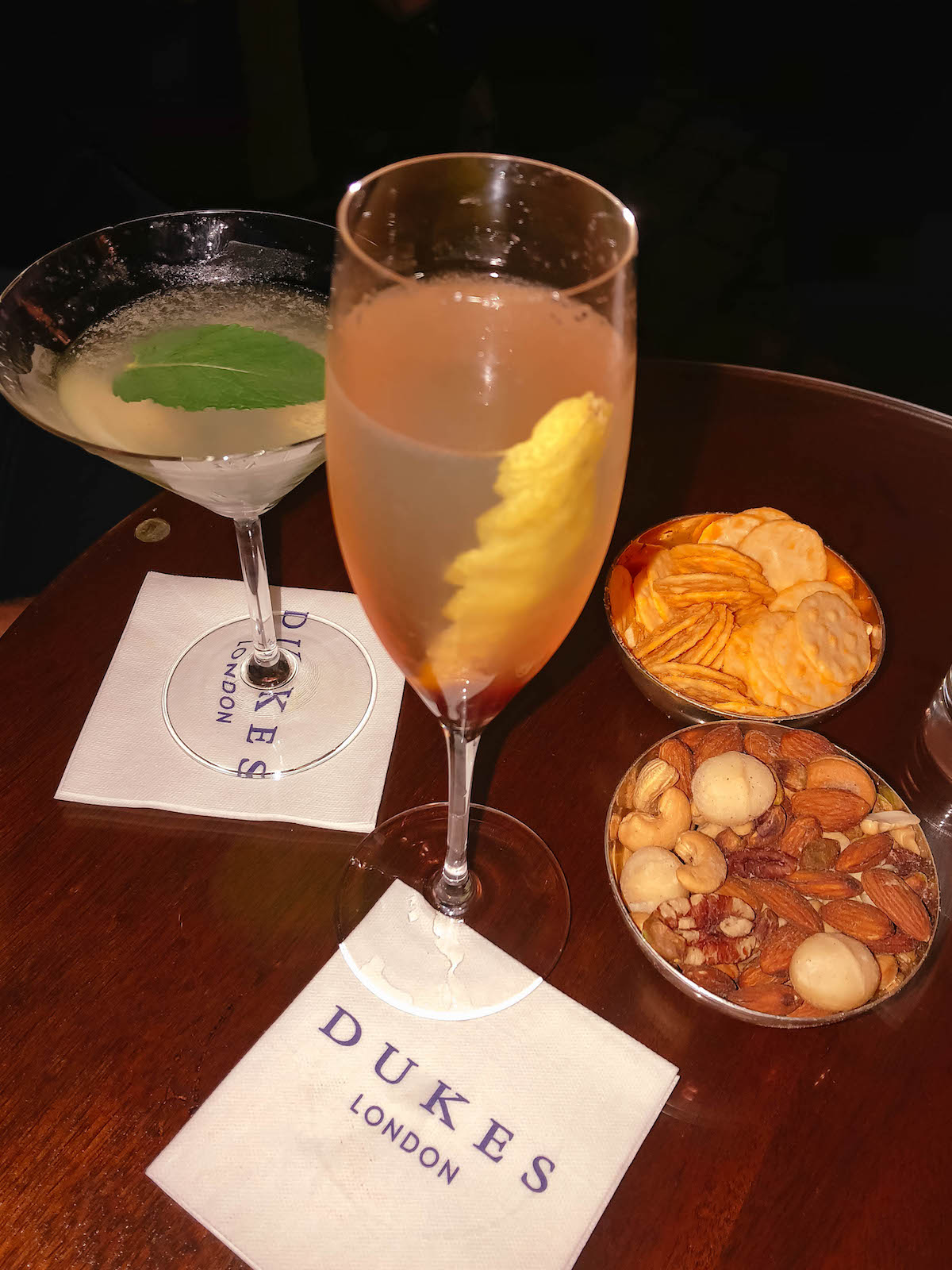 Day 3
SIGHTSEEING + EXPLORING:
Belgravia
-Peggy Porschen's (that famous pink bakery), Dominique Ansel Bakery, Thomas Cubitt (pub), lots of beautiful cafes & stores
Notting Hill
-Portobello Road, Portobello Market, Sezane, Nikki Tibbles Wild At Heart (flowers), The Churchill Arms (pub)
Chelsea
-King's Road, The Phene (cocktails), lots of shopping & art galleries
BRUNCH:
Dalloway Terrace
AFTERNOON TEA:
Sketch
DINNER:
The Ivy at Chelsea Garden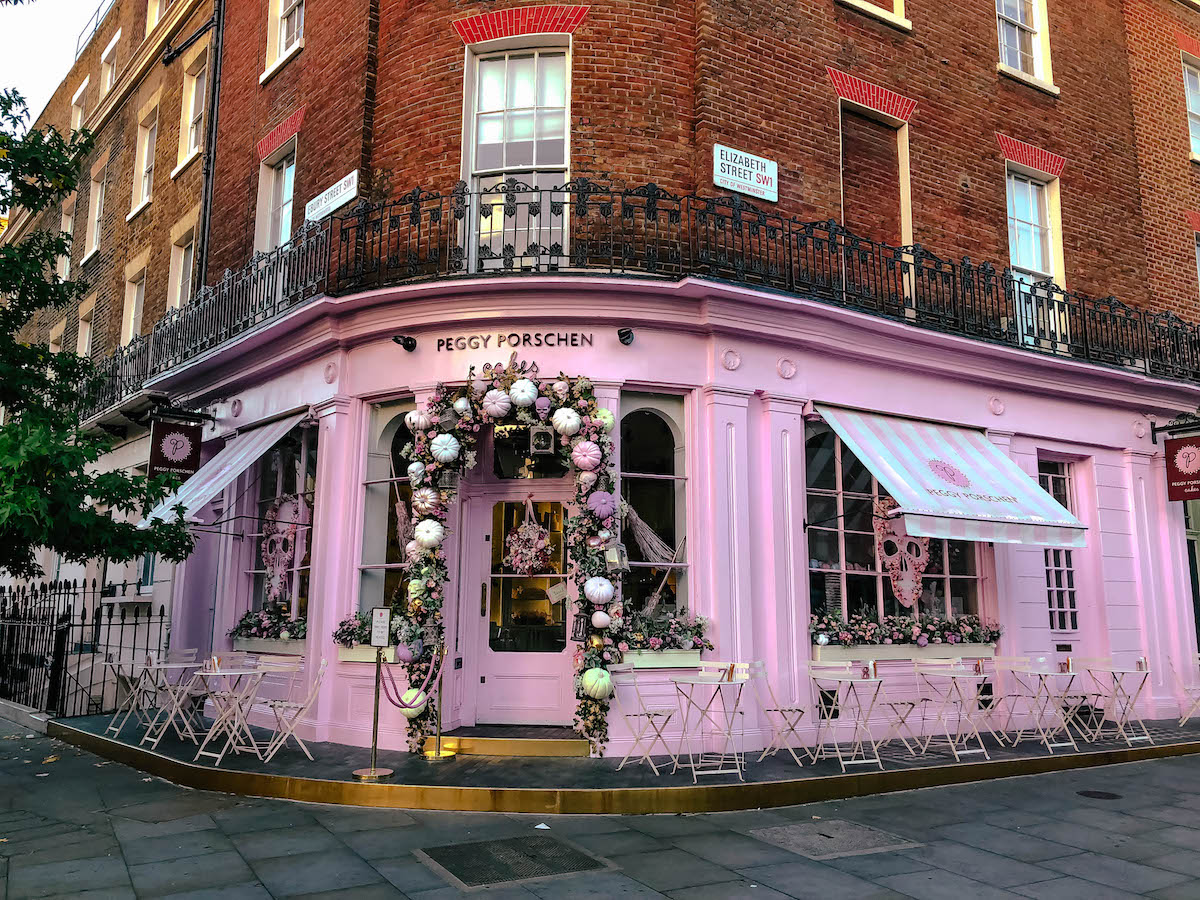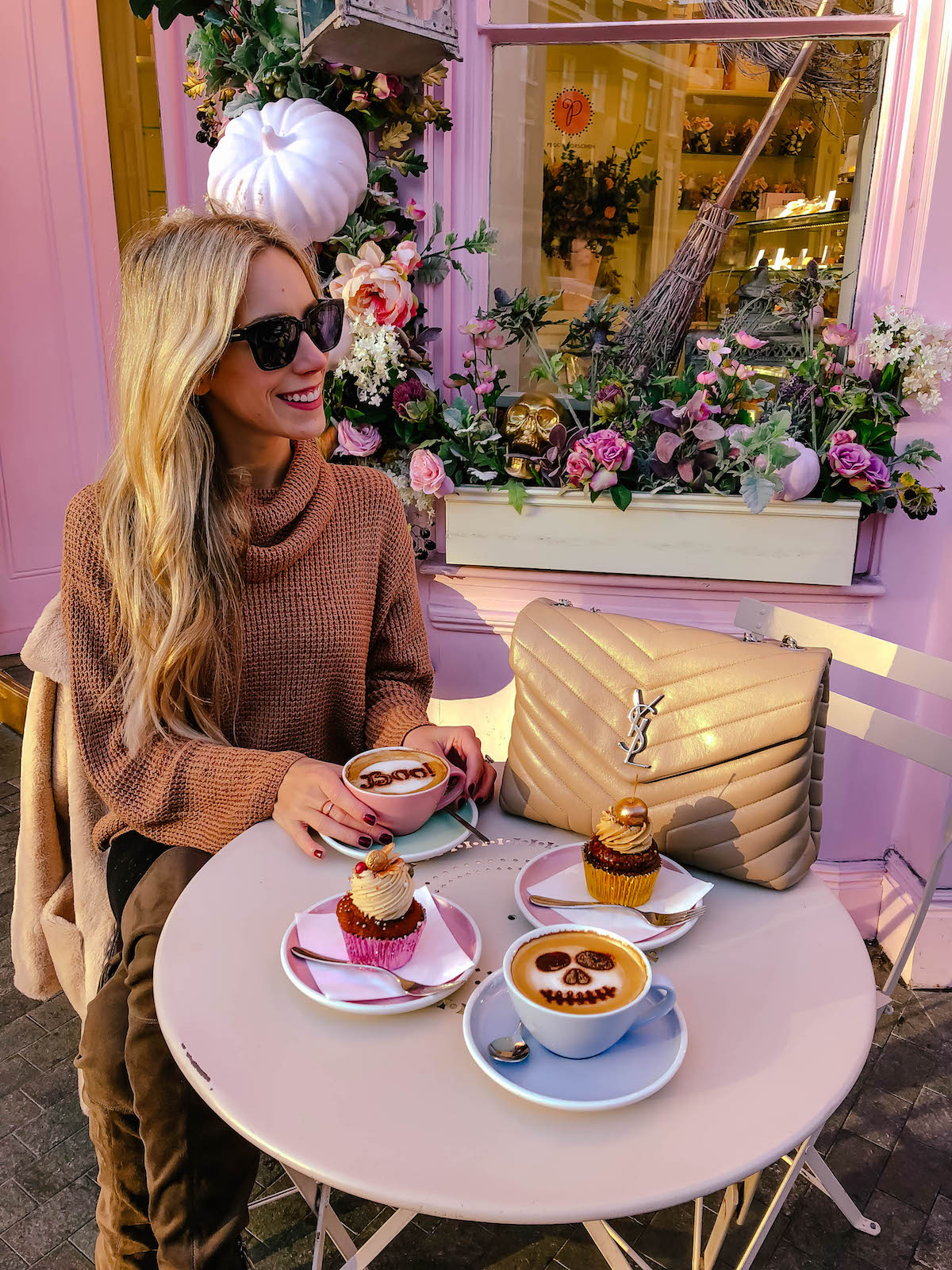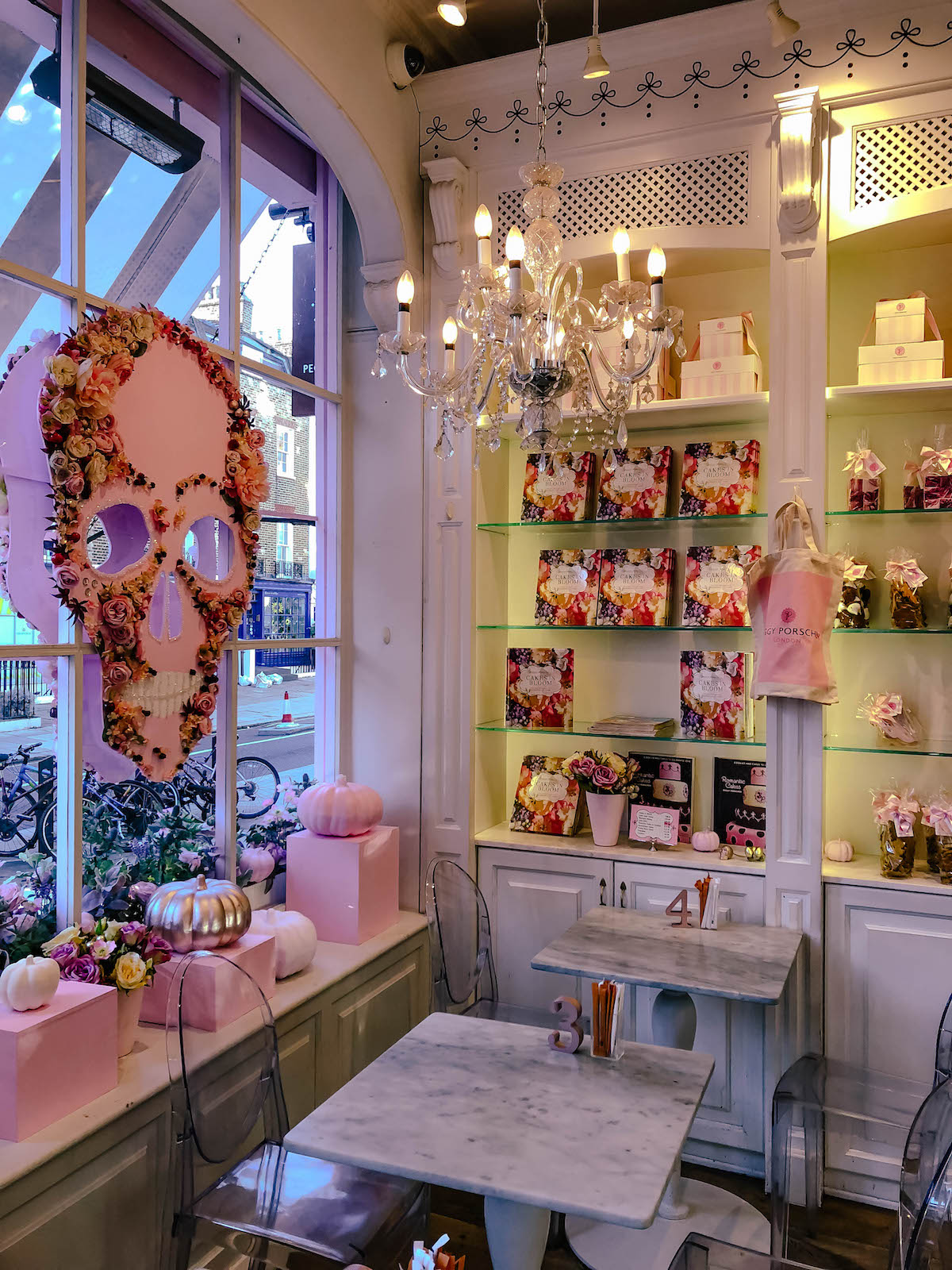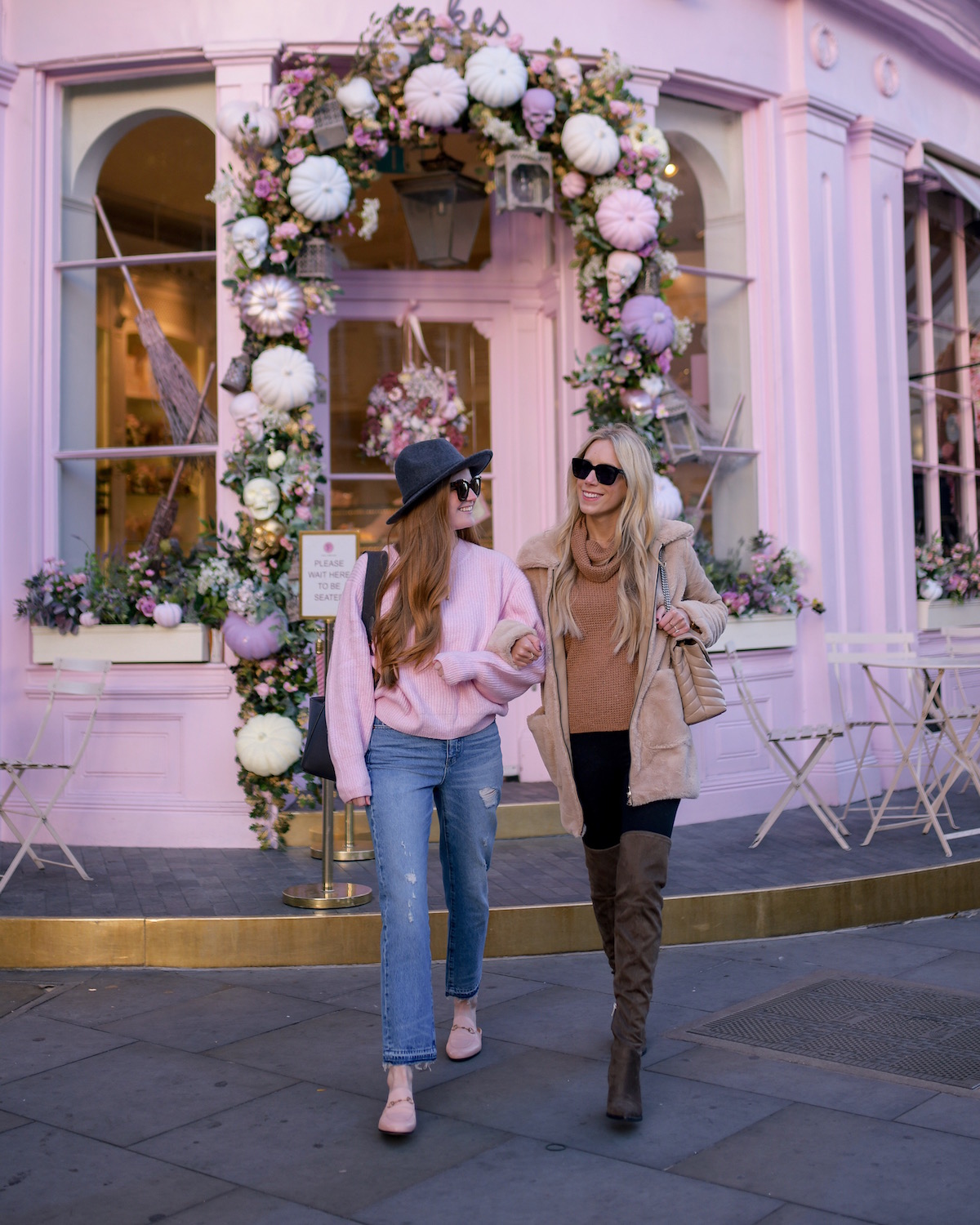 OUTFIT DETAILS // Faux Fur Coat | Similar Sweater | Over The Knee Boots | Cropped Leggings (only $29!) | Saint Laurent LouLou Bag | Sunglasses
We devoted our final day in London to exploring a few of the city's prettiest neighborhoods: Belgravia, Notting Hill and Chelsea. I shamelessly really wanted to take some pictures at Peggy Porschen's so yep, we started the day with coffee and cupcakes. I was so happy Mollie could join us too! Nick was a good sport and indulged us with a little shoot before we headed to our brunch reservation at Dalloway Terrace (I always have room for avocado toast.)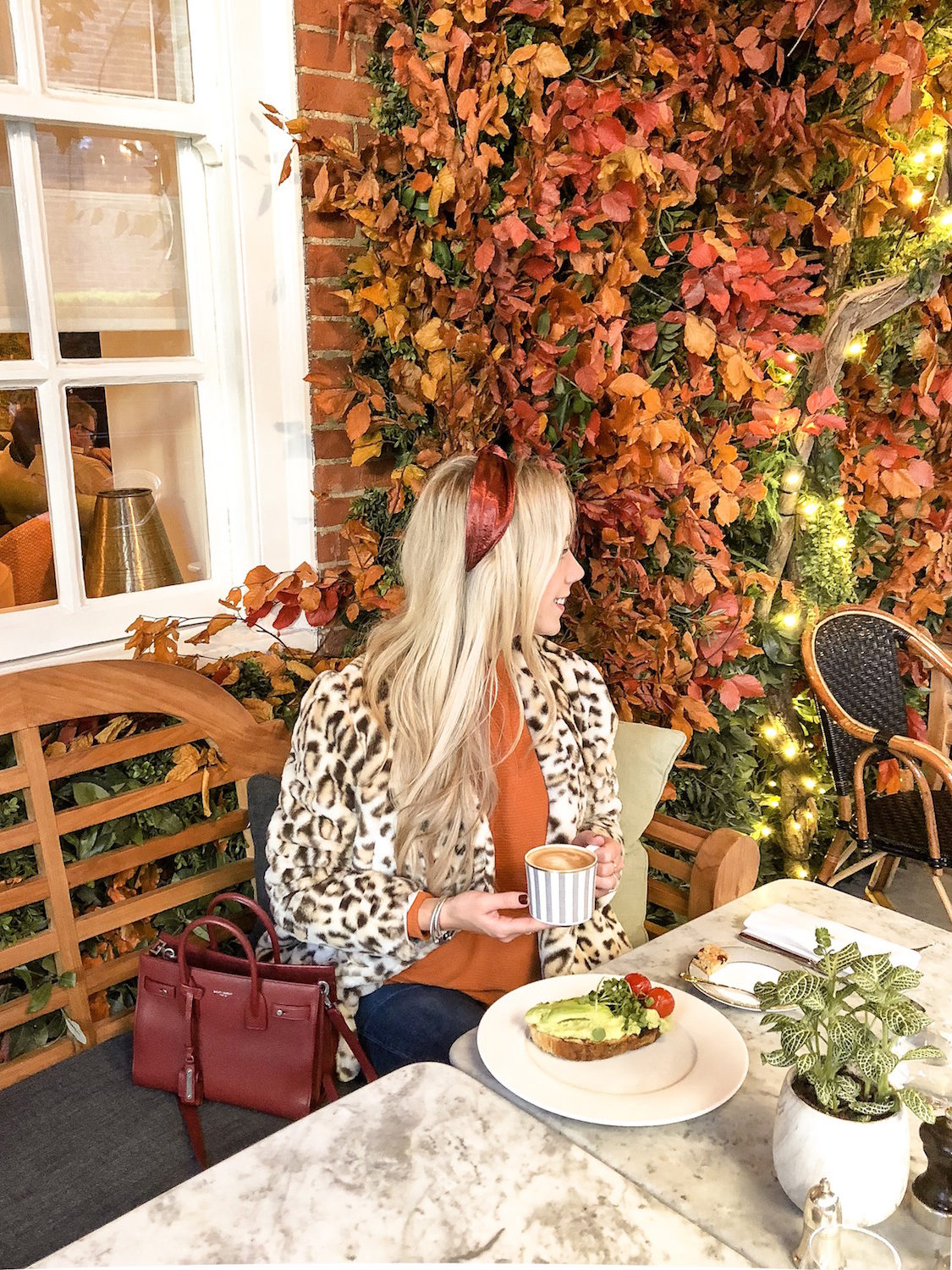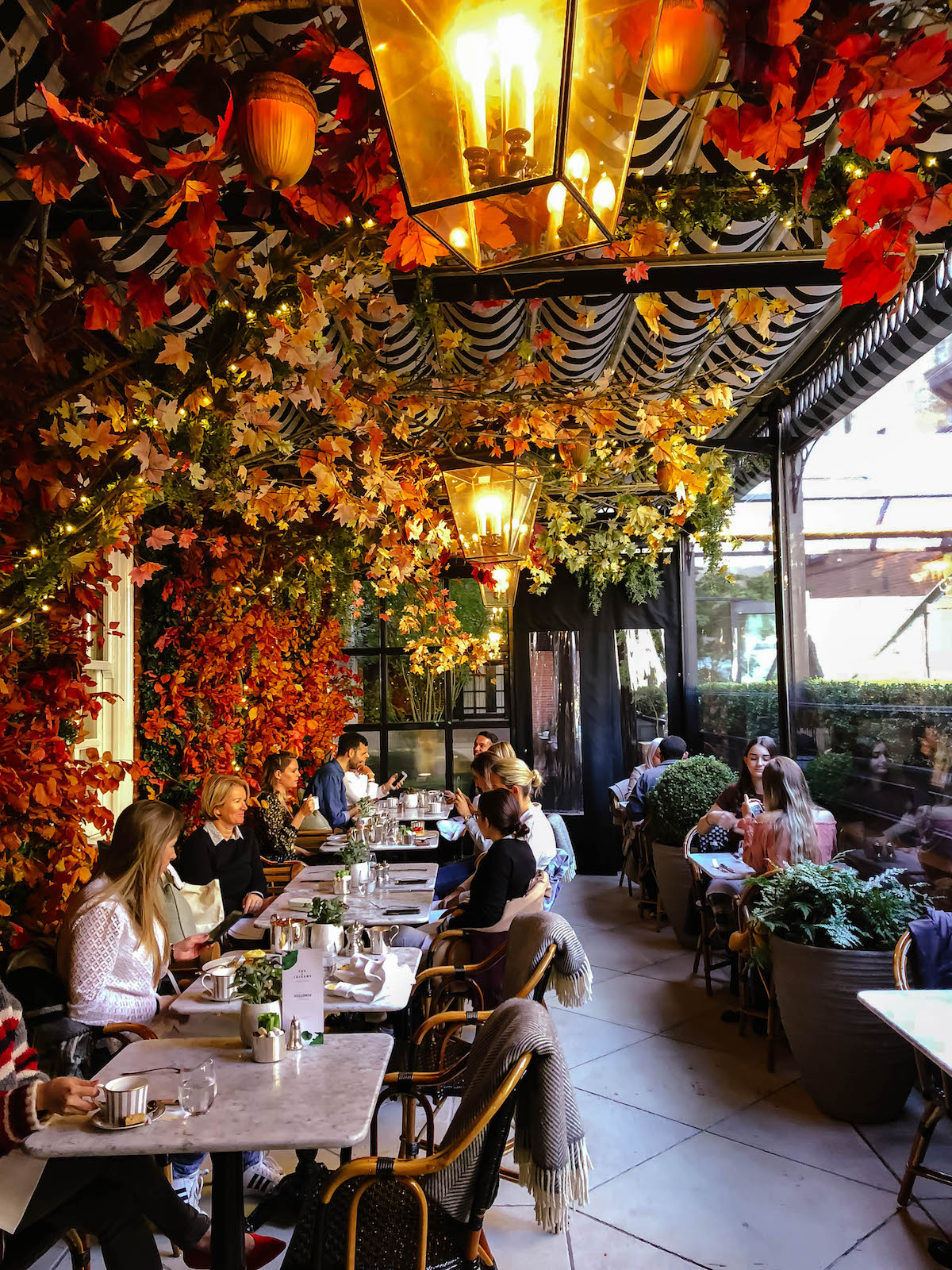 Next we Uber'd our way over to Notting Hill to do our own walking tour. I couldn't get enough of the endless rainbow-colored townhomes and sweet little boutiques and cafes. When we started getting the urge for a cool drink, we made a pitstop for a beer at the Churchill Arms, which btw is worth visiting even for just a photo!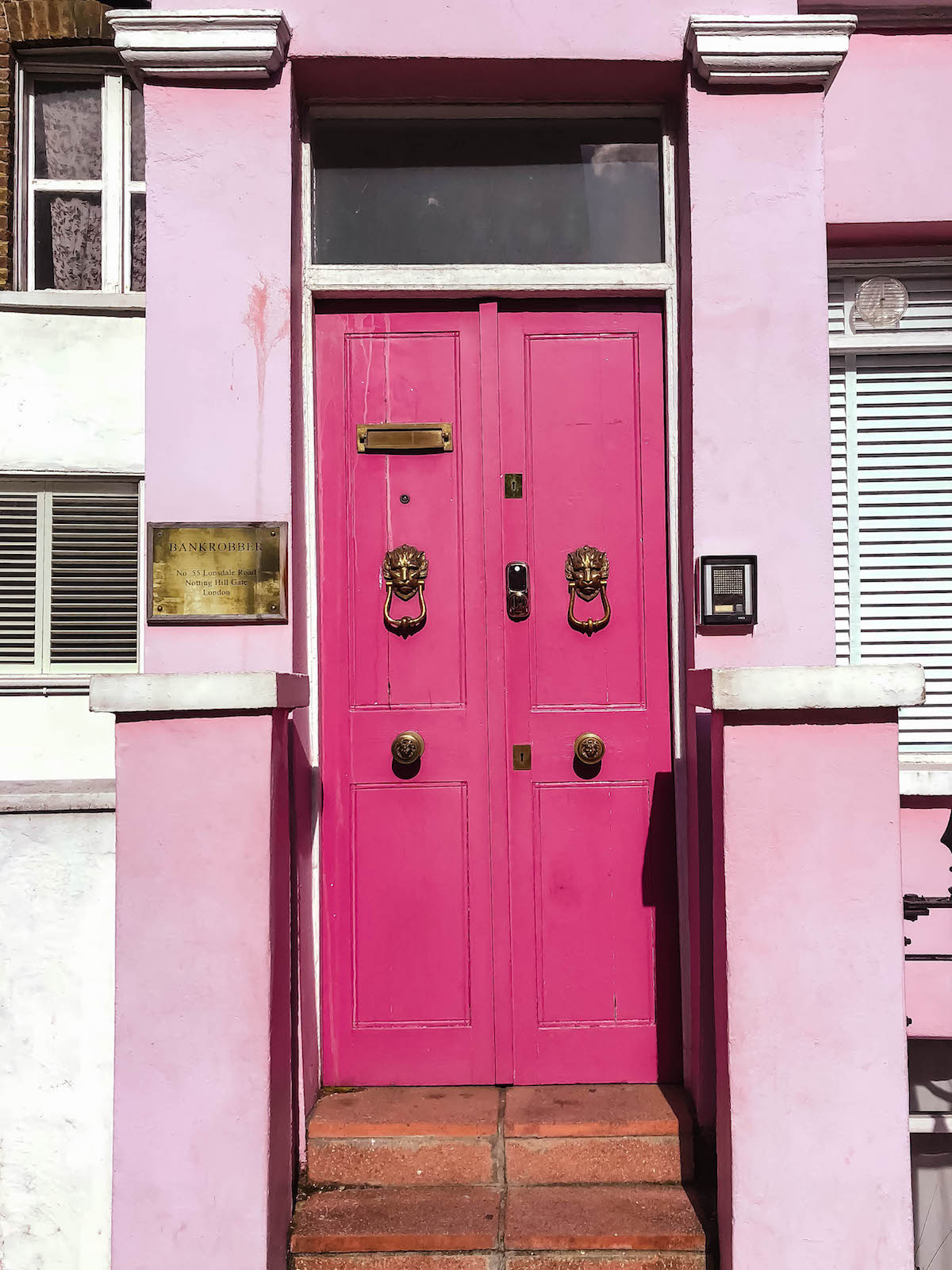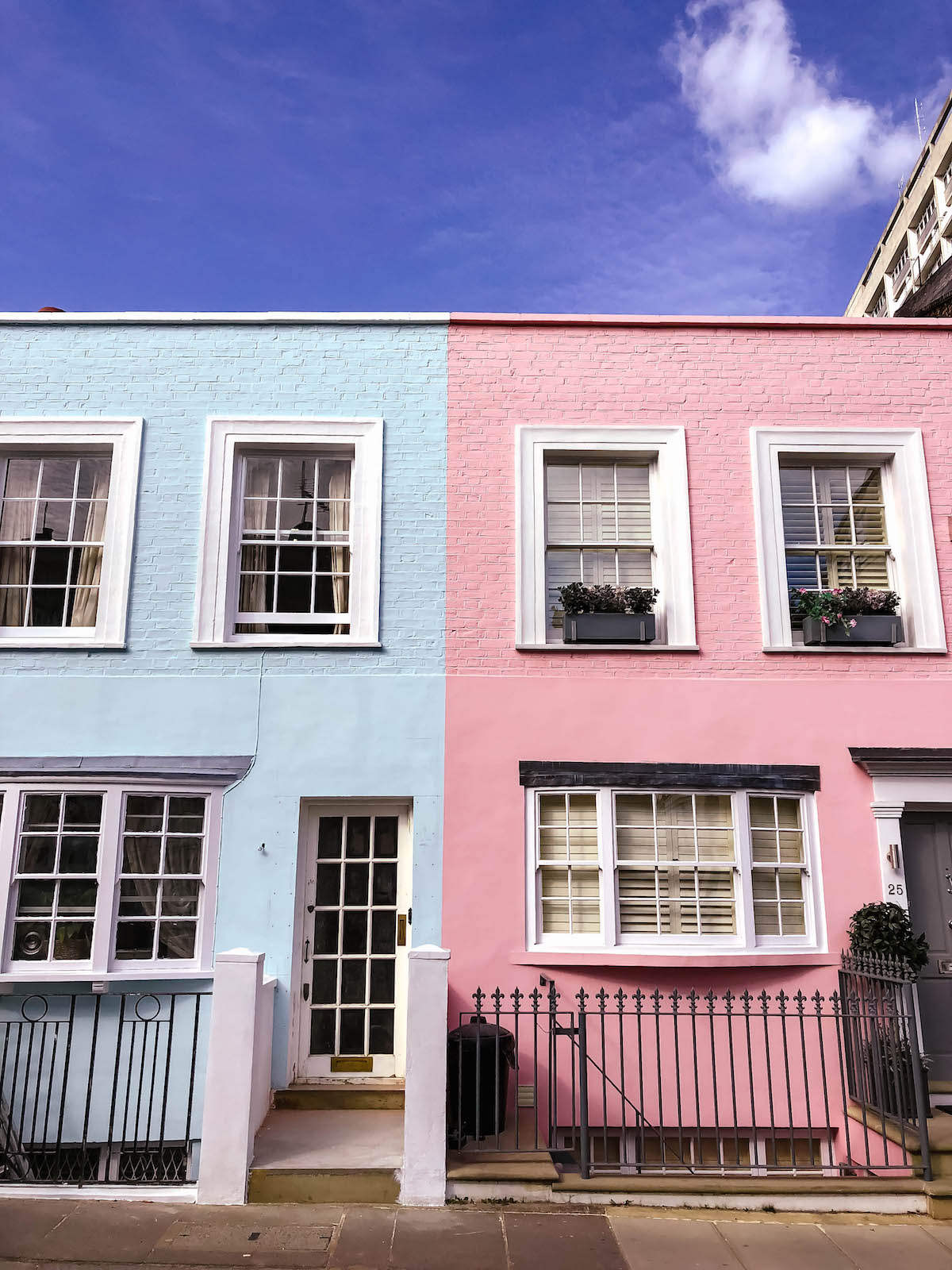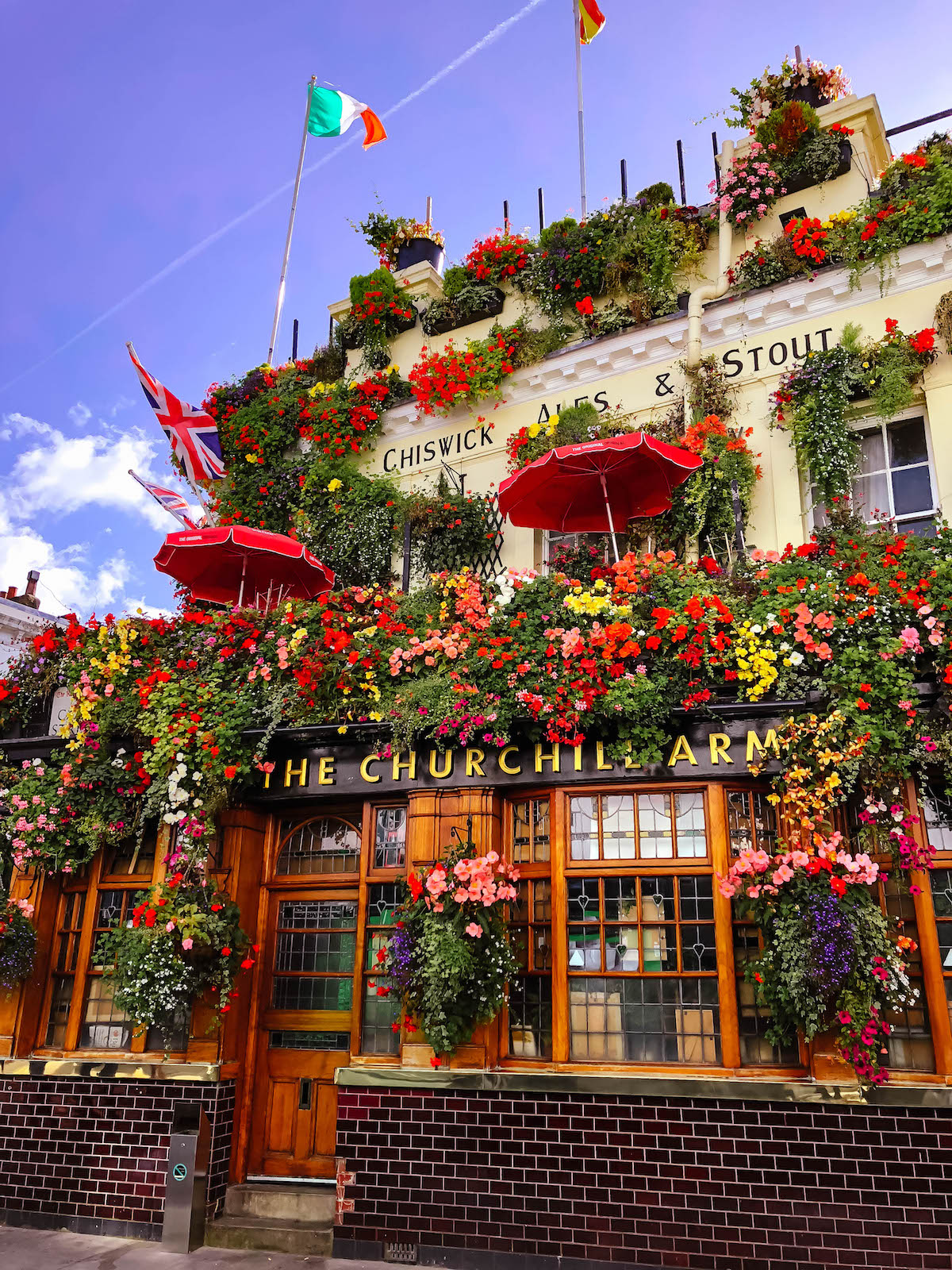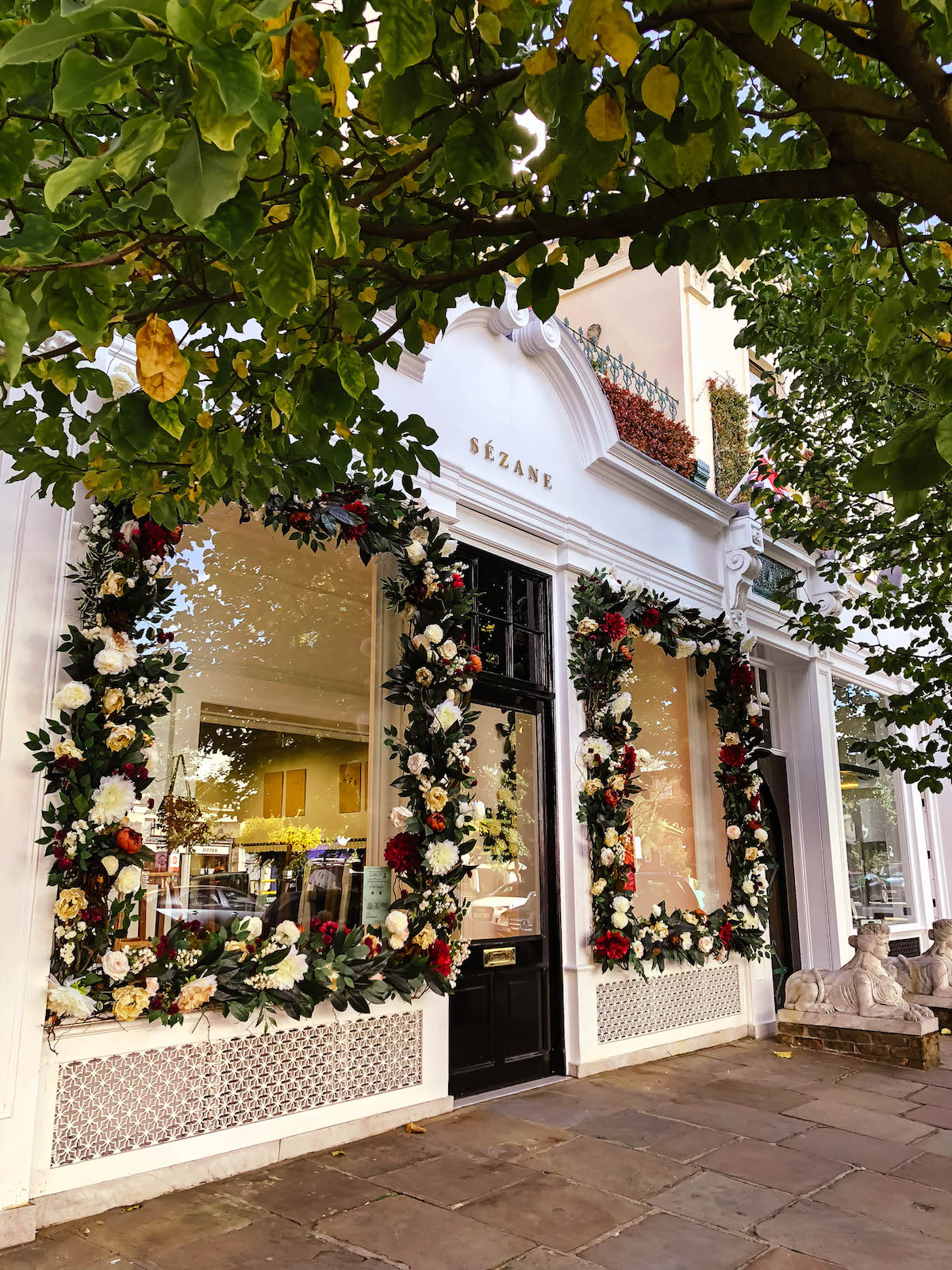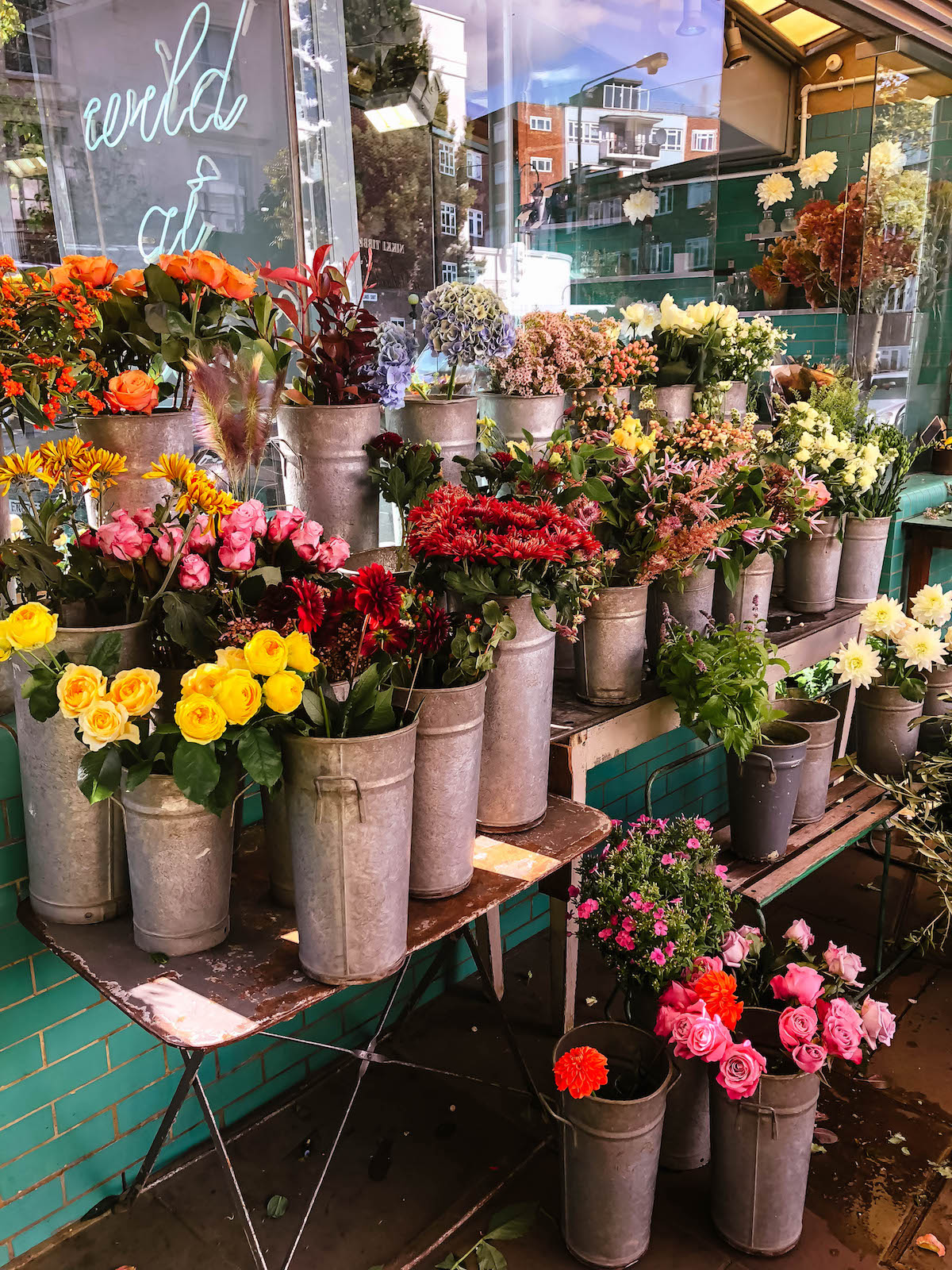 We easily could've spent an entire day exploring Notting Hill exploring, but we had 3PM reservations for afternoon tea at Sketch that I was NOT about to miss. Guys, Sketch was so cool. It was a really fun experience and Nick loved it too! I was little worried he would find the quirky decor weird and the whole thing girly, but omg he got so into it. We did the champagne tea, so we each got a big glass of champagne on top of all the bottomless sweets, caviar and tea. We ate and drank our hearts out for 2+ hours while listening to a live string quartet! The bathrooms were unreal too. Like the stalls were legit egg pods. Obvi had to get a selfie…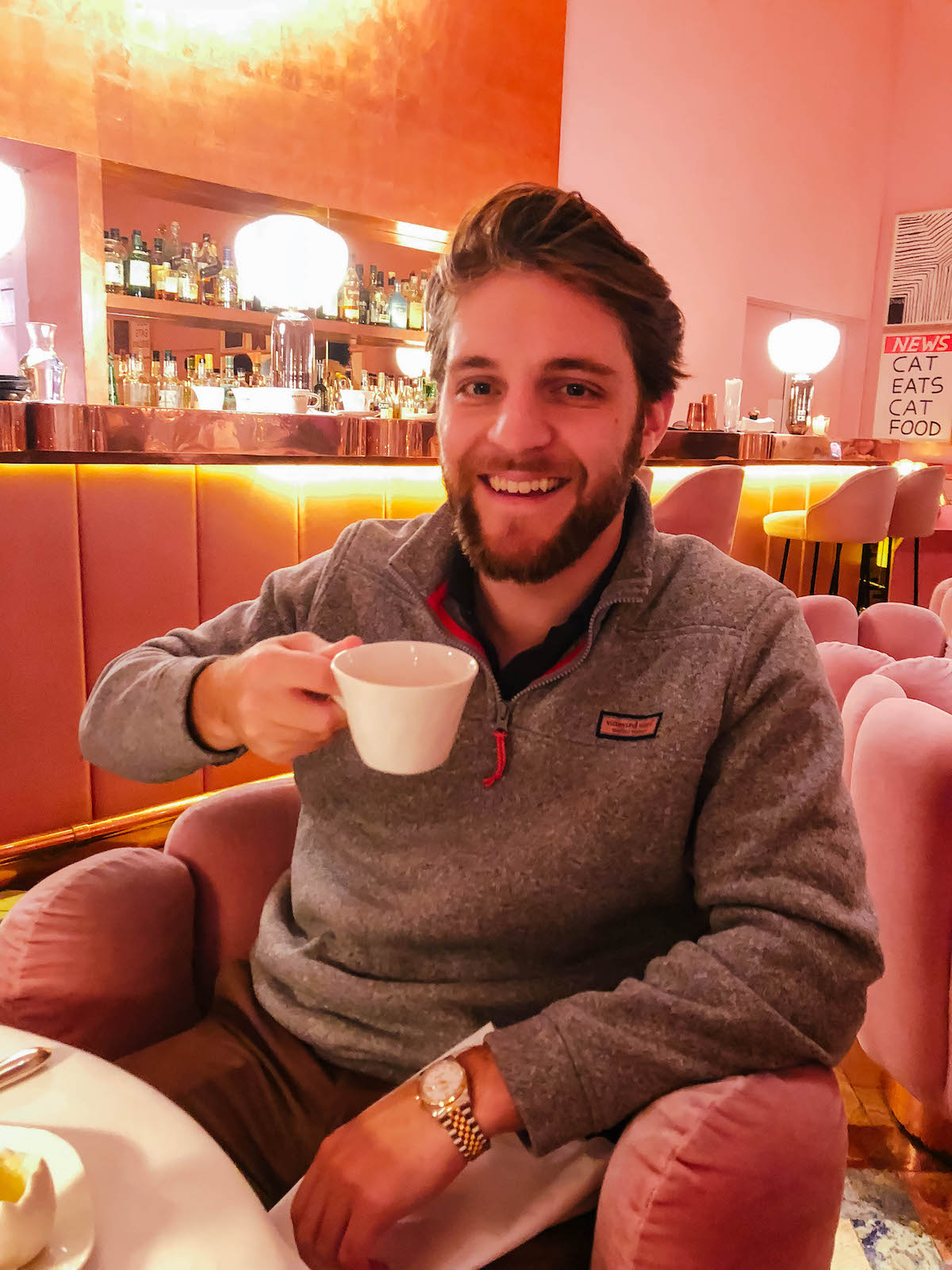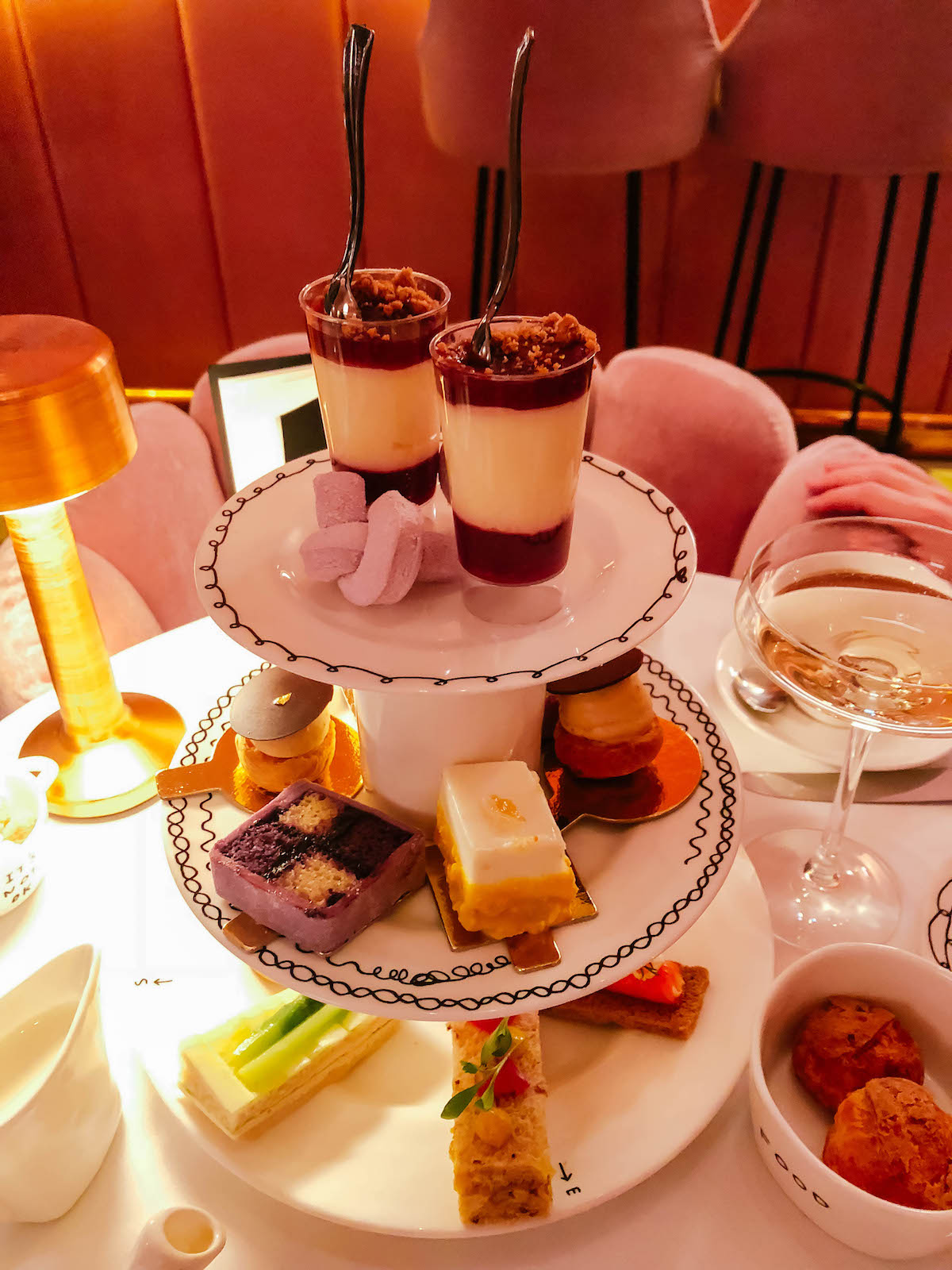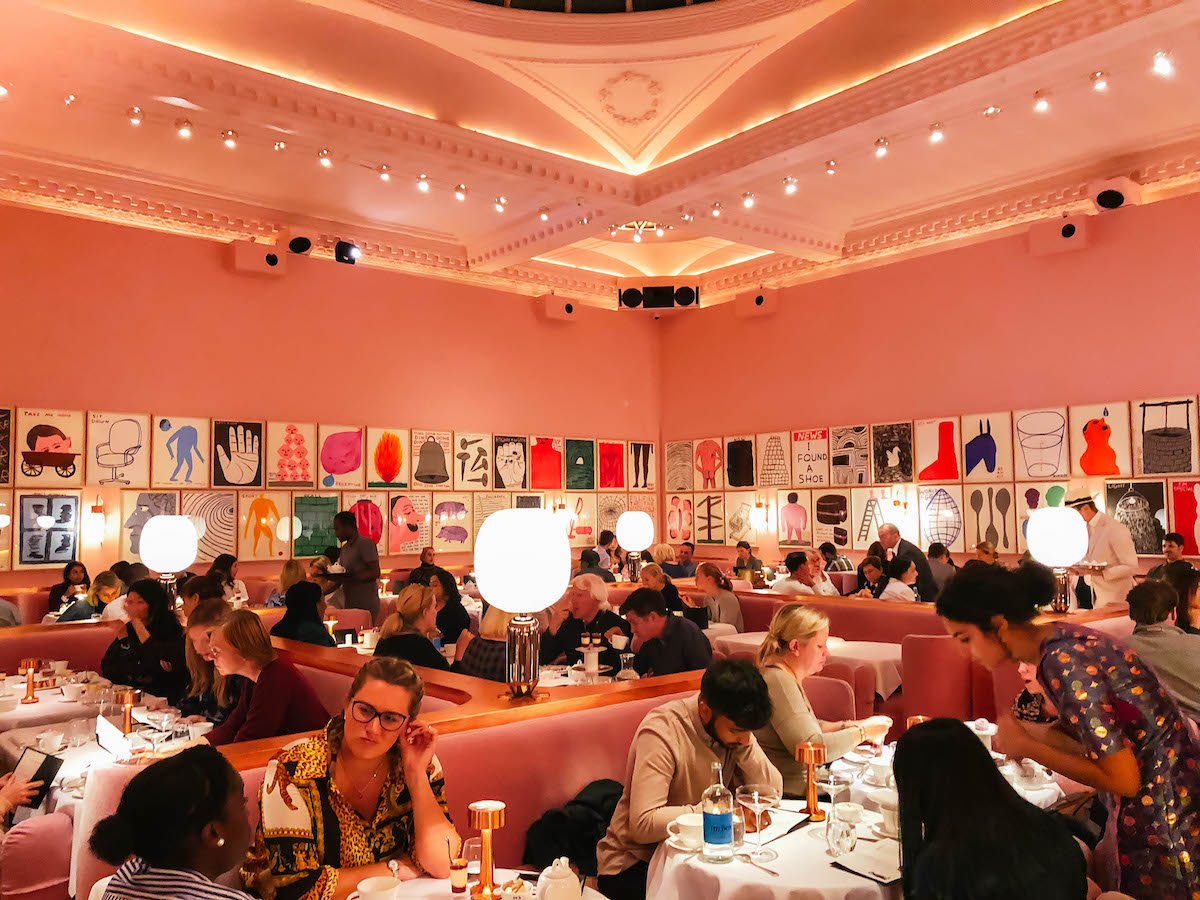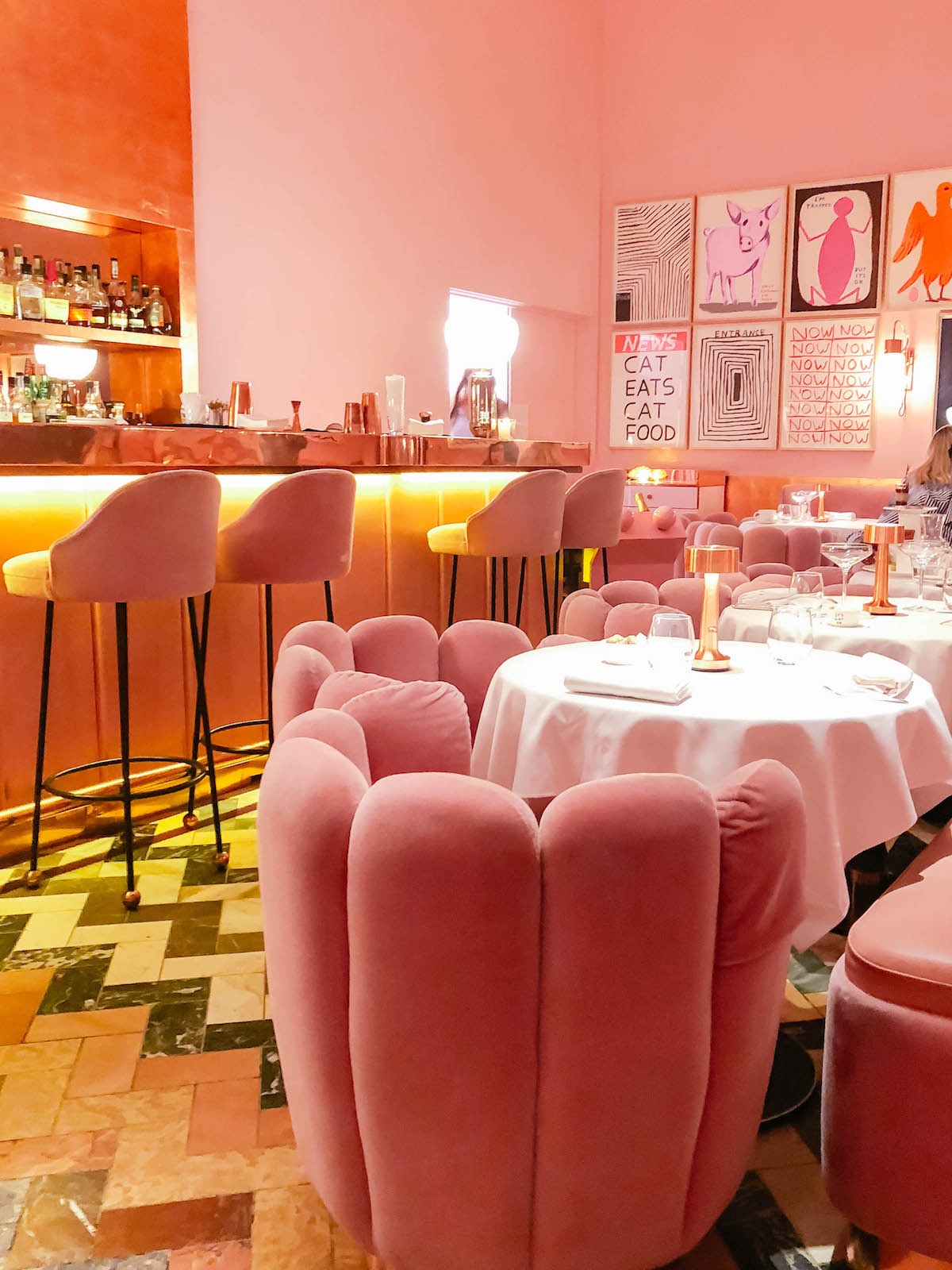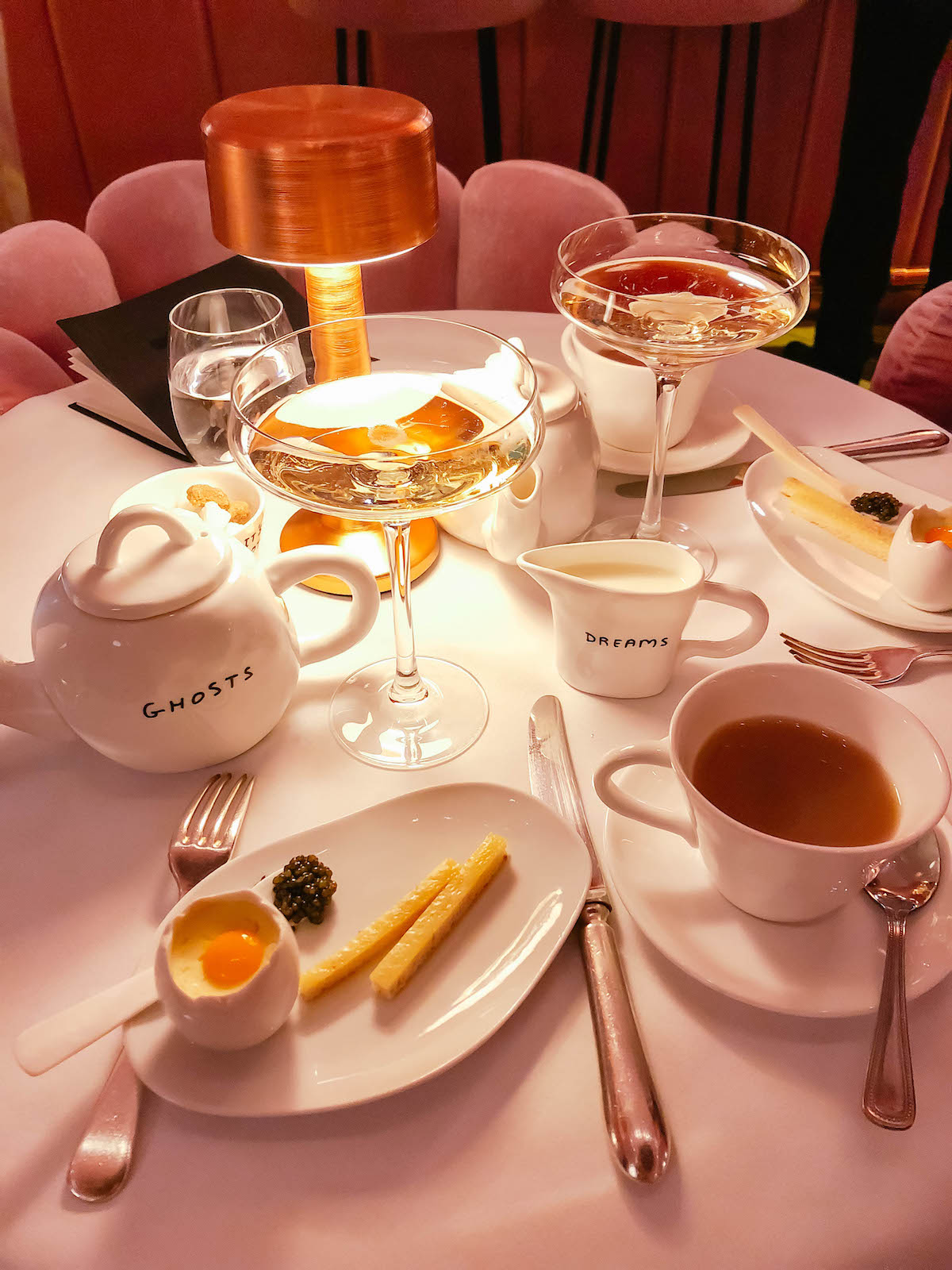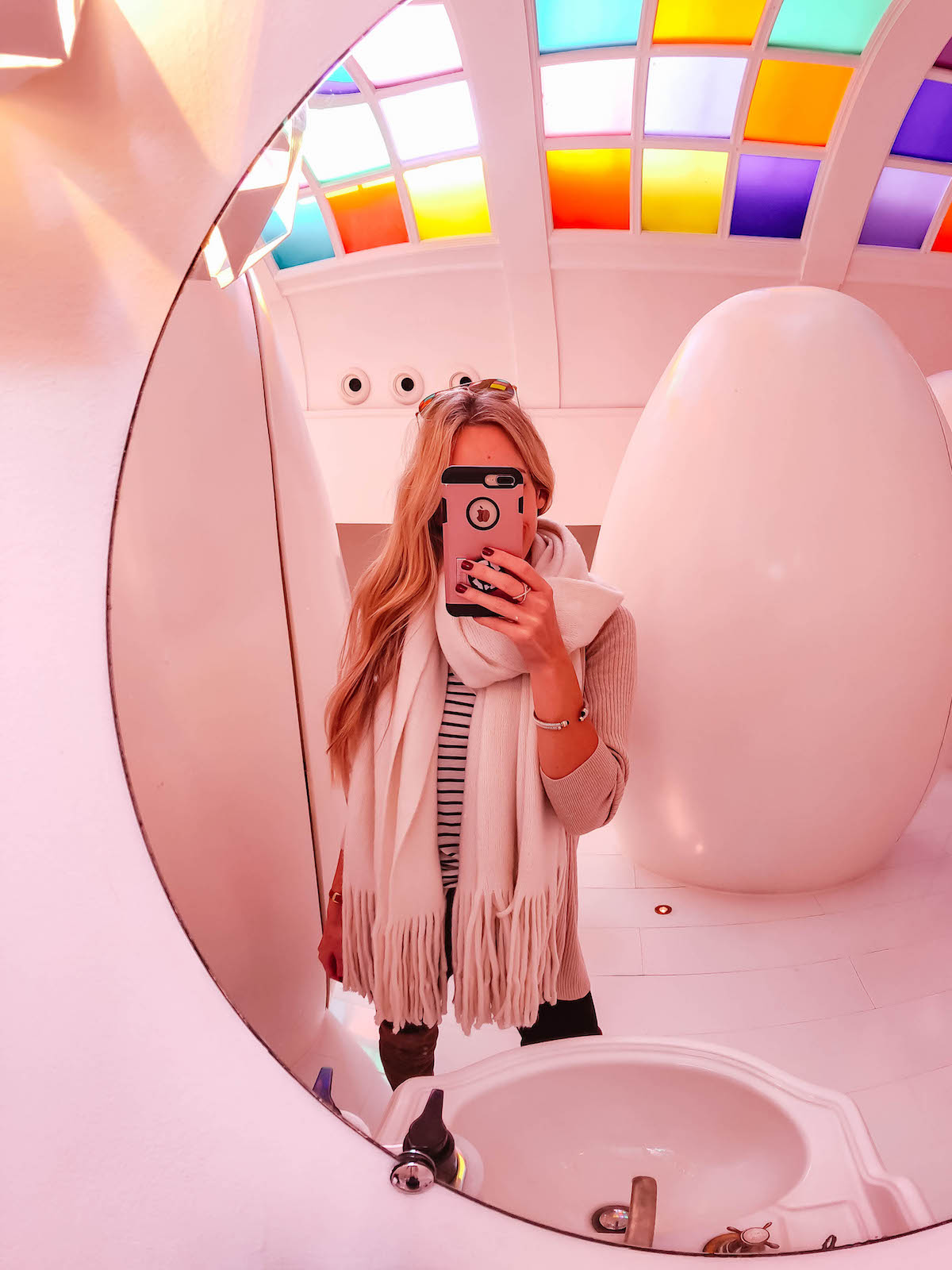 For dinner we decided to head over to Chelsea and get in a little more exploring on foot. Similar to Notting Hill, it was a mostly residential neighborhood with lots of cute restaurants and cafes. Since were still so full from afternoon tea we decided to just share a few appetizers at The Ivy at Chelsea Garden for dinner before calling it a night. It was bittersweet heading back to the hotel knowing we had to pack up to leave, but at least we had the consolation of heading to another exciting destination: GERMANY! Guide coming soon….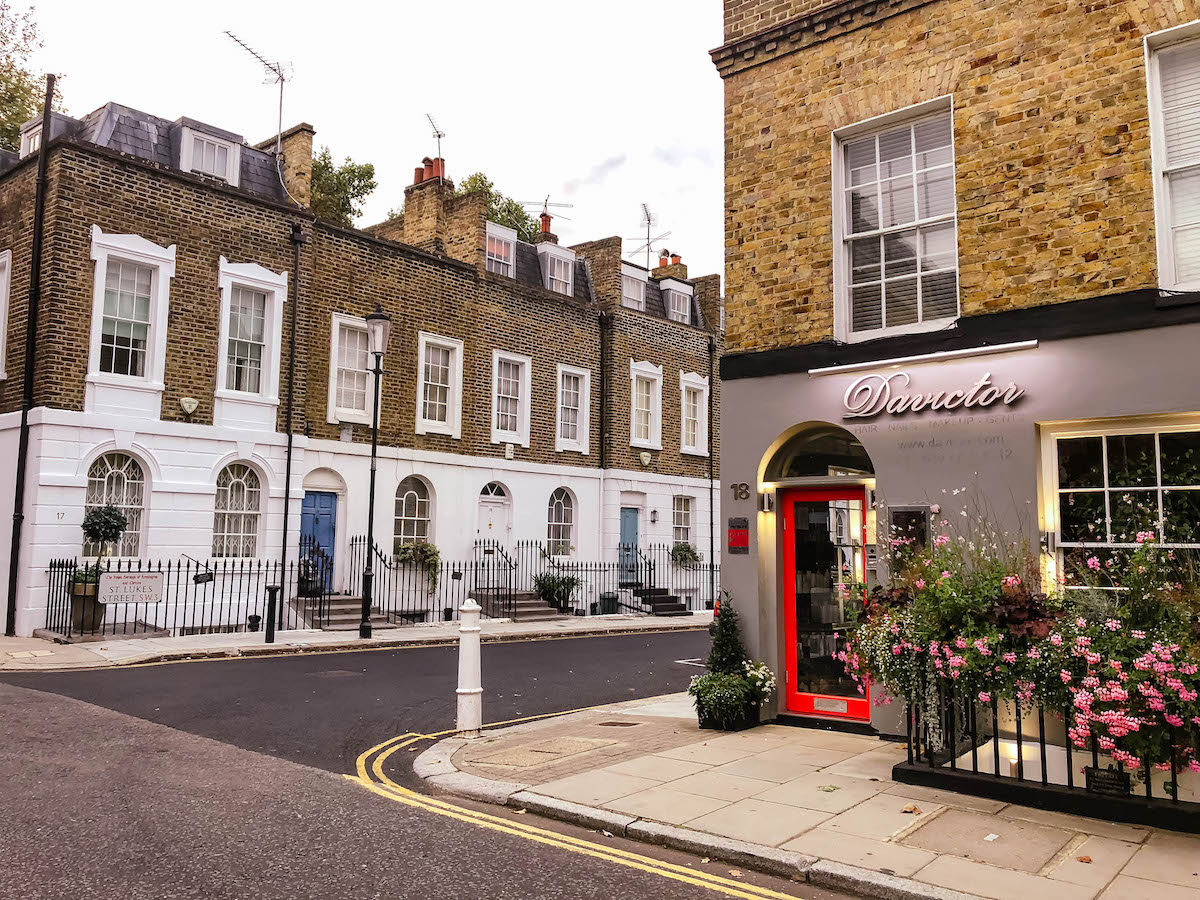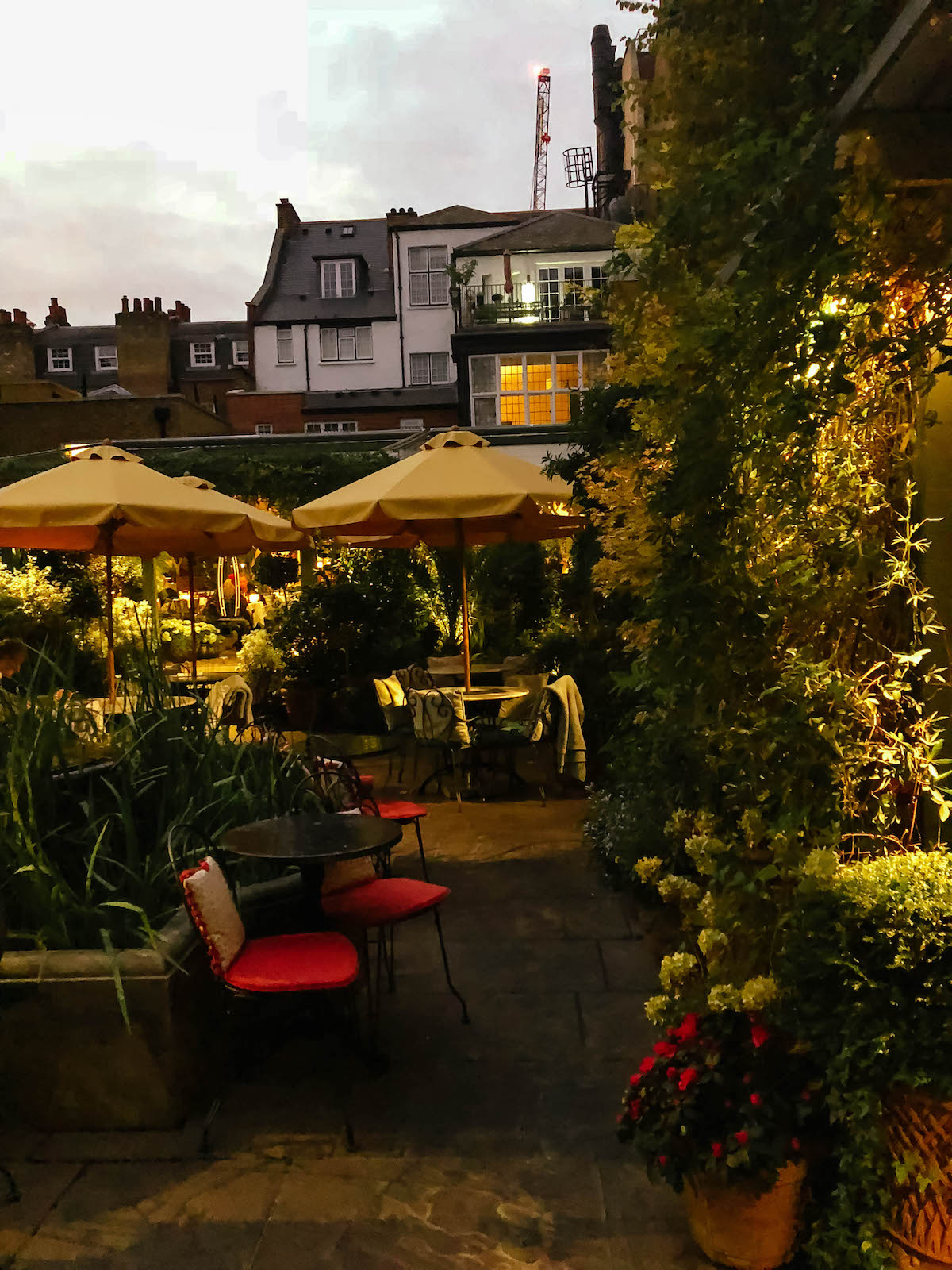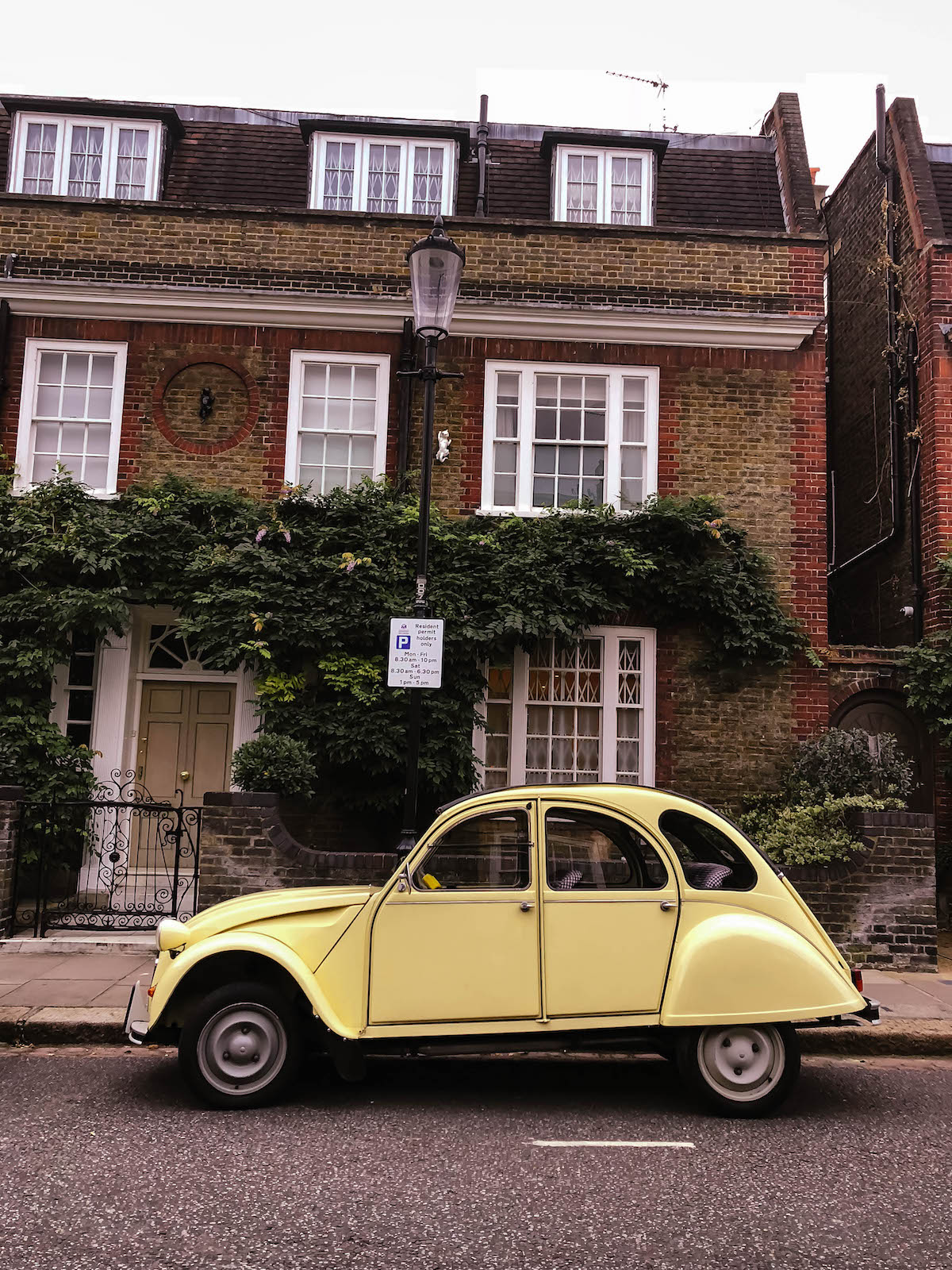 MORE TRAVEL GUIDES & ITINERARIES

10 Day London, Germany & France Itinerary
First Time Visiting Paris Itinerary
First Time Visiting Amsterdam Itinerary
- Katie