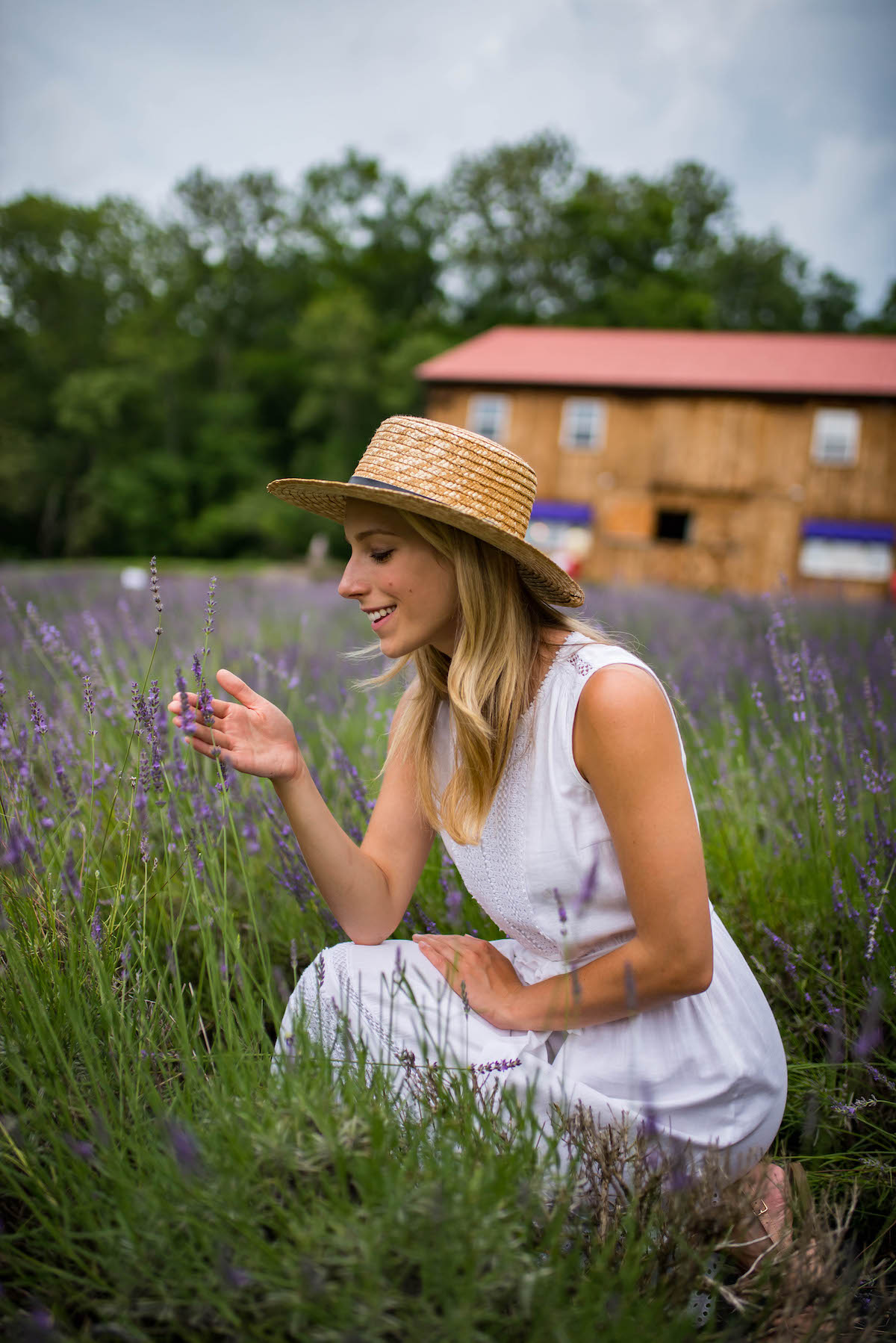 Wait, when did she go to France? These photos may look like they were shot on location in Provence, but actually this field of lavender was found just a few minutes from my grandparent's home in Bucks County, Pennsylvania. Who would've thought?
I mentioned in my 5 Ways To Reward Yourself This Summer post (have you read it yet?!) that you don't always need to spend a lot of money and hop on a plane to have an adventure. Sometimes magical places can be found a short drive away from our backdoor.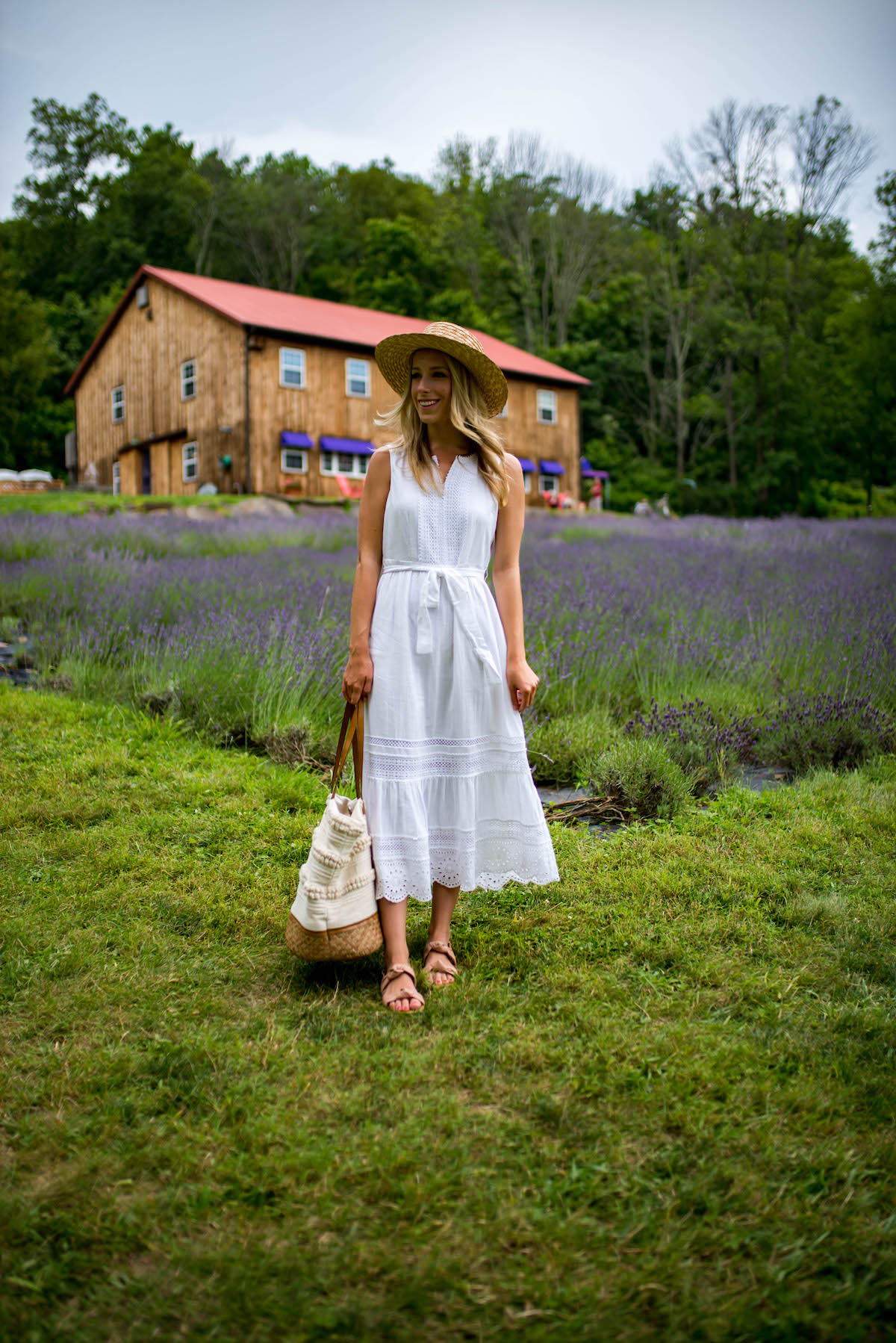 Similar White Maxi Dress (mine is old Talbots) | Sandals | Woven Tote | Boater Hat
Growing up my parents didn't have a large budget for vacations so any trip we took was always in driving distance. Our summer trip was either the Jersey Shore, the Pocono Mountains or somewhere in New England. The first time I flew on a plane was when I turned 10 and my grandparents took me to The Atlantis for my birthday.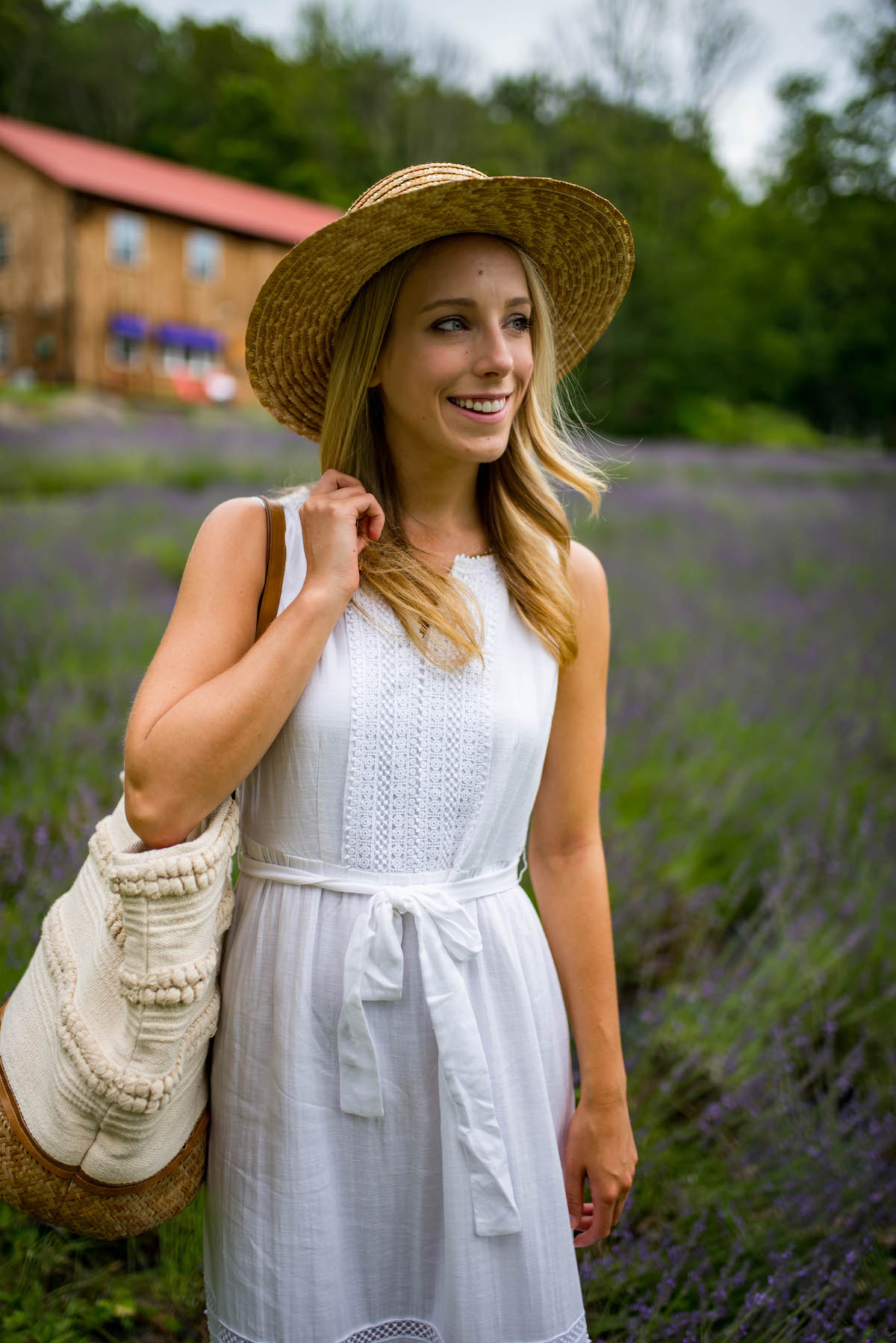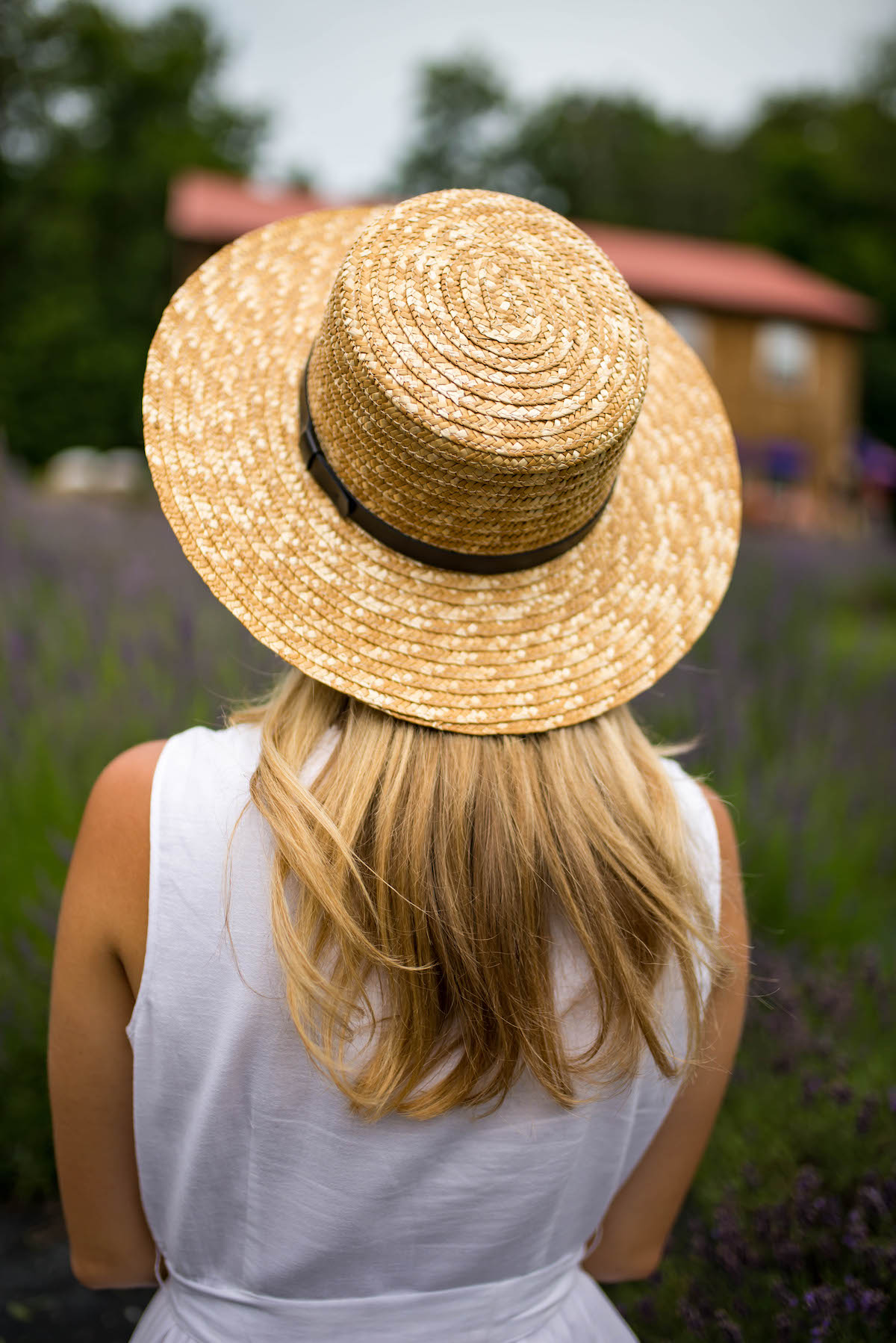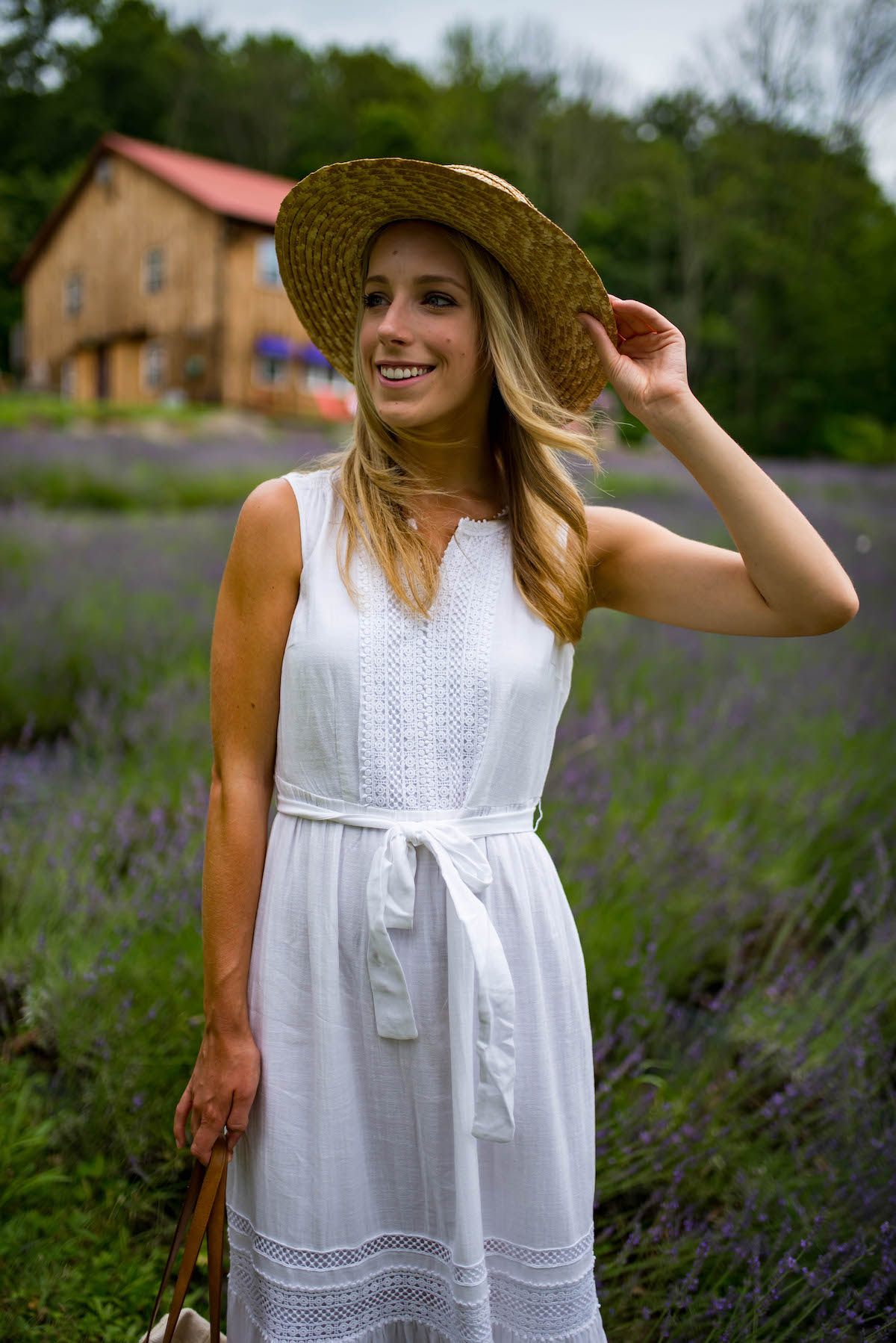 Seeing classmates and friends travel with their families to faraway destinations always sparked a little envy in me, but looking back as an adult I'm so grateful I got to see so much of the region where I grew up. Though we may not have had a ton of money to spend, my family always found creative ways to make local excursions and day trips exciting and memorable.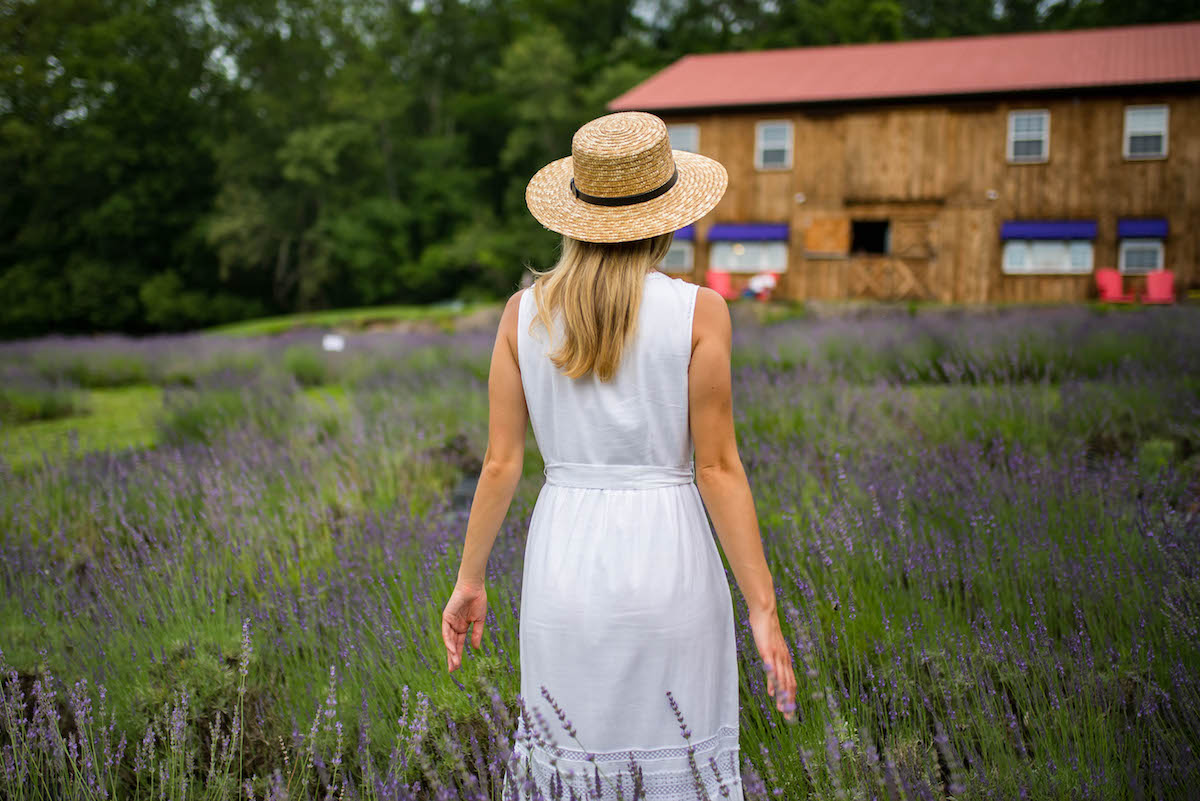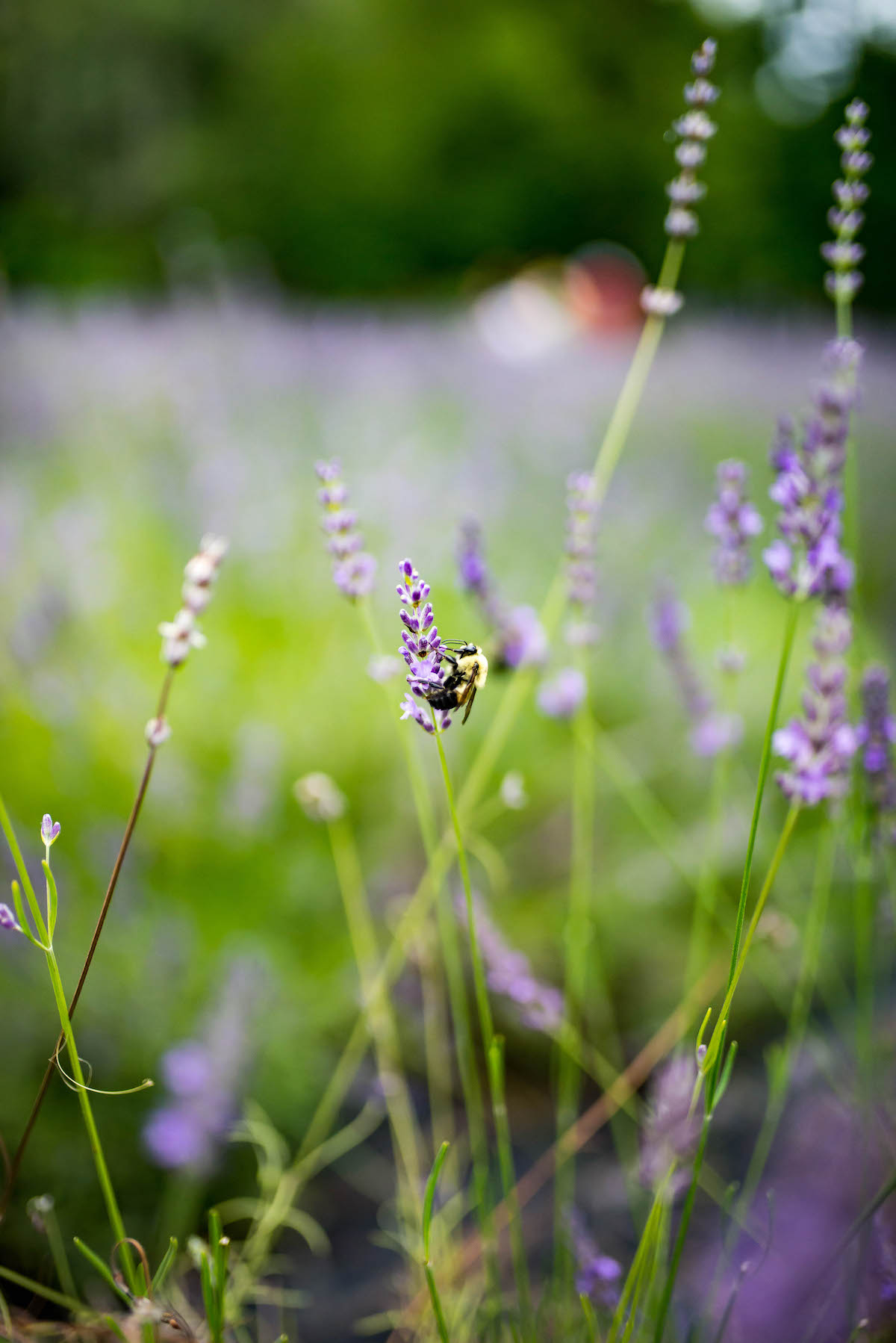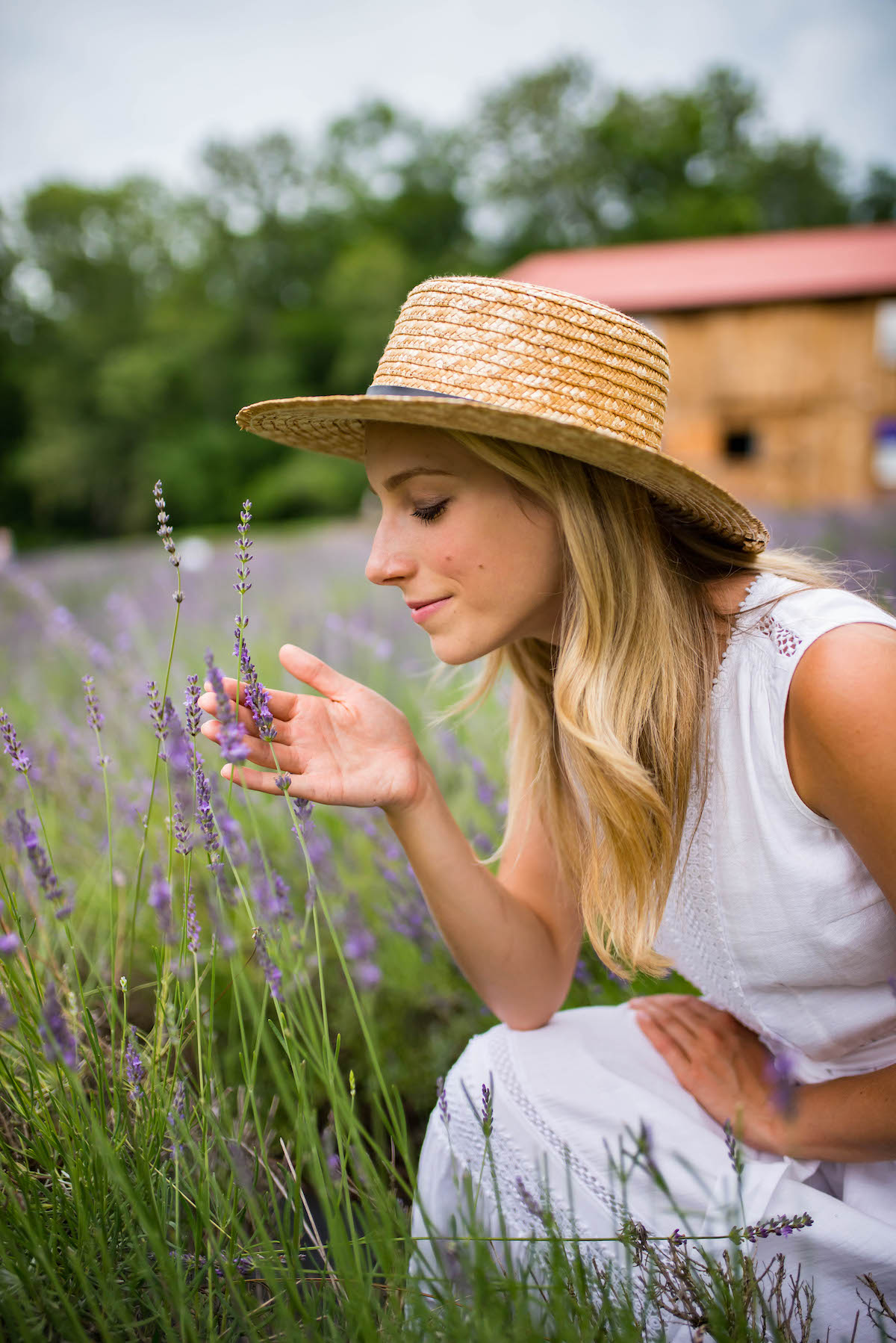 Right now I definitely have the travel bug. My adventures the last few months took me everywhere from Mexico to Finland to Serbia. I loved all of those experiences and captured so many beautiful pictures that I only want to continue documenting my travels more here on Katie's Bliss. That said, these photos go to show that wanderlust-worthy places can be found everywhere. I think my family's scrappiness taught me to always keep me eyes peeled for new experiences– even ones just a few minutes down the street.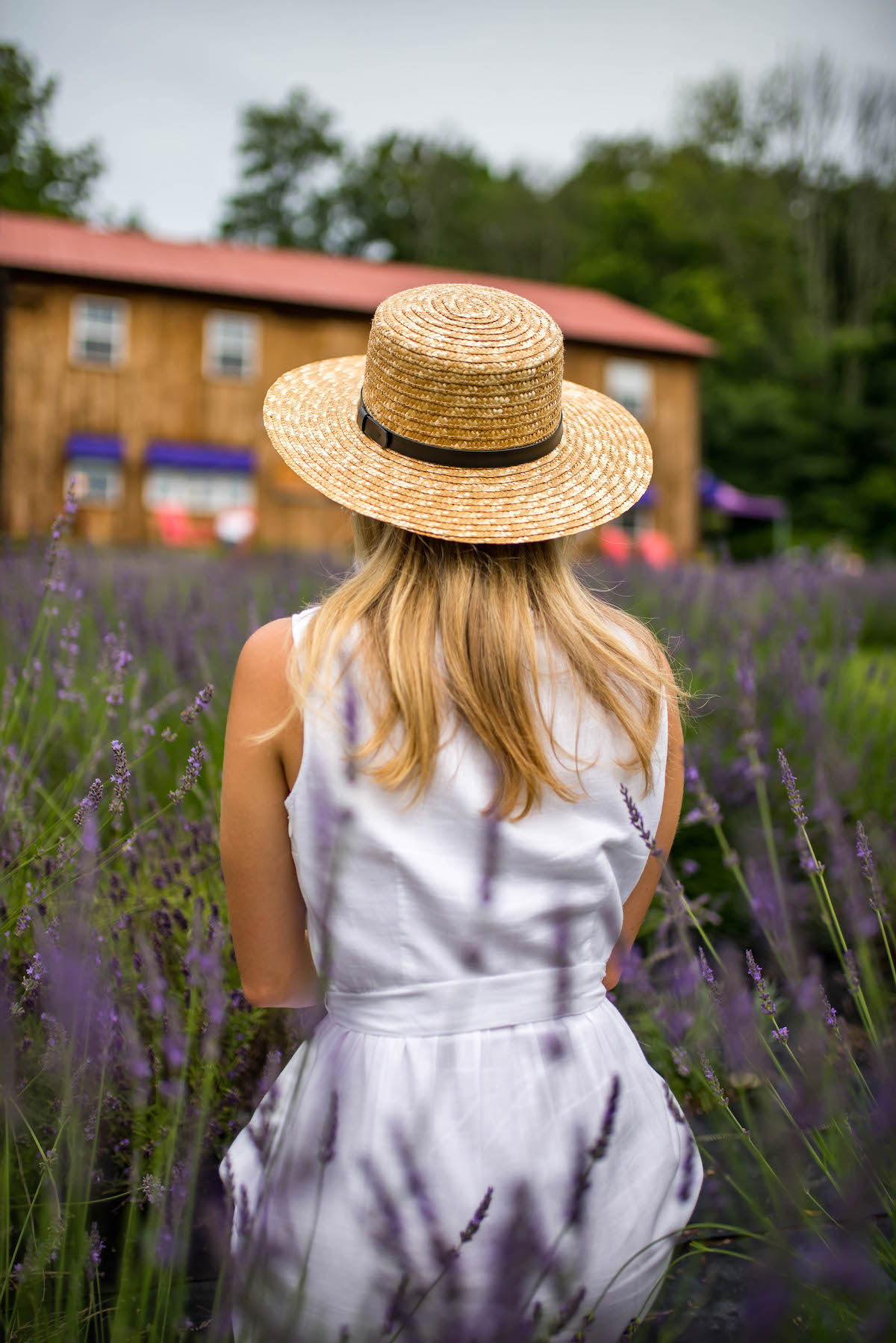 So where I am? This charming little field is actually Peace Valley Lavender Farm in Bucks County, Pennsylvania. Isn't it pretty? I can't believe I had never heard of it growing up. I only realized it was close by after stumbling across some pictures on Instagram. The power of social media I'm telling ya…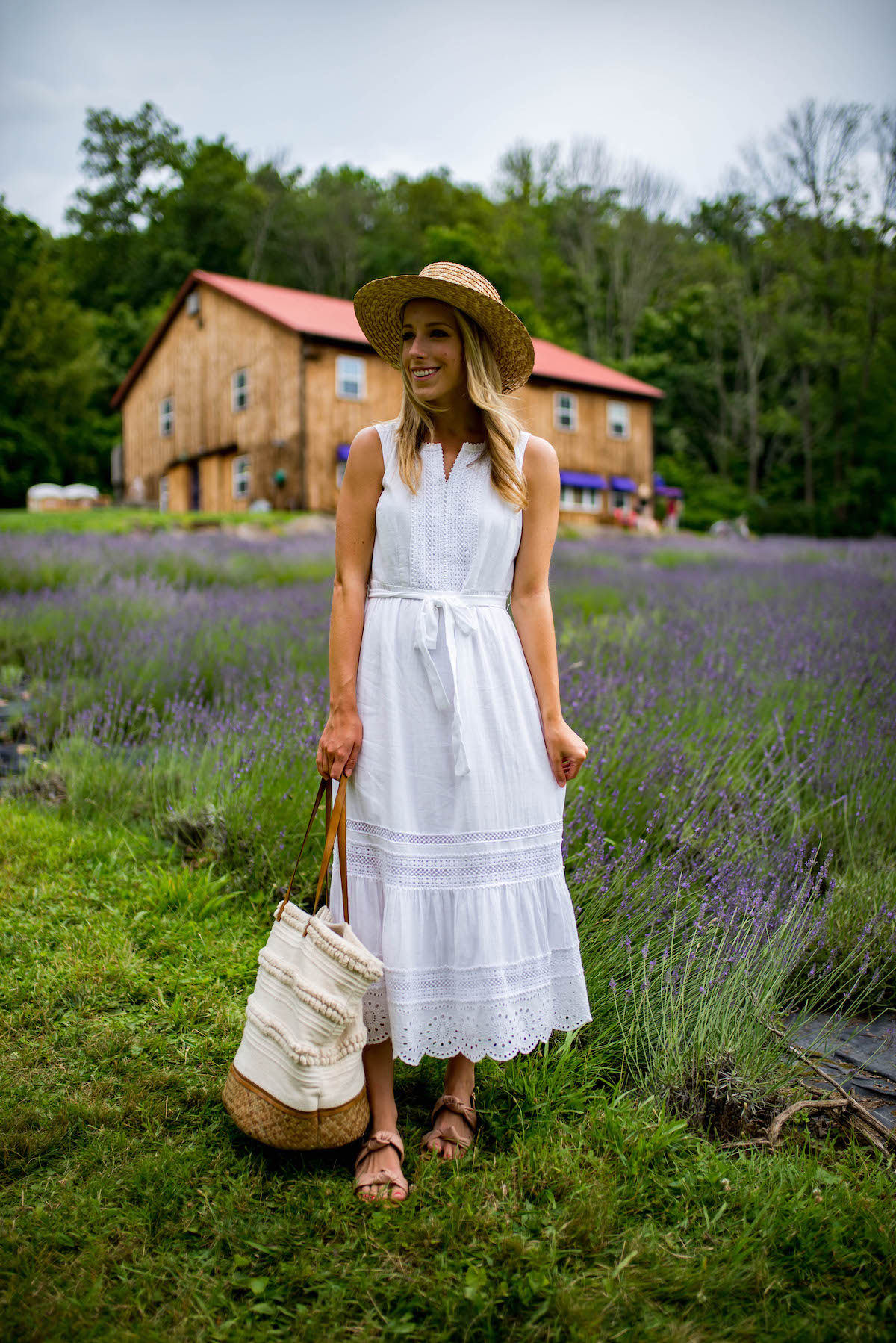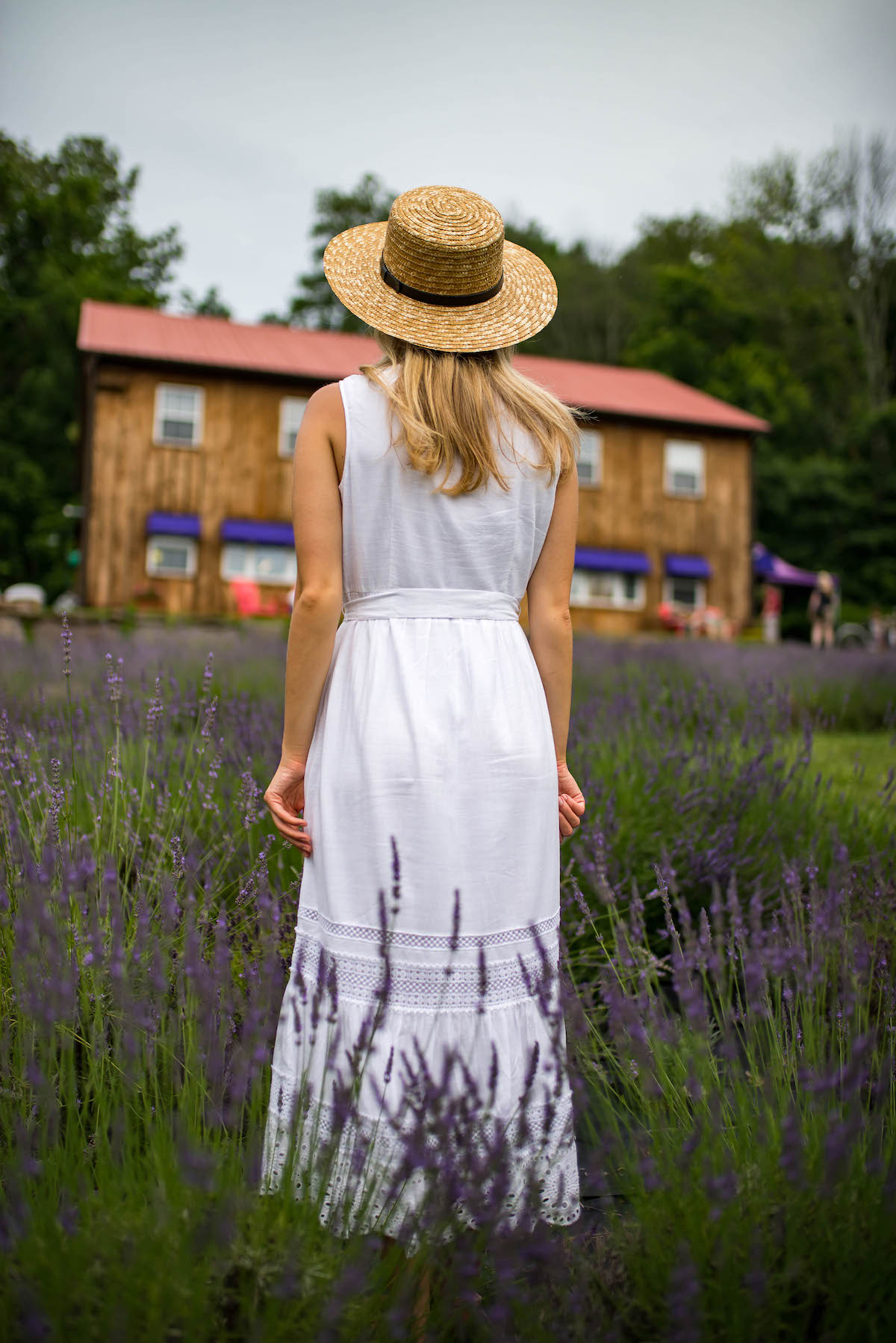 Similar White Maxi Dress (mine is old Talbots) | Sandals | Woven Tote | Boater Hat
I know this post was a little random, but it's just something I've been thinking a lot about lately. I think so many people feel pressured in the summer to be "doing things" and spending money so I wanted to share a post to show that you don't need to be in the Hamptons or jetting off to the south of France to have a cool experience. Not going to lie though: I'm still adding both to my bucket list! 😛
- Katie